Celebrating Your Accomplishments

By
SheSpeaksTeam
Jan 25, 2022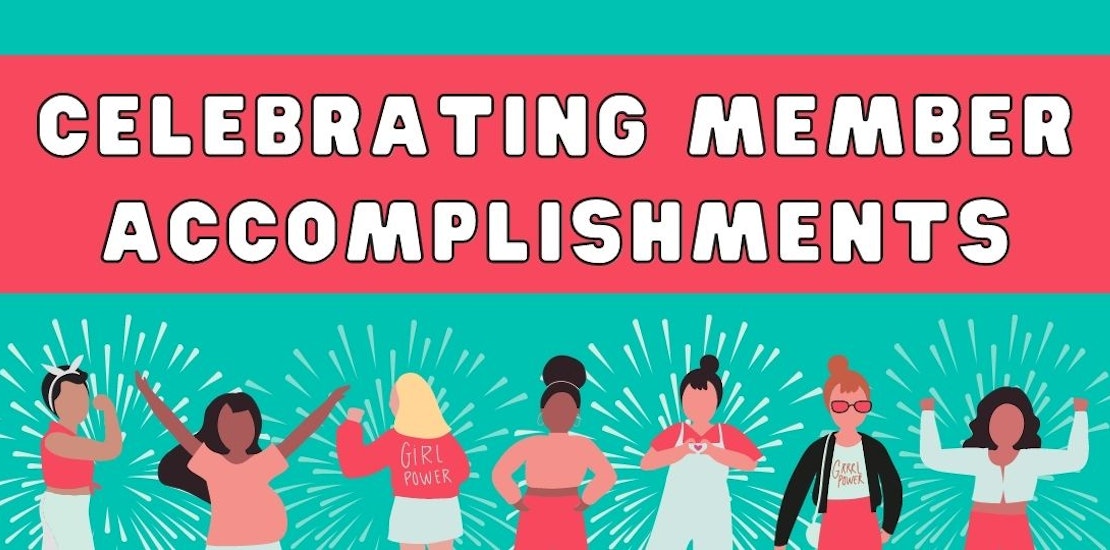 Need some motivation to set awesome goals for 2022? We asked our members to tell us recent accomplishments that they were most proud of, no matter the size of the celebration. After reading through hundreds of responses of all the amazing things you have accomplished, it has inspired us! So, instead of keeping them to ourselves, we decided to celebrate our community members' accomplishments with this blog post. We see you, we hear you, and we are immensely proud of you for overcoming adversity and making it through another unpredictable year!

Our Members Prioritized Their Health!
Our members went through hardship and conquered sickness with grace. We are happy you're here and healthy!
"I'm recovering from brain surgery!"
"I feel proud that I've followed all of my doctors and my oncologist's instructions and am proud to say that after almost 5 years I am still lung cancer FREE."
"I survived a month-long bout of Covid and I am still here!"
"I battled breast cancer and staying strong through treatment."
"I survived dialysis for 2 1/2 years while waiting on a kidney transplant."
Our Members Were Awesome Parents!
Raising kids and looking out for your family was a common theme. As times stay uncertain, our members shared their mom-wins for the year. You go, mama!
"I found help for my family with my mentally ill son."
"I am a stay-at-home mom to two small children in a pandemic."
"I took care of my family while overcoming the sense of loss and failure that comes with divorce."
"I birthed and raised some great kids that are going to make an impact on this world."
"I spent more time with my children."
"I adopted a 13-year-old."
Our Members Worked on Relationships in Their Lives!
Regardless of what's happening in the world, relationships take hard work, communication, and self-awareness. Not all relationships are meant to last, and that's okay too! Our members shared their intimate realizations, and we are so grateful that forming better relationships is a priority going into 2022!
"I found my lobster (if you watch Friends, then you know)."
"Staying married for 39 years was a long road but well worth it."
"I met a wonderful man who I am now engaged to and who completes me."
"I reconnected in my marriage."
"I finally got a divorce! My life has been 1000 times better! I'm an independent woman!"
"I fled a domestic violence situation."
"I left a toxic marriage. I am living on my own and healing."
Our Members Worked on Their Health & Fitness Goals!
The hardest part of changing your habits is just getting started. We are cheering on our members who took their lives into their own hands, and crushed some of their health goals last year!
"I lost weight and kept it off. I added exercise to my routine and got stronger."
"I made good choices in food so I am able to walk alongside my family, and lead my children through this crazy world."
"I lost almost 100 pounds!"
"I ate healthily and delivered a healthy baby girl, and now I am breastfeeding her."
"I have continued to walk 3 miles per day - even in inclement weather."
"I quit smoking for my family."
Our Members Worked on Their Finances!
Financial success and stability are definitely things to celebrate! Our members budgeted, paid off debt, and learned more about how to handle their money. Let's go, ladies!
"I paid off my house after 26 years, got a new car (never owned a new car), and moved into my dream house."
"I am debt-free!"
"Our truck needed a new motor and some other repairs so we were able to pay the entire $16,000 without borrowing money."
"I got out of a shelter after 4.5 years. I achieved credit status after 8 years without. I regained some financial stability, and I am handling my student loans."
"I continued to put money away for my future, as well as paying down medical bills."
Our Members Rocked Their Education Goals!
Whether you went back to school, learned a new trade, or made an action plan to finish out your degree, you inspire us!
"I went back to school after my children were born to complete my bachelor's degree!"
"I obtained a dual Master's degree."
"I finished nursing school, which after my brain aneurysm ruptured I was about to drop out."
"I graduated college."
"I went back to college (again, after 49 years!) to learn a new language to me--Japanese--so I can visit my son and his wife in that country and know some of the languages."
Our Members Focused on Their Mental Health!
Mental health is one of the most important aspects of our lives. When our minds are clear, and we learn to love and forgive ourselves, our brains have more capacity to achieve more. We are beyond proud of our members for prioritizing themselves!
"I saw a lot of self-growth with a therapist, and I'm learning to prioritize and love myself."
"I worked on letting go and forgiving more."
"I went on a healing journey I needed to find forgiveness for the abuse I suffered."
"I tried to make sure that I get a good night's sleep nightly."
"I became more independent and I have fallen in love with myself again."
"I focused on my sobriety & staying clean."
Our Members Killed Their Professional Goals!
Last but not least, one of the biggest categories for our members' accomplishments last year was that they have made strides in their careers!
"I worked independently, then transitioned to a dream job."
"I started a new job, working from home that I love, and leaves me fulfilled."
"I started a side hustle and the first quarter is going better than I thought."
"I was promoted and received pay increases at my day job."
"We opened our own food business because we loved to cook and feed people. It has been hard work but, it's fulfilling."
"I accepted a job that increased my annual salary by 150 percent."
We at SheSpeaks are immensely proud of your accomplishments. You all inspire us to make and live out our own goals every day. If this wasn't "your year," then we hope that this has inspired you to set some amazing goals for yourself in 2022!
What Is your 2022 goal? Did this inspire you to set one for the upcoming year? What is your 'word' of 2022?