Need to Create More Time in Your Day? Listen In!

By
SheSpeaksTeam
Jul 12, 2023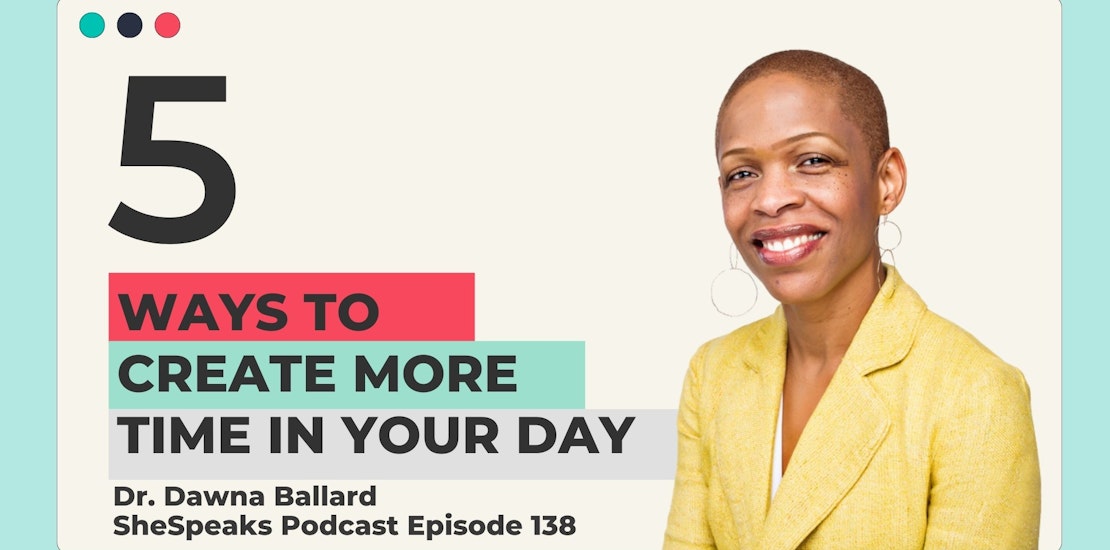 If you've ever wondered how some people seem to be able to 'get it all done' or seemingly have endless time, you're not alone. While most people are aware of the value of time, the skill of time management is a difficult practice to master. You'll want to listen in to our latest SheSpeaks podcast episode with Dr. Dawna Ballard, a professor at the University of Texas at Austin and expert in chronemics—the study of time as it relates to human communication.

We've broken down some of the key takeaways from this episode that will better help you understand to take control of your time.
1. You Cannot Control Time.
We all get the same amount of time in our day. How you use that time is up to you. Of course, you cannot control emergencies or hiccups that happen in our daily lives, but you can start to control where you place your attention or plan to place your focus. Start noticing where your attention lies in work, activities, and in your personal life. The answers lie in where you decide to give your attention.

2. Start Saying 'No'
Start to become more aware of what you have on your plate. Keep a journal and calendar to track how you need to spend your time, what is due, what must happen, and what you'd like to accomplish. Realize that you do not have to say yes to everything, and you don't have to take it all on. Start saying "no" and learn to practice and protect your boundaries. When you respect your own time, your time will have more value and abundance. Do not be afraid to make "no" your new favorite word.

3. Your Emotions = Time
One of the best ways to be more aware of your time is to pay attention to what you spend your time thinking about. Are you worrying about something you cannot control? Could you create a more productive train of thought? What are you focusing on, and how much time are your emotions taking up? While it is always important to give time to our emotional health, it's important to be aware of how much space we let those emotions occupy in our minds.
Journaling your thoughts is a great start to see how much time you are devoting to emotions, especially if it does not serve you.

5. Let Go of Distractions
Be honest - how much time do you really spend on your phone? How much mental space are you using to consume the daily news and latest social trends. How much TIME are you losing to scrolling - and then ask yourself how are you feeling after hours of being on TikTok?

Distractions such as the news or social media are stealing your emotional energy and time. Take notice of how much time you give these things. Set boundaries for yourself and limit usage, especially if social media has a tendency to make you more anxious, compare yourself to others or limit your productivity.

You can find the full episode below or visit https://shespeaksinc.com/podcast/ for this and many more episodes. You can find us wherever you listen to podcasts.

For more information about Dr. Dawn Ballard:
Instagram:
@iteachtime
https://dawnaballard.com/