How to Regulate Your Emotions with Dr. Justine Grosso

By
SheSpeaksTeam
Aug 18, 2023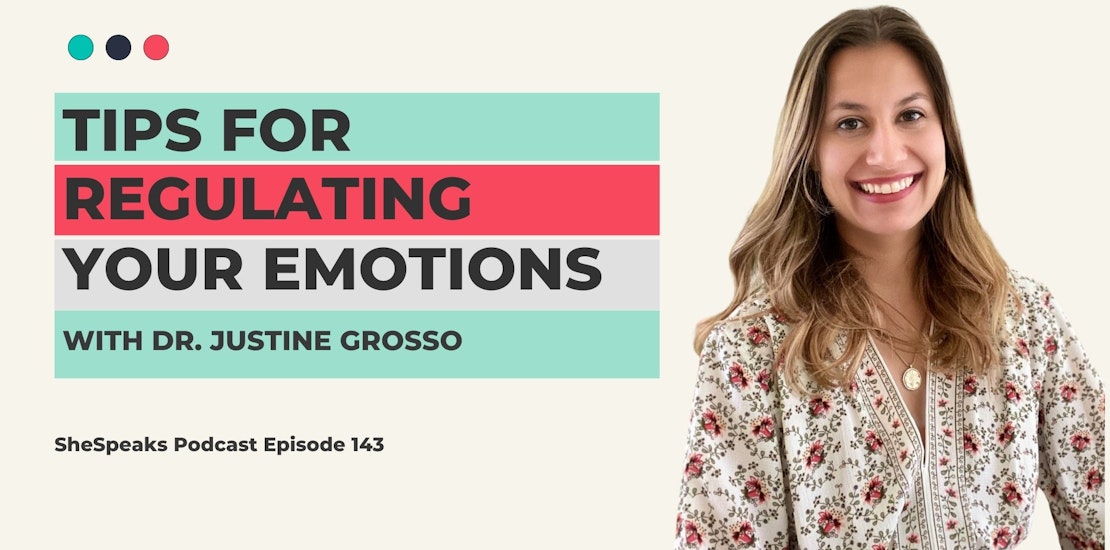 Dr. Justine Grosso
Do you struggle with conflict? Do you want to be more assertive? Are you a people-pleaser?

We sometimes find ourselves asking these questions about ourselves and why some emotions seem to take over, especially when it comes to anxiety, depression, dealing with conflict and learning to be more assertive. Our latest podcast episode takes a dive into why some of these emotions exist and how we can better understand them and learn to regulate ourselves.
Our guest is licensed psychologist and mental health expert, Dr. Justine Grosso and she's made it her mission to bring mental health into the light, normalizing these conversations and serving as a resource for both her clients and social media audience.
About Dr. Justine Grosso
Dr. Grosso specializes in the intersection of the mind-body connection, trauma, and relationships. She is particularly passionate about helping people reduce shame through cutting-edge research and education on the neurobiology of stress and trauma. Dr. Grosso received her doctoral degree in Clinical Psychology from Baylor University and completed her Postdoctoral Fellowship at Duke Academic Medical Center, specializing in trauma and women's health.

Dr. Grosso is a sought after media expert and has been featured in dozens of publications including Vogue, Newsweek, MindBodyGreen, Bustle, and Elle. Dr. Grosso enjoys research, training, and speaking on topics related to mind-body approaches for stress management and building psychological resilience at universities, conferences, and academic journals across the U.S. Dr. Grosso's Instagram @heydrjustine, has amassed a community of over 75,000 in two years and her educational use of social media has been covered by Spectrum News and USA Today .

Source: https://www.drjustinegrosso.com/

In this episode, you'll understand:
How to define fear, flight, fight or freeze and the fawn response,
The difference between anxiety and depression
How Covid affected our subconscious
Scientific ways to calm yourself down when you are alone
Highlights
Links and Resources
follow @heydrjustine on TikTok or Instagram
drjustinegrosso.com