Quick and Easy Meal Ideas with Tyson® Chicken Sandwiches and Sliders

by
SheSpeaksTeam
is this the date @ED : BlogVO [categoryId=70164, blogId=146255, blogTitle=Quick and Easy Meal Ideas with Tyson® Chicken Sandwiches and Sliders, publishingDate=March 09, 2023 12:00 AM, maxResponses=null, noOfComments=null, fileId=46623, blogClosingDate=null, blogCommentClosed=null, blogCategoryId=70164, queryId=0, blogCategoryIdIndex=0, sharedCategoriesList=null, blogStatusId=34, commentsClosedFlag=false, categoryIdForLog=0, blogModuleCategoryId=0, blogFileVo=null, latestCommentsList=null, verticalCatSeoURL=null, currentDate=03/31/2023, blogLink=null, authorName=SheSpeaksTeam, authorLognId=SheSpeaksTeam, authorAcctId=67580, vosTypeid=3, searchTestId=0, searchStatusId=0, searchAuthorType=0, authorBlogNumber=0, surveyData1=null, surveyData1Desc=null, surveyData2=null, surveyData2Desc=null, pullQuoteMemberId=null, filePath=null, fileName=null, vosType=0, subhead=null, offerSubhead=null, description=null, creationTime=null, authorFname=SheSpeaks, verticalCategoryId=null, sectionId=0, imageFileVO=FilesVO [fileId=46623, filePath=null, fileName=null, fileLength=0, fileWidth=0, createdBy=0, createByUser=null, creationTime=null, lastModifiedBy=0, lastModifiedByUser=null, lastModifiedTime=null, mimeType=null, fileRef=null, fileSize=0, extension=null, title=null, body=null, completeFilePath=/pages/img/redesign/blogs/Blog Header (Blog Banner) (3)_03092023110359.jpg, height=630, width=1120, maxHeight=480, maxWidth=360, displayWidth=360, displayHeight=202, fileStatusId=0, searchKeyword=null, searchFlag=false, queryId=0, isExists=true], seoURL=Quick-and-Easy-Meal-Ideas-with-Tyson-Chicken-Sandwiches-and-Sliders, seoTitle=null, pullQuotesList=null, pullQuote=null, pullQuoteId=0, searchFlag=false, authorByLine=null, authorDesc=null, authorLink=null, authorFileVO=FilesVO [fileId=42371, filePath=null, fileName=null, fileLength=0, fileWidth=0, createdBy=0, createByUser=null, creationTime=null, lastModifiedBy=0, lastModifiedByUser=null, lastModifiedTime=null, mimeType=null, fileRef=null, fileSize=0, extension=null, title=null, body=null, completeFilePath=/pages/img/membersnaps/SheSpeaks_Logo_Symbol_Only_10182021080530.jpg, height=1777, width=1777, maxHeight=50, maxWidth=50, displayWidth=50, displayHeight=50, fileStatusId=0, searchKeyword=null, searchFlag=false, queryId=0, isExists=true], authorFileId=42371, authorType=0, storyImgFileVO=null, storyImgFileId=0, videoHtml=, authorImageFileId=0, authorImageFileVO=null, previousCategoryId=null, previousBlogStatusId=0, fromBlogDetails=0, blogCategoryName=Food, blogCategoryUrl=null, blogCategoryDesc=null, defaultImage=false, tags=null, optionIds=null, tagOptionId=null, tagId=null, tag=null, tagID=0, tagDetails=null, tagIds=null, testId=0, extBlogURL=null, extBlogStatus=0, bloggerSince=null, extBlogLimit=0, authorTestsList=[], blogURL=, blogName=, bloggerProfileId=0, sliderBlog=false, eventonHome=true, vosonHome=false, partyAndGiveawayDate=04/04/2023, imageCredit=@kristensellentin, pullQuoteMemId=null, offerSubHead=, subHead=, displayOrder=0,includeInGoogleSearch=true]
Mar 09, 2023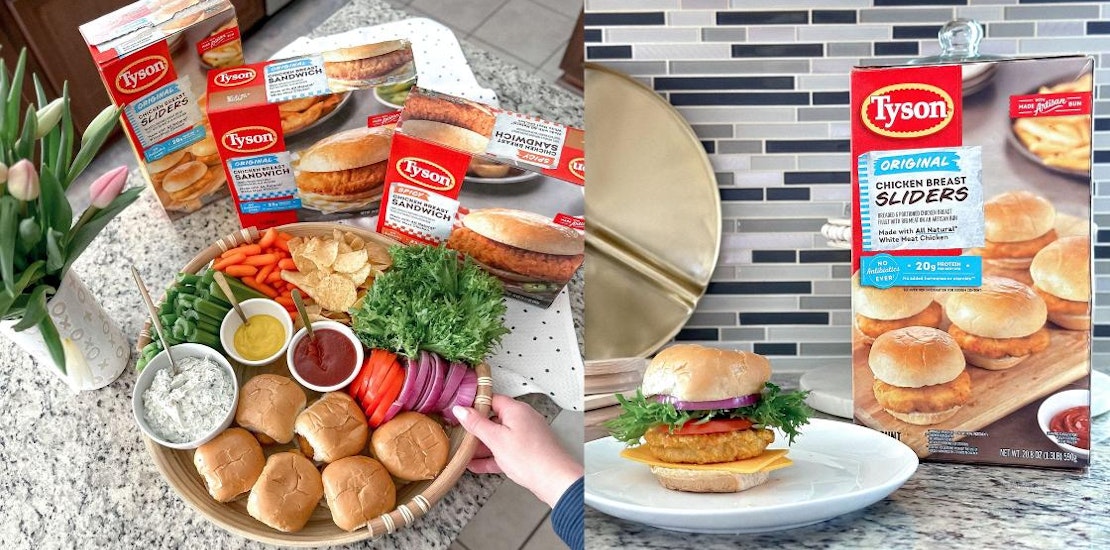 @kristensellentin
Looking for new dinner ideas during the busy week? New at Walmart, Tyson Chicken Sandwiches are the perfect way to feed the whole family. With three varieties, Regular, Spicy and Sliders, there's something for everyone with this quick meal solution! Add your favorite toppings and you've got an easy meal solution with something for everyone!
See how SheSpeaks influencers shopped for and prepared Tyson Chicken Sandwiches, found at Walmart!
Enter our giveaway below for a chance to win a $50 Walmart Gift Card!
Tyson Chicken Sandwiches Giveaway
One lucky winner will be chosen at random to receive one (1) $50 Walmart Gift Card. Giveaway is open to U.S. residents 18 years or older. Enter through April 3. Winner will be chosen randomly by April 4 and notified by email. Winner must be a SheSpeaks member. This giveaway is not sponsored or affiliated with Tyson Foods, Inc. or Walmart
.