New Summer Flavors with Sunkist®

by
SheSpeaksTeam
is this the date @ED : BlogVO [categoryId=70164, blogId=146290, blogTitle=New Summer Flavors with Sunkist®, publishingDate=May 12, 2023 12:00 AM, maxResponses=null, noOfComments=null, fileId=47160, blogClosingDate=null, blogCommentClosed=null, blogCategoryId=70164, queryId=0, blogCategoryIdIndex=0, sharedCategoriesList=null, blogStatusId=34, commentsClosedFlag=false, categoryIdForLog=0, blogModuleCategoryId=0, blogFileVo=null, latestCommentsList=null, verticalCatSeoURL=null, currentDate=06/01/2023, blogLink=null, authorName=SheSpeaksTeam, authorLognId=SheSpeaksTeam, authorAcctId=67580, vosTypeid=3, searchTestId=0, searchStatusId=0, searchAuthorType=0, authorBlogNumber=0, surveyData1=null, surveyData1Desc=null, surveyData2=null, surveyData2Desc=null, pullQuoteMemberId=null, filePath=null, fileName=null, vosType=0, subhead=null, offerSubhead=null, description=null, creationTime=null, authorFname=SheSpeaks, verticalCategoryId=null, sectionId=0, imageFileVO=FilesVO [fileId=47160, filePath=null, fileName=null, fileLength=0, fileWidth=0, createdBy=0, createByUser=null, creationTime=null, lastModifiedBy=0, lastModifiedByUser=null, lastModifiedTime=null, mimeType=null, fileRef=null, fileSize=0, extension=null, title=null, body=null, completeFilePath=/pages/img/redesign/blogs/sunkist banner_05112023225227.jpg, height=1728, width=3456, maxHeight=480, maxWidth=360, displayWidth=360, displayHeight=180, fileStatusId=0, searchKeyword=null, searchFlag=false, queryId=0, isExists=true], seoURL=New-Summer-Flavors-with-Sunkist, seoTitle=null, pullQuotesList=null, pullQuote=null, pullQuoteId=0, searchFlag=false, authorByLine=null, authorDesc=null, authorLink=null, authorFileVO=FilesVO [fileId=42371, filePath=null, fileName=null, fileLength=0, fileWidth=0, createdBy=0, createByUser=null, creationTime=null, lastModifiedBy=0, lastModifiedByUser=null, lastModifiedTime=null, mimeType=null, fileRef=null, fileSize=0, extension=null, title=null, body=null, completeFilePath=/pages/img/membersnaps/SheSpeaks_Logo_Symbol_Only_10182021080530.jpg, height=1777, width=1777, maxHeight=50, maxWidth=50, displayWidth=50, displayHeight=50, fileStatusId=0, searchKeyword=null, searchFlag=false, queryId=0, isExists=true], authorFileId=42371, authorType=0, storyImgFileVO=null, storyImgFileId=0, videoHtml=, authorImageFileId=0, authorImageFileVO=null, previousCategoryId=null, previousBlogStatusId=0, fromBlogDetails=0, blogCategoryName=Food, blogCategoryUrl=null, blogCategoryDesc=null, defaultImage=false, tags=null, optionIds=null, tagOptionId=null, tagId=null, tag=null, tagID=0, tagDetails=null, tagIds=null, testId=0, extBlogURL=null, extBlogStatus=0, bloggerSince=null, extBlogLimit=0, authorTestsList=[], blogURL=, blogName=, bloggerProfileId=0, sliderBlog=false, eventonHome=true, vosonHome=false, partyAndGiveawayDate=05/31/2023, imageCredit=null, pullQuoteMemId=null, offerSubHead=, subHead=, displayOrder=0,includeInGoogleSearch=false]
May 12, 2023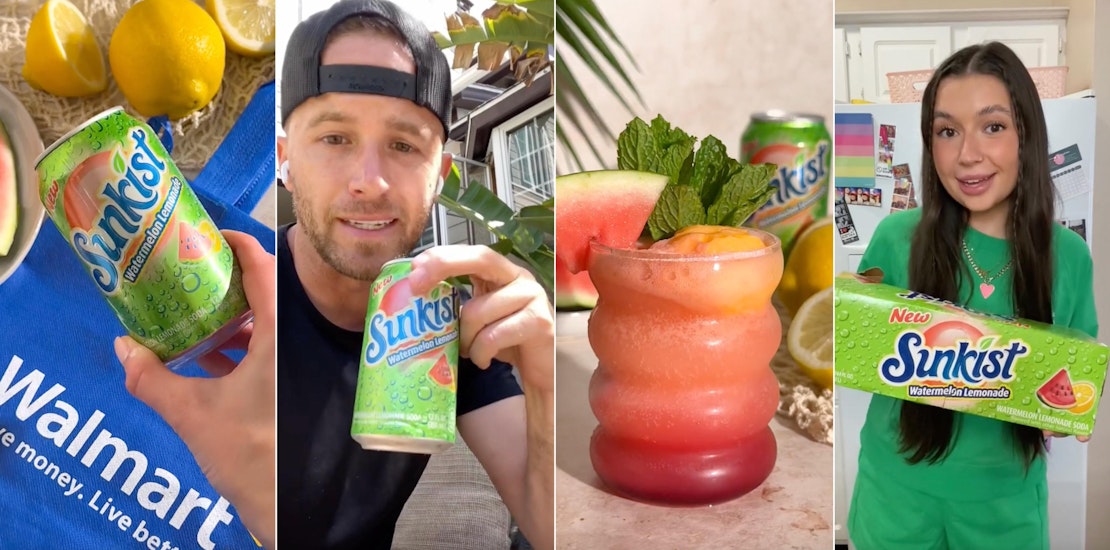 Find your slice of sunshine this summer with the new Sunkist® Watermelon Lemonade Soda, available only at Walmart. This refreshing flavor is the perfect way to enjoy any summer day, whether you are poolside, at the beach, gathering with friends or creating the perfect mocktail!

SheSpeaks influencers have been enjoying Sunkist Watermelon Lemonade and the other flavor duos. See below for their best ideas to enjoy!
Enter our giveaway below for a chance to win a $50 Walmart Gift Card to stock up for summer.
Sunkist Watermelon Lemonade Giveaway
One lucky winner will be chosen at random to receive a $50 Walmart Gift Card. Giveaway is open to U.S. residents 18 years or older. Enter through - Wednesday, May 31, 2023. Winner will be chosen randomly and notified by email. Entrants must be a member of SheSpeaks. If you are not a member, click here to join.