by
SheSpeaksTeam
is this the date @ED : BlogVO [categoryId=70164, blogId=146346, blogTitle=Embrace Your Inner Pink STARBURST®: Celebrating Individuality and Self-Love, publishingDate=November 02, 2023 12:00 AM, maxResponses=null, noOfComments=null, fileId=48765, blogClosingDate=null, blogCommentClosed=null, blogCategoryId=70164, queryId=0, blogCategoryIdIndex=0, sharedCategoriesList=null, blogStatusId=34, commentsClosedFlag=false, categoryIdForLog=0, blogModuleCategoryId=0, blogFileVo=null, latestCommentsList=null, verticalCatSeoURL=null, currentDate=12/02/2023, blogLink=null, authorName=SheSpeaksTeam, authorLognId=SheSpeaksTeam, authorAcctId=67580, vosTypeid=3, searchTestId=0, searchStatusId=0, searchAuthorType=0, authorBlogNumber=0, surveyData1=null, surveyData1Desc=null, surveyData2=null, surveyData2Desc=null, pullQuoteMemberId=null, filePath=null, fileName=null, vosType=0, subhead=null, offerSubhead=null, description=null, creationTime=null, authorFname=SheSpeaks, verticalCategoryId=null, sectionId=0, imageFileVO=FilesVO [fileId=48765, filePath=null, fileName=null, fileLength=0, fileWidth=0, createdBy=0, createByUser=null, creationTime=null, lastModifiedBy=0, lastModifiedByUser=null, lastModifiedTime=null, mimeType=null, fileRef=null, fileSize=0, extension=null, title=null, body=null, completeFilePath=/pages/img/redesign/blogs/Starburst header_11022023100843.jpg, height=3240, width=6480, maxHeight=480, maxWidth=360, displayWidth=360, displayHeight=180, fileStatusId=0, searchKeyword=null, searchFlag=false, queryId=0, isExists=true], seoURL=Embrace-Your-Inner-Pink-STARBURST-Celebrating-Individuality-and-Self-Love, seoTitle=null, pullQuotesList=null, pullQuote=null, pullQuoteId=0, searchFlag=false, authorByLine=null, authorDesc=null, authorLink=null, authorFileVO=FilesVO [fileId=42371, filePath=null, fileName=null, fileLength=0, fileWidth=0, createdBy=0, createByUser=null, creationTime=null, lastModifiedBy=0, lastModifiedByUser=null, lastModifiedTime=null, mimeType=null, fileRef=null, fileSize=0, extension=null, title=null, body=null, completeFilePath=/pages/img/membersnaps/SheSpeaks_Logo_Symbol_Only_10182021080530.jpg, height=1777, width=1777, maxHeight=50, maxWidth=50, displayWidth=50, displayHeight=50, fileStatusId=0, searchKeyword=null, searchFlag=false, queryId=0, isExists=true], authorFileId=42371, authorType=0, storyImgFileVO=null, storyImgFileId=0, videoHtml=, authorImageFileId=0, authorImageFileVO=null, previousCategoryId=null, previousBlogStatusId=0, fromBlogDetails=0, blogCategoryName=Food, blogCategoryUrl=null, blogCategoryDesc=null, defaultImage=false, tags=null, optionIds=null, tagOptionId=null, tagId=null, tag=null, tagID=0, tagDetails=null, tagIds=null, testId=0, extBlogURL=null, extBlogStatus=0, bloggerSince=null, extBlogLimit=0, authorTestsList=[], blogURL=, blogName=, bloggerProfileId=0, sliderBlog=false, eventonHome=false, vosonHome=false, partyAndGiveawayDate=11/15/2023, imageCredit=null, pullQuoteMemId=null, offerSubHead=, subHead=, displayOrder=0,includeInGoogleSearch=false]
Nov 02, 2023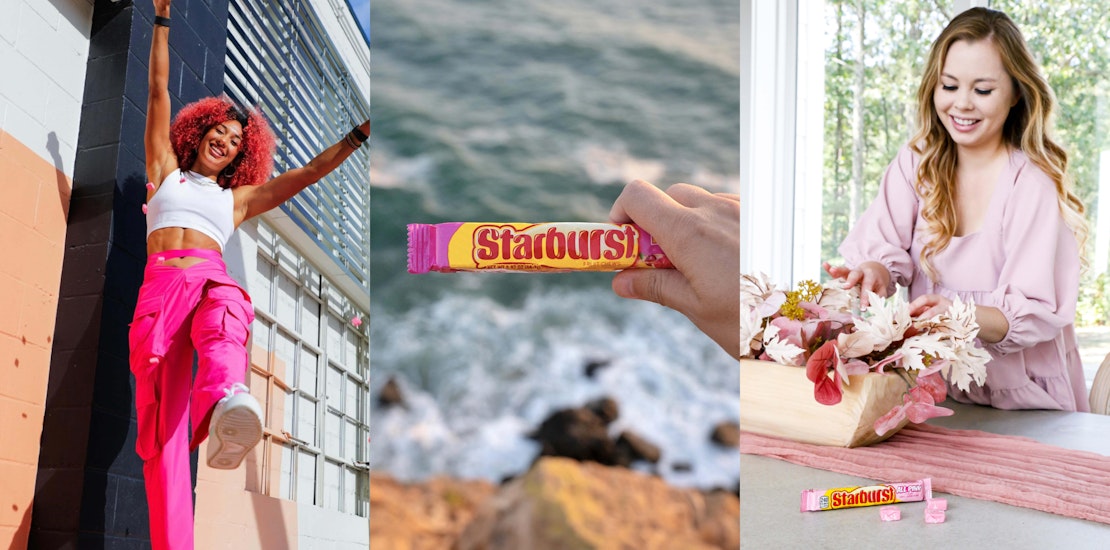 We're on a mission to celebrate what makes you, you with Pink STARBURST®. In a world of conformity, we encourage you to break free from the mold and follow your passions unapologetically. Embracing your unique qualities, quirks, and perspectives is what sets you apart and makes you extraordinary.

Self-love is the cornerstone of this mission. When you love yourself, you radiate a confidence that inspires others to do the same, creating a ripple effect of positivity and self-acceptance. In essence, Pink STARBURST symbolizes the sweetness of celebrating your individuality, pursuing your passions, and living in your truth. With every chew, savor the reminder that you are unique, and your uniqueness is something to be cherished and celebrated. Click here to find Pink STARBURST at your local retailer.

See how SheSpeaks influencers have been celebrating their individuality with Pink STARBURST.

Enter to win a Pink STARBURST candy package, valued at $50!
Giveaway - Pink STARBURST®
One lucky winner will be chosen at random to receive a Pink STARBURST candy package, valued at $50. Giveaway is open to U.S. residents 18 years or older. Enter through Wednesday, November 15. Winner will be chosen randomly and notified by email. Entrants must be a member of SheSpeaks. If you are not a member, click here to join.
-->