by
SheSpeaksTeam
is this the date @ED : BlogVO [categoryId=70165, blogId=145928, blogTitle=Celebrate Our New Look! , publishingDate=October 22, 2021 12:00 AM, maxResponses=null, noOfComments=null, fileId=42410, blogClosingDate=null, blogCommentClosed=null, blogCategoryId=70165, queryId=0, blogCategoryIdIndex=0, sharedCategoriesList=null, blogStatusId=34, commentsClosedFlag=false, categoryIdForLog=0, blogModuleCategoryId=0, blogFileVo=null, latestCommentsList=null, verticalCatSeoURL=null, currentDate=12/09/2022, blogLink=null, authorName=SheSpeaksTeam, authorLognId=SheSpeaksTeam, authorAcctId=67580, vosTypeid=3, searchTestId=0, searchStatusId=0, searchAuthorType=0, authorBlogNumber=0, surveyData1=null, surveyData1Desc=null, surveyData2=null, surveyData2Desc=null, pullQuoteMemberId=null, filePath=null, fileName=null, vosType=0, subhead=null, offerSubhead=null, description=null, creationTime=null, authorFname=SheSpeaks, verticalCategoryId=null, sectionId=0, imageFileVO=FilesVO [fileId=42410, filePath=null, fileName=null, fileLength=0, fileWidth=0, createdBy=0, createByUser=null, creationTime=null, lastModifiedBy=0, lastModifiedByUser=null, lastModifiedTime=null, mimeType=null, fileRef=null, fileSize=0, extension=null, title=null, body=null, completeFilePath=/pages/img/redesign/blogs/Giveaway (Facebook Post) (940 x 460 px)_10222021102446.png, height=460, width=940, maxHeight=480, maxWidth=360, displayWidth=360, displayHeight=176, fileStatusId=0, searchKeyword=null, searchFlag=false, queryId=0, isExists=true], seoURL=Celebrate-Our-New-Look, seoTitle=null, pullQuotesList=null, pullQuote=null, pullQuoteId=0, searchFlag=false, authorByLine=null, authorDesc=null, authorLink=null, authorFileVO=FilesVO [fileId=42371, filePath=null, fileName=null, fileLength=0, fileWidth=0, createdBy=0, createByUser=null, creationTime=null, lastModifiedBy=0, lastModifiedByUser=null, lastModifiedTime=null, mimeType=null, fileRef=null, fileSize=0, extension=null, title=null, body=null, completeFilePath=/pages/img/membersnaps/SheSpeaks_Logo_Symbol_Only_10182021080530.jpg, height=1777, width=1777, maxHeight=50, maxWidth=50, displayWidth=50, displayHeight=50, fileStatusId=0, searchKeyword=null, searchFlag=false, queryId=0, isExists=true], authorFileId=42371, authorType=0, storyImgFileVO=null, storyImgFileId=0, videoHtml=, authorImageFileId=0, authorImageFileVO=null, previousCategoryId=null, previousBlogStatusId=0, fromBlogDetails=0, blogCategoryName=Living, blogCategoryUrl=null, blogCategoryDesc=null, defaultImage=false, tags=null, optionIds=null, tagOptionId=null, tagId=null, tag=null, tagID=0, tagDetails=null, tagIds=null, testId=0, extBlogURL=null, extBlogStatus=0, bloggerSince=null, extBlogLimit=0, authorTestsList=[], blogURL=, blogName=, bloggerProfileId=0, sliderBlog=false, eventonHome=true, vosonHome=false, partyAndGiveawayDate=11/07/2021, imageCredit=null, pullQuoteMemId=null, offerSubHead=, subHead=, displayOrder=0,includeInGoogleSearch=false]
Oct 22, 2021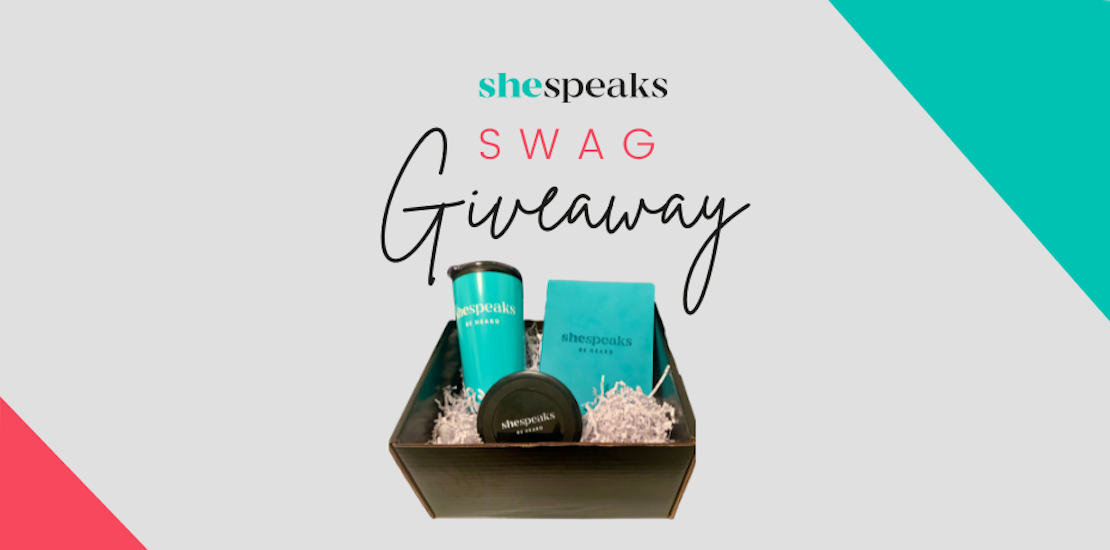 Hooray - our new look and updated website are here! We are spotlighting our community in new ways and giving you, our members, more ways to be heard and featured.
Here are some of the things that you will be able to do on the new shespeaks.com:
TRY PRODUCTS and let us and your followers know what you think! ✍️
TAKE SURVEYS to weigh in on important issues impacting our world and the products and services that we consume each and every day. 👩🏻‍💻
Participate in online EVENTS. Our online events feature influencers from the worlds of cooking, DIY, self-help and beauty. They're great opportunities to learn, and we do giveaways as we go! 👩🏼‍🍳
Listen to our PODCAST where we feature women who are shaping the worlds of entertainment, media, publishing, sports and so much more. 🎧
Participate in PROMOTIONS & GIVEAWAYS. We have lots of awesome promotions & giveaway opportunities for you! 🎉

So let's celebrate and give away some fun new swag - enter our giveaway! You might win a SheSpeaks "Be Heard" sweatshirt along with a cool journal, tumbler and phone charger!
SheSpeaks Swag Giveaway
One lucky participant will be chosen at random to win a great package of SheSpeaks merchandise. This giveaway is open through November 7, 2021 to U.S. residents at least 18 years of age. Entrants must be a member of SheSpeaks. If you are not a member, click here to join. Winner will be notified by email.
Thanks to all who entered! Congrats to our winner, SheSpeaks member
fowler121600.