10 Hobbies for Your 5-to-9 After Your 9-to-5 + Giveaway

by
SheSpeaksTeam
is this the date @ED : BlogVO [categoryId=70165, blogId=146336, blogTitle=10 Hobbies for Your 5-to-9 After Your 9-to-5 + Giveaway , publishingDate=October 15, 2023 12:00 AM, maxResponses=null, noOfComments=null, fileId=48670, blogClosingDate=null, blogCommentClosed=null, blogCategoryId=70165, queryId=0, blogCategoryIdIndex=0, sharedCategoriesList=null, blogStatusId=34, commentsClosedFlag=false, categoryIdForLog=0, blogModuleCategoryId=0, blogFileVo=null, latestCommentsList=null, verticalCatSeoURL=null, currentDate=12/02/2023, blogLink=null, authorName=SheSpeaksTeam, authorLognId=SheSpeaksTeam, authorAcctId=67580, vosTypeid=3, searchTestId=0, searchStatusId=0, searchAuthorType=0, authorBlogNumber=0, surveyData1=null, surveyData1Desc=null, surveyData2=null, surveyData2Desc=null, pullQuoteMemberId=null, filePath=null, fileName=null, vosType=0, subhead=null, offerSubhead=null, description=null, creationTime=null, authorFname=SheSpeaks, verticalCategoryId=null, sectionId=0, imageFileVO=FilesVO [fileId=48670, filePath=null, fileName=null, fileLength=0, fileWidth=0, createdBy=0, createByUser=null, creationTime=null, lastModifiedBy=0, lastModifiedByUser=null, lastModifiedTime=null, mimeType=null, fileRef=null, fileSize=0, extension=null, title=null, body=null, completeFilePath=/pages/img/redesign/blogs/image3 (1)_10152023184217.jpg, height=1125, width=1999, maxHeight=480, maxWidth=360, displayWidth=360, displayHeight=202, fileStatusId=0, searchKeyword=null, searchFlag=false, queryId=0, isExists=true], seoURL=10-Hobbies-for-Your-5-to-9-After-Your-9-to-5, seoTitle=null, pullQuotesList=null, pullQuote=null, pullQuoteId=0, searchFlag=false, authorByLine=null, authorDesc=null, authorLink=null, authorFileVO=FilesVO [fileId=42371, filePath=null, fileName=null, fileLength=0, fileWidth=0, createdBy=0, createByUser=null, creationTime=null, lastModifiedBy=0, lastModifiedByUser=null, lastModifiedTime=null, mimeType=null, fileRef=null, fileSize=0, extension=null, title=null, body=null, completeFilePath=/pages/img/membersnaps/SheSpeaks_Logo_Symbol_Only_10182021080530.jpg, height=1777, width=1777, maxHeight=50, maxWidth=50, displayWidth=50, displayHeight=50, fileStatusId=0, searchKeyword=null, searchFlag=false, queryId=0, isExists=true], authorFileId=42371, authorType=0, storyImgFileVO=null, storyImgFileId=0, videoHtml=, authorImageFileId=0, authorImageFileVO=null, previousCategoryId=null, previousBlogStatusId=0, fromBlogDetails=0, blogCategoryName=Living, blogCategoryUrl=null, blogCategoryDesc=null, defaultImage=false, tags=null, optionIds=null, tagOptionId=null, tagId=null, tag=null, tagID=0, tagDetails=null, tagIds=null, testId=0, extBlogURL=null, extBlogStatus=0, bloggerSince=null, extBlogLimit=0, authorTestsList=[], blogURL=, blogName=, bloggerProfileId=0, sliderBlog=false, eventonHome=true, vosonHome=true, partyAndGiveawayDate=11/10/2023, imageCredit=null, pullQuoteMemId=null, offerSubHead=, subHead=, displayOrder=0,includeInGoogleSearch=false]
Oct 15, 2023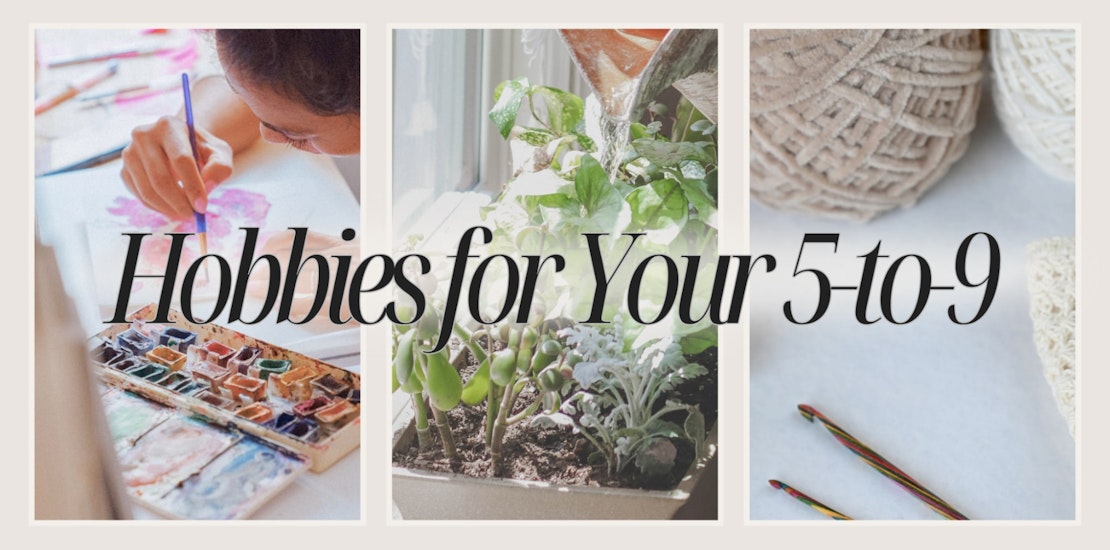 How do you spend your five-to-nine? It's easy to measure your success by what you accomplish during your nine-to-five, but your time outside of work is just as valuable — investing your time into hobbies can help you nurture creativity, learn new skills and manage stress.
In this article, we'll outline 10 new hobbies to try, plus some product suggestions to help you get started.

1. Play Pickleball
Recently, pickleball has exploded in popularity. The perfect blend of tennis, badminton and ping pong, pickleball is an enjoyable, accessible sport for people who want to stay active while having fun. The game is easy to learn; just get basic pickleball gear, find a local court and gather with friends or join a league. We love this beginner pickleball set from Amazon — it comes with everything you need to start playing, and it has a fun, groovy color scheme.

2. Get Artsy
When was the last time you let out your inner artist? Painting is a great way to tap into your creativity, and they can also be relaxing and therapeutic. You can experiment with different types of paint, like acrylic, gouache, watercolor and oil paint. Many people find acrylic paint a beginner-friendly option, but it's most important to find the paint that you enjoy using.

3. Join a Book Club
Thanks in part to #booktok, book clubs are as popular as ever. If you enjoy reading, consider joining a book club or starting your own. A book club is a great way to gather a group of people together over a shared interest, and it can also introduce you to authors and genres you may not have read otherwise.

4. Make Your Own Candles
Love candles? Consider creating your own. Candle making is a relaxing hobby that allows you to customize your living space with beautiful handmade candles. You can choose the scents and aesthetics that resonate the most with you and match your decor, mood or even the changing seasons. We love this candle making kit from Amazon! Complete with soy wax, jars, tins, fragrance oils, dye blocks, wicks and more, this comprehensive kit is perfect for beginner candle makers.

5. Create DIY Home Decor
Express your creativity through DIY home decor projects. Whether it's refurbishing furniture, making personalized wall art, or crafting unique home accessories, DIY projects can transform your living space and give you a sense of accomplishment. TikTok and Pinterest are great places to search for ideas, but here are some beginner-friendly DIY home decor projects:
Gallery wall: Create a gallery wall by framing your favorite photos, artwork or even postcards. You can mix and match frame styles or stick to a consistent look.
Framed mirror: Find an inexpensive mirror and frame it with reclaimed wood, decorative molding or mosaic tiles.
Upcycled furniture: Make old furniture new with a fresh coat of paint and updated hardware.
6. Go Rock Climbing
If you're seeking adventure and an adrenaline rush, rock climbing might be right for you. Enroll in a climbing gym and learn the ropes (literally!), or venture into outdoor climbing. Climbing not only builds physical strength, but it can also enhance problem solving skills and self confidence. Rock climbing also fosters a tight-knit and supportive community, so it can be a great way to meet new people.

7. Learn to Knit or Crochet
Knitting and crocheting are hobbies that blend creativity and relaxation. With just a few tools — knitting needles or a crochet hook and a skein of yarn — you can create one-of-a-kind clothing, accessories, blankets and more. You can also enjoy knitting and crocheting while you watch TV or listen to music.

8. Create Sculptures or Pottery
Tap into your creativity through sculpture. You can create pieces like mugs and planters by shaping clay or using a pottery wheel. Joining a local pottery class or studio can also open doors to a community of fellow artists and learners. We love this sculpting starter kit because the air-dry clay is perfect for beginners!


9. Become a Plant Parent
Nurturing plants is a great way to connect with nature while enriching your surroundings. Start with easy-to-grow plants like herbs or succulents, and add more plants to your collection as your green thumb develops. You can even propagate plants and share them among friends to expand your collection.=

10. Volunteer in Your Community
Volunteering can also be a hobby. Whether it's working with local charities, helping at animal shelters or participating in environmental clean-up initiatives, volunteering is a fulfilling way to positively impact the world around you. Furthermore, volunteering can help you develop new skills that you can apply to other areas of your life.

Let us know in the comments what your hobby is or if you've been inspired by any of these ideas. PLUS enter to WIN your choice - one of the three products featured here (candle making set, pickleball set OR sculpting set).
Hobbies for you 5-9
Thanks to all who entered! Congrats to our winner SheSpeaks member icefairy.