Celebrate Hispanic Heritage Month with Bimbo & Marinela & WIN

by
SheSpeaksTeam
is this the date @ED : BlogVO [categoryId=70164, blogId=146114, blogTitle=Celebrate Hispanic Heritage Month with Bimbo & Marinela & WIN , publishingDate=September 28, 2022 12:00 AM, maxResponses=null, noOfComments=null, fileId=45282, blogClosingDate=null, blogCommentClosed=null, blogCategoryId=70164, queryId=0, blogCategoryIdIndex=0, sharedCategoriesList=null, blogStatusId=34, commentsClosedFlag=false, categoryIdForLog=0, blogModuleCategoryId=0, blogFileVo=null, latestCommentsList=null, verticalCatSeoURL=null, currentDate=12/09/2022, blogLink=null, authorName=SheSpeaksTeam, authorLognId=SheSpeaksTeam, authorAcctId=67580, vosTypeid=3, searchTestId=0, searchStatusId=0, searchAuthorType=0, authorBlogNumber=0, surveyData1=null, surveyData1Desc=null, surveyData2=null, surveyData2Desc=null, pullQuoteMemberId=null, filePath=null, fileName=null, vosType=0, subhead=null, offerSubhead=null, description=null, creationTime=null, authorFname=SheSpeaks, verticalCategoryId=null, sectionId=0, imageFileVO=FilesVO [fileId=45282, filePath=null, fileName=null, fileLength=0, fileWidth=0, createdBy=0, createByUser=null, creationTime=null, lastModifiedBy=0, lastModifiedByUser=null, lastModifiedTime=null, mimeType=null, fileRef=null, fileSize=0, extension=null, title=null, body=null, completeFilePath=/pages/img/redesign/blogs/Bimbo HHM 2022 header_09282022174041.jpg, height=1260, width=2240, maxHeight=480, maxWidth=360, displayWidth=360, displayHeight=202, fileStatusId=0, searchKeyword=null, searchFlag=false, queryId=0, isExists=true], seoURL=Celebrate-Hispanic-Heritage-Month-Bimbo-Marinela, seoTitle=null, pullQuotesList=null, pullQuote=null, pullQuoteId=0, searchFlag=false, authorByLine=null, authorDesc=null, authorLink=null, authorFileVO=FilesVO [fileId=42371, filePath=null, fileName=null, fileLength=0, fileWidth=0, createdBy=0, createByUser=null, creationTime=null, lastModifiedBy=0, lastModifiedByUser=null, lastModifiedTime=null, mimeType=null, fileRef=null, fileSize=0, extension=null, title=null, body=null, completeFilePath=/pages/img/membersnaps/SheSpeaks_Logo_Symbol_Only_10182021080530.jpg, height=1777, width=1777, maxHeight=50, maxWidth=50, displayWidth=50, displayHeight=50, fileStatusId=0, searchKeyword=null, searchFlag=false, queryId=0, isExists=true], authorFileId=42371, authorType=0, storyImgFileVO=null, storyImgFileId=0, videoHtml=, authorImageFileId=0, authorImageFileVO=null, previousCategoryId=null, previousBlogStatusId=0, fromBlogDetails=0, blogCategoryName=Food, blogCategoryUrl=null, blogCategoryDesc=null, defaultImage=false, tags=null, optionIds=null, tagOptionId=null, tagId=null, tag=null, tagID=0, tagDetails=null, tagIds=null, testId=0, extBlogURL=null, extBlogStatus=0, bloggerSince=null, extBlogLimit=0, authorTestsList=[], blogURL=, blogName=, bloggerProfileId=0, sliderBlog=false, eventonHome=true, vosonHome=true, partyAndGiveawayDate=10/15/2022, imageCredit=null, pullQuoteMemId=null, offerSubHead=, subHead=, displayOrder=0,includeInGoogleSearch=false]
Sep 28, 2022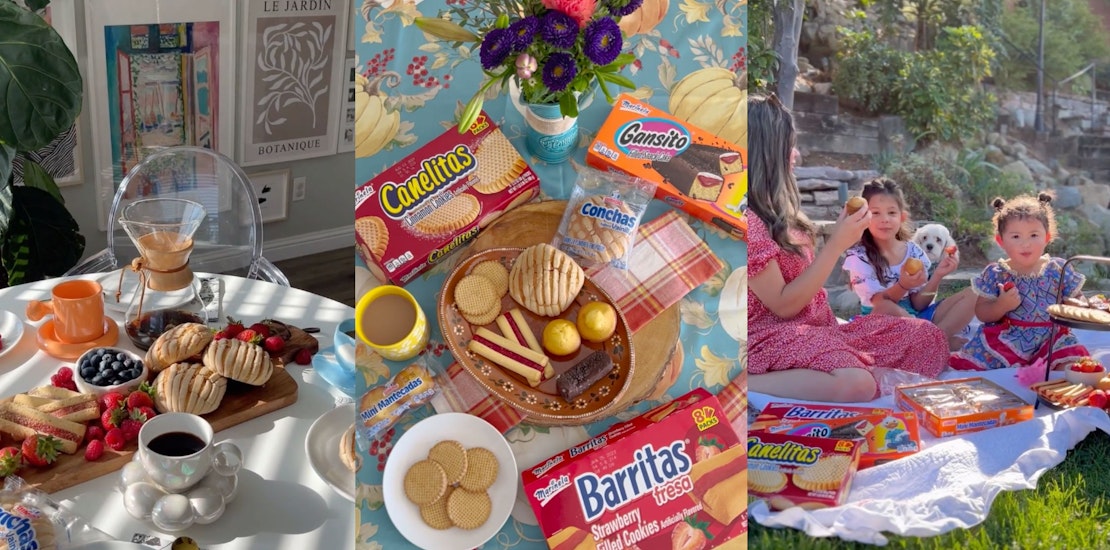 Hispanic Heritage Month begins on September 15 and runs through October 15. It is celebrated nationwide as a way to honor the culture and contributions of both Hispanic and Latino Americans. The month also celebrates the independence days of several Latin American countries.

SheSpeaks influencers shared with us how they are celebrating this month by reflecting on their own culture and heritage along with Bimbo & Marinela baked goods! Check out their content below! Keep reading to enter to WIN a $50 Walmart Gift Card & Wooden Snack Board to make your sweets display with Bimbo & Marinela snacks!

Enter our giveaway below for a chance to win a $50 Walmart Gift Card & Wooden Snack Board.
Hispanic Heritage Month with Bimbo & Marinela Giveaway
This is a sponsored post for Bimbo Marinela at Walmart.
One lucky winner will be chosen at random to receive a $50 Walmart Gift Card and Wooden Snack Board. Giveaway is open to U.S. residents 18 years or older. Enter through October 15. Winner will be chosen randomly and notified by email. Entrants must be a member of SheSpeaks. If you are not a member, click here to join.
Thanks to all who entered! Congrats to our winner SheSpeaks member JILLRK.