#12DaysOfSheSpeaks Day 10: Win a Star Wars Remote Control BB-8

by
SheSpeaksTeam
is this the date @ED : BlogVO [categoryId=70165, blogId=144561, blogTitle=#12DaysOfSheSpeaks Day 10: Win a Star Wars Remote Control BB-8, publishingDate=December 17, 2015 12:00 AM, maxResponses=null, noOfComments=null, fileId=25119, blogClosingDate=null, blogCommentClosed=null, blogCategoryId=70165, queryId=0, blogCategoryIdIndex=0, sharedCategoriesList=null, blogStatusId=34, commentsClosedFlag=false, categoryIdForLog=0, blogModuleCategoryId=0, blogFileVo=null, latestCommentsList=null, verticalCatSeoURL=null, currentDate=05/31/2023, blogLink=null, authorName=SheSpeaksTeam, authorLognId=SheSpeaksTeam, authorAcctId=67580, vosTypeid=3, searchTestId=0, searchStatusId=0, searchAuthorType=0, authorBlogNumber=0, surveyData1=null, surveyData1Desc=null, surveyData2=null, surveyData2Desc=null, pullQuoteMemberId=null, filePath=null, fileName=null, vosType=0, subhead=null, offerSubhead=null, description=null, creationTime=null, authorFname=SheSpeaks, verticalCategoryId=null, sectionId=0, imageFileVO=FilesVO [fileId=25119, filePath=null, fileName=null, fileLength=0, fileWidth=0, createdBy=0, createByUser=null, creationTime=null, lastModifiedBy=0, lastModifiedByUser=null, lastModifiedTime=null, mimeType=null, fileRef=null, fileSize=0, extension=null, title=null, body=null, completeFilePath=/pages/img/redesign/blogs/84453861-9188-43f2-be95-80c0bcabd290_12142015130335.jpeg, height=350, width=350, maxHeight=480, maxWidth=360, displayWidth=350, displayHeight=350, fileStatusId=0, searchKeyword=null, searchFlag=false, queryId=0, isExists=true], seoURL=-12DaysOfSheSpeaks-Day-10-Win-a-Star-Wars-Remote-Control-BB-8, seoTitle=null, pullQuotesList=null, pullQuote=null, pullQuoteId=0, searchFlag=false, authorByLine=null, authorDesc=null, authorLink=null, authorFileVO=FilesVO [fileId=42371, filePath=null, fileName=null, fileLength=0, fileWidth=0, createdBy=0, createByUser=null, creationTime=null, lastModifiedBy=0, lastModifiedByUser=null, lastModifiedTime=null, mimeType=null, fileRef=null, fileSize=0, extension=null, title=null, body=null, completeFilePath=/pages/img/membersnaps/SheSpeaks_Logo_Symbol_Only_10182021080530.jpg, height=1777, width=1777, maxHeight=50, maxWidth=50, displayWidth=50, displayHeight=50, fileStatusId=0, searchKeyword=null, searchFlag=false, queryId=0, isExists=true], authorFileId=42371, authorType=0, storyImgFileVO=null, storyImgFileId=0, videoHtml=, authorImageFileId=0, authorImageFileVO=null, previousCategoryId=null, previousBlogStatusId=0, fromBlogDetails=0, blogCategoryName=Living, blogCategoryUrl=null, blogCategoryDesc=null, defaultImage=false, tags=null, optionIds=null, tagOptionId=null, tagId=null, tag=null, tagID=0, tagDetails=null, tagIds=null, testId=0, extBlogURL=null, extBlogStatus=0, bloggerSince=null, extBlogLimit=0, authorTestsList=[], blogURL=, blogName=, bloggerProfileId=0, sliderBlog=false, eventonHome=false, vosonHome=false, partyAndGiveawayDate=12/21/2015, imageCredit=null, pullQuoteMemId=null, offerSubHead=null, subHead=null, displayOrder=0,includeInGoogleSearch=false]
Dec 17, 2015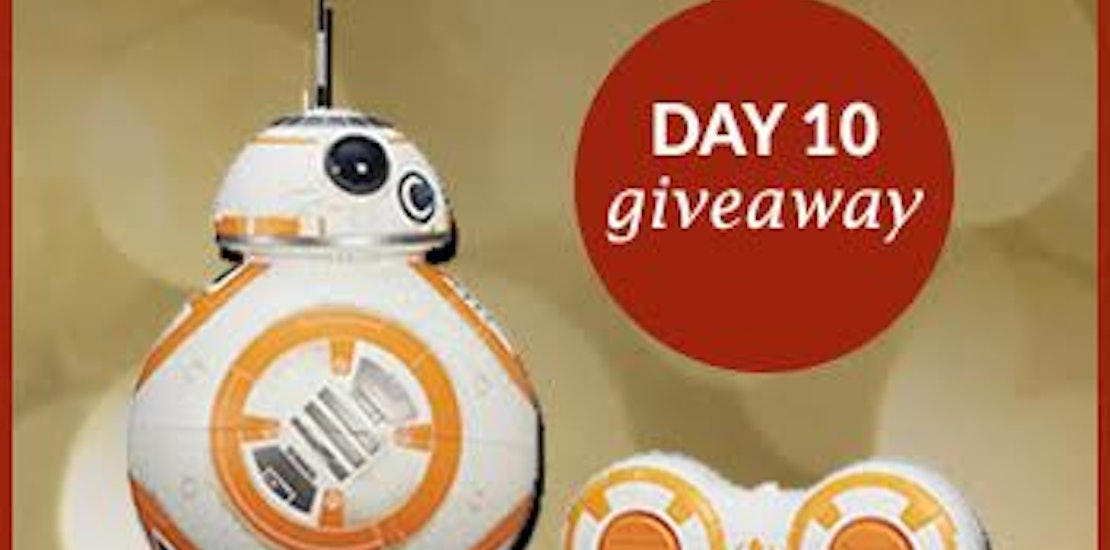 The tenth giveaway in our BIG #12DaysOfSheSpeaks Day giveaways is a Star Wars Episode 7 Remote Control BB-8!
It's tough to ignore the excitement over the premiere of Star Wars: The Force Awakens. Kids and adults of all ages are gearing up for the latest episode in the intergalactic adventure of good versus evil. Which is why it took the strength of the force to get our hands on the newest droid, the BB-8.
This remote control BB-8 figure rolls in any direction and makes expressive droid sounds. He has movie-accurate decoration and retails for $79.99 exclusively at Target. We're thrilled be able to send one to the lucky winner of this giveaway!
Ready to win a Star Wars Remote Control BB-8?
There are two ways to enter:
Simply comment below to answer the question - Who is your favorite character in the Star Wars franchise?
AND/OR
Tweet about the giveaway!
Click here to Tweet:
"I'm entering to win a #StarWars Remote Control BB-8 on day 10 of #12DaysOfSheSpeaks, thx to @SheSpeaksUp bit.ly/1JchiOM"
Have you entered all #12DaysofSheSpeaks giveaways? Click here to enter them all, and check back on weekdays between now and December 21st for more!
Also, don't forget that for every entry up to $1,000 during the duration of the #12DaysofSheSpeaks giveway, we are donating $1 to Feeding America, to make sure that more families are fed this holiday season. You can find out more about the charity and our social good campaign here.
One lucky commenter (or Tweeter) will be chosen at random to receive a Star Wars Episode 7 Remote Control BB-8, with a retail value of $79.99. Enter through December 21st. Giveaways are open to U.S. residents only and must be a member of SheSpeaks. If you are not a member, click here to join. Winner will be notified by email on December 22nd.
Thanks for entering! This Giveaway is now closed.
Update: The winner has been chosen and is SheSpeaks member rebecca1111. Thanks to all for entering!