Announcing our 2021 #12DaysOfSheSpeaks Charity Choice: Toys For Tots

By
SheSpeaksTeam
Dec 02, 2021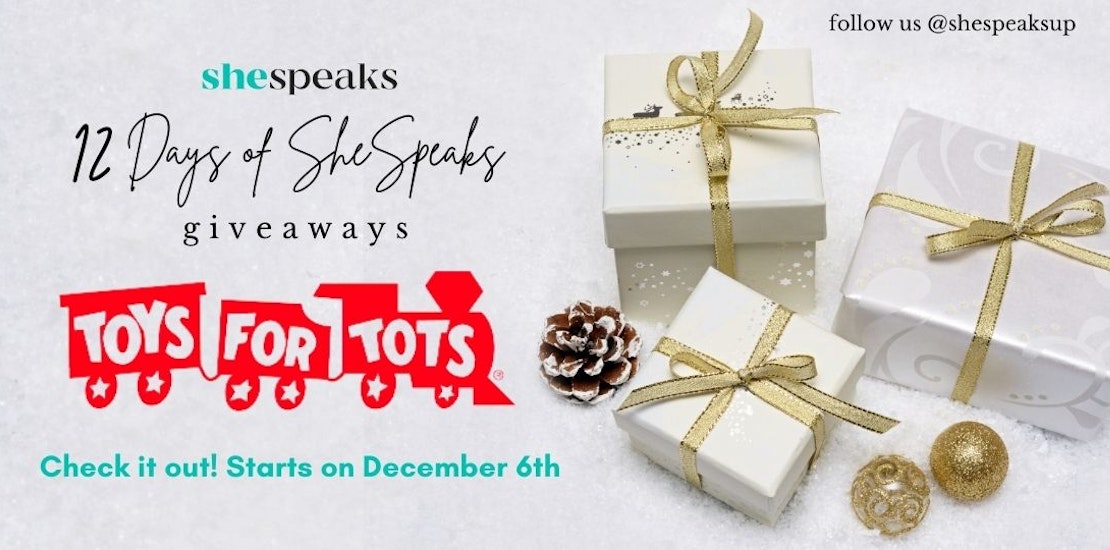 Toys for Tots/Toysfortots.org
We're thrilled to announce year seven of our BIG 12 Days of SheSpeaks Giveaways! Once again, we will be donating a dollar for every entry (up to $1,000) to a charity chosen by our members. Thanks to all who voted!
This year, our SheSpeaks members have selected Toys for Tots as the charity of choice for our donation!
Toys for Tots primary goal is, through the gift of a new toy, to help bring the joy of Christmas and send a message of hope to America's less fortunate children. The Marine Toys for Tots Program has been delivering a message of hope to less fortunate youngsters since 1947, distributing 604 million toys to date and supporting 272 million children.
According to the organization's website, "The objectives of the Foundation are to help less fortunate children throughout the United States experience the joy of Christmas; to play an active role in the development of one of our nation's most valuable resources – our children; to unite all members of local communities in a common cause for three months each year during the annual toy collection and distribution campaign; and to contribute to improving communities in the future. "
There are nearly 15 million American children living at or below the poverty level. Toys for Tots aims to help these children during the holidays. Local campaigns are conducted annually in over 800 communities covering all 50 states, the District of Columbia, and Puerto Rico, and the Virgin Islands.
Thank you, our community, for your important recommendation to donate to Toys for Tots this holiday season.
You can find out more about this amazing organization here.
Let others know about the 12 Days of SheSpeaks charity choice. Click here to Tweet: "I'm excited to support @ToysForTots_USA with the @SheSpeaksUp #12DaysofSheSpeaks giveaways! https://bit.ly/12dayscharity."
We can't wait to give to you, give back and celebrate 12 Days of SheSpeaks!