#SheSpeaksReviews: Skincare! Two Chances to Win a $50 Gift Card to Buy Your Favorites

by
SheSpeaksTeam
is this the date @ED : BlogVO [categoryId=70163, blogId=145838, blogTitle=#SheSpeaksReviews: Skincare! Two Chances to Win a $50 Gift Card to Buy Your Favorites, publishingDate=March 10, 2021 12:00 AM, maxResponses=null, noOfComments=null, fileId=40126, blogClosingDate=null, blogCommentClosed=null, blogCategoryId=70163, queryId=0, blogCategoryIdIndex=0, sharedCategoriesList=null, blogStatusId=34, commentsClosedFlag=false, categoryIdForLog=0, blogModuleCategoryId=0, blogFileVo=null, latestCommentsList=null, verticalCatSeoURL=null, currentDate=12/09/2021, blogLink=null, authorName=SheSpeaksTeam, authorLognId=SheSpeaksTeam, authorAcctId=67580, vosTypeid=3, searchTestId=0, searchStatusId=0, searchAuthorType=0, authorBlogNumber=0, surveyData1=null, surveyData1Desc=null, surveyData2=null, surveyData2Desc=null, pullQuoteMemberId=null, filePath=null, fileName=null, vosType=0, subhead=null, offerSubhead=null, description=null, creationTime=null, authorFname=SheSpeaks, verticalCategoryId=null, sectionId=0, imageFileVO=FilesVO [fileId=40126, filePath=null, fileName=null, fileLength=0, fileWidth=0, createdBy=0, createByUser=null, creationTime=null, lastModifiedBy=0, lastModifiedByUser=null, lastModifiedTime=null, mimeType=null, fileRef=null, fileSize=0, extension=null, title=null, body=null, completeFilePath=/pages/img/redesign/blogs/SheSpeaksReviews hero image_03042021123602.jpg, height=385, width=685, maxHeight=480, maxWidth=360, displayWidth=360, displayHeight=202, fileStatusId=0, searchKeyword=null, searchFlag=false, queryId=0, isExists=true], seoURL=-SheSpeaksReviews-Skincare-Win-a-Gift-Card-to-Buy-Your-Favorite, seoTitle=null, pullQuotesList=null, pullQuote=null, pullQuoteId=0, searchFlag=false, authorByLine=SheSpeaksTeam, authorDesc=Powered by women who love to share what's HOT in reviews, deals & recipes., authorLink=null, authorFileVO=FilesVO [fileId=42371, filePath=null, fileName=null, fileLength=0, fileWidth=0, createdBy=0, createByUser=null, creationTime=null, lastModifiedBy=0, lastModifiedByUser=null, lastModifiedTime=null, mimeType=null, fileRef=null, fileSize=0, extension=null, title=null, body=null, completeFilePath=/pages/img/membersnaps/SheSpeaks_Logo_Symbol_Only_10182021080530.jpg, height=1777, width=1777, maxHeight=50, maxWidth=50, displayWidth=50, displayHeight=50, fileStatusId=0, searchKeyword=null, searchFlag=false, queryId=0, isExists=true], authorFileId=42371, authorType=0, storyImgFileVO=null, storyImgFileId=0, videoHtml=, authorImageFileId=0, authorImageFileVO=null, previousCategoryId=null, previousBlogStatusId=0, fromBlogDetails=0, blogCategoryName=Beauty & Fashion, blogCategoryUrl=null, blogCategoryDesc=null, defaultImage=false, tags=null, optionIds=null, tagOptionId=null, tagId=null, tag=null, tagID=0, tagDetails=null, tagIds=null, testId=0, extBlogURL=null, extBlogStatus=0, bloggerSince=null, extBlogLimit=0, authorTestsList=[], blogURL=, blogName=, bloggerProfileId=0, sliderBlog=false, eventonHome=false, vosonHome=false, partyAndGiveawayDate=03/31/2021, imageCredit=null, pullQuoteMemId=null, offerSubHead=null, subHead=null, displayOrder=0]
Mar 10, 2021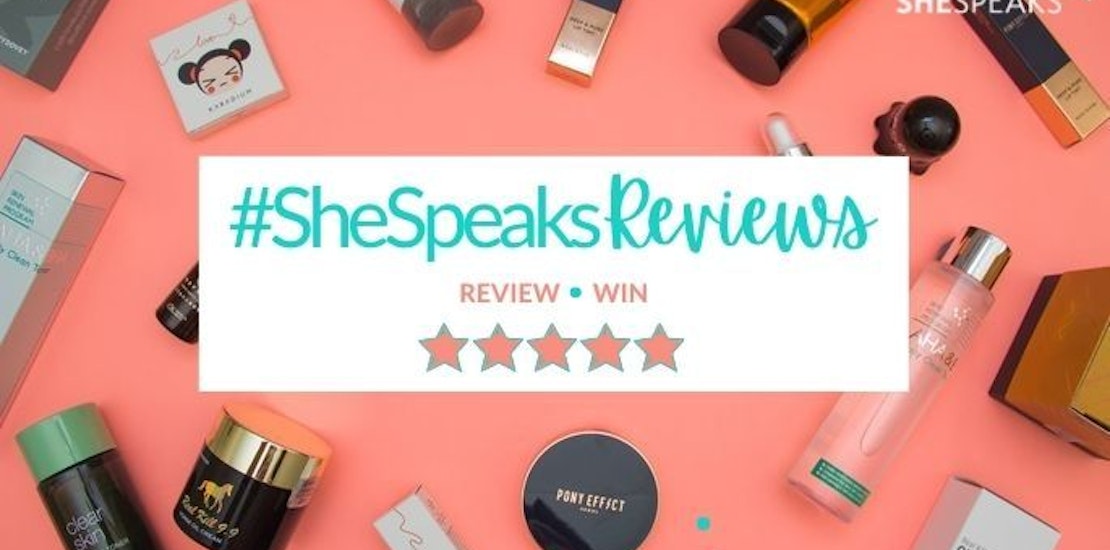 How many skincare products do you own? It's probably more than you think.
What do you put on... after you shower, before you go to bed or before you leave the house?
What do you use... in the winter when it's cold or in the summer when it's hot?
What products do you keep... in the bathroom, on your nightstand, on your desk, in the kitchen, in your purse, or in your car?
There's lotion, sunscreen, serum, eye cream, moisturizer, scrub, cleanser, toner, lip balm, body lotion, hand cream, face oils and so much more.
All in all, SheSpeaks staffers say they use between 8 and 33 skincare products. How many do you own? Tell us all about them!
Write a Product Review here for each skincare product you own. For each review you write in March, you'll be entered to win one of two $50 gift cards to purchase your favorite product!
The more products you review, the more chances you have to win.
Here's how it works:
Think about all of the skincare products you own.
All throughout March, write a review for each of these products HERE.
Two participants will each win a $50 gift card to the store of their choice to purchase their favorite products (or whatever else they want!).
Right now, our members have reviewed over 600 skincare products. Make sure your favorites are represented!
For directions on how to write a SheSpeaks Product Review in just a few easy steps, click here.
Questions? Email info@shespeaks.com. We'd be happy to help!

*Two lucky contestants will be chosen at random to each receive a $50 gift card to their favorite store where they purchase skincare products, as long as the gift card can easily be purchased online. Giveaway is open through March 31, 2020 to U.S. residents at least 18 years of age. Entrants must be a member of SheSpeaks. If you are not a member, click here to join. Winner will be notified by email.

Update: Thanks to all who entered. Congrats to our winners, SheSpeaks members tjs68111 and 20manderz08!