DIY Fall S'mores Dip Recipe on #SheSpeaksTV + #DIYSmoresDip Giveaway

by
SheSpeaksTeam
is this the date @ED : BlogVO [categoryId=70164, blogId=144891, blogTitle=DIY Fall S'mores Dip Recipe on #SheSpeaksTV + #DIYSmoresDip Giveaway , publishingDate=October 19, 2016 12:00 AM, maxResponses=null, noOfComments=null, fileId=28546, blogClosingDate=null, blogCommentClosed=null, blogCategoryId=70164, queryId=0, blogCategoryIdIndex=0, sharedCategoriesList=null, blogStatusId=34, commentsClosedFlag=false, categoryIdForLog=0, blogModuleCategoryId=0, blogFileVo=null, latestCommentsList=null, verticalCatSeoURL=null, currentDate=02/06/2023, blogLink=null, authorName=SheSpeaksTeam, authorLognId=SheSpeaksTeam, authorAcctId=67580, vosTypeid=3, searchTestId=0, searchStatusId=0, searchAuthorType=0, authorBlogNumber=0, surveyData1=null, surveyData1Desc=null, surveyData2=null, surveyData2Desc=null, pullQuoteMemberId=null, filePath=null, fileName=null, vosType=0, subhead=null, offerSubhead=null, description=null, creationTime=null, authorFname=SheSpeaks, verticalCategoryId=null, sectionId=0, imageFileVO=FilesVO [fileId=28546, filePath=null, fileName=null, fileLength=0, fileWidth=0, createdBy=0, createByUser=null, creationTime=null, lastModifiedBy=0, lastModifiedByUser=null, lastModifiedTime=null, mimeType=null, fileRef=null, fileSize=0, extension=null, title=null, body=null, completeFilePath=/pages/img/redesign/blogs/DO IT YOURSELF_10182016161218.png, height=350, width=350, maxHeight=480, maxWidth=360, displayWidth=350, displayHeight=350, fileStatusId=0, searchKeyword=null, searchFlag=false, queryId=0, isExists=true], seoURL=DIY-S-mores-Dip-Recipe-on-SheSpeaksTV-Giveaway, seoTitle=null, pullQuotesList=null, pullQuote=null, pullQuoteId=0, searchFlag=false, authorByLine=null, authorDesc=null, authorLink=null, authorFileVO=FilesVO [fileId=42371, filePath=null, fileName=null, fileLength=0, fileWidth=0, createdBy=0, createByUser=null, creationTime=null, lastModifiedBy=0, lastModifiedByUser=null, lastModifiedTime=null, mimeType=null, fileRef=null, fileSize=0, extension=null, title=null, body=null, completeFilePath=/pages/img/membersnaps/SheSpeaks_Logo_Symbol_Only_10182021080530.jpg, height=1777, width=1777, maxHeight=50, maxWidth=50, displayWidth=50, displayHeight=50, fileStatusId=0, searchKeyword=null, searchFlag=false, queryId=0, isExists=true], authorFileId=42371, authorType=0, storyImgFileVO=null, storyImgFileId=0, videoHtml=, authorImageFileId=0, authorImageFileVO=null, previousCategoryId=null, previousBlogStatusId=0, fromBlogDetails=0, blogCategoryName=Food, blogCategoryUrl=null, blogCategoryDesc=null, defaultImage=false, tags=null, optionIds=null, tagOptionId=null, tagId=null, tag=null, tagID=0, tagDetails=null, tagIds=null, testId=0, extBlogURL=null, extBlogStatus=0, bloggerSince=null, extBlogLimit=0, authorTestsList=[], blogURL=, blogName=, bloggerProfileId=0, sliderBlog=false, eventonHome=false, vosonHome=false, partyAndGiveawayDate=11/02/2016, imageCredit=null, pullQuoteMemId=null, offerSubHead=null, subHead=null, displayOrder=0,includeInGoogleSearch=false]
Oct 19, 2016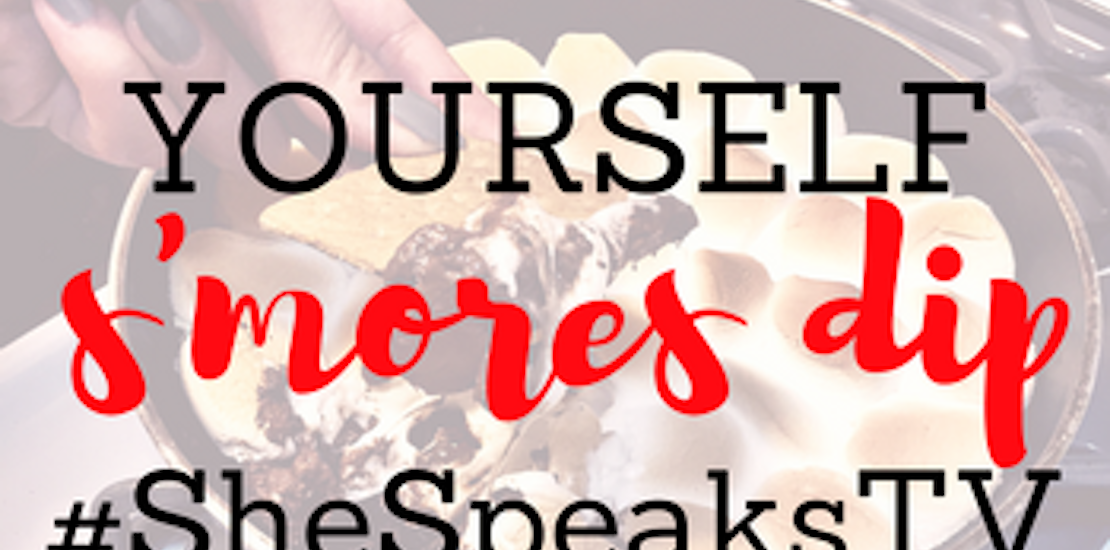 No campfire? No skewers? No problem. We whipped up an amazing alternative to traditional s'mores on SheSpeaksTV! You don't need a campfire to enjoy our one-pan version, with a pumpkiny fall twist.
Our nostalgia camp inspired s'mores dip is quick and easy to make, requiring only a few ingredients:
1/2 Tablespoon Butter
1 1/2 Cups of Chocolate Chips (semi-sweet, milk chocolate or both)
15 Jumbo Marshmallows (sliced in halves)
10 Graham Crackers (or more)
1/8 Teaspoon Pumpkin Spice (optional)
This treat takes a cold movie night in with family or friends to the #NextLevel. It's time to satisfy your s'mores craving throughout the season.
Plan to make your own? Don't forget to tag us @SheSpeaksUp so we can see your creation!
Enter to win your very own Fall Campfire Pack so you can enjoy this fall treat!
Simply watch the video and then comment on this video on YouTube to let us know what your favorite fall treat is!
Step One:
Watch the Video Here
Step Two:
Let us know in the comments section on YouTube here: What is your favorite fall treat?
(Only comments on the YouTube video will count as entries, not comments on this post)
OR
Share the video with your friends on Twitter!
Click here to Tweet: "Sweet tooth? Watch on #SheSpeaksTV for an easy + delicious smores dip recipe #DIYSmoresDip bit.ly/2eNI0sz"
About SheSpeaksTV: Our videos are created by women, for women. At SheSpeaksTV, we're handing you the microphone to talk about issues that are important to you and to provide you with lifestyle tips on everything from beauty to parenting. Stay for awhile & join the conversation!
One lucky YouTube Commenter (or Tweeter) will be chosen at random to recieve a a Fall Campfire Pack (iron skillet, ingredients for this recipe and a fall potholder). Giveaway is open to U.S. residents 18 years or older. Enter through 11/2, winner will be chosen randomly by 11/6 and notified through email.