Women's Voices in Politics and the Big Issue of Abortion Bans

By
SheSpeaksTeam
May 15, 2023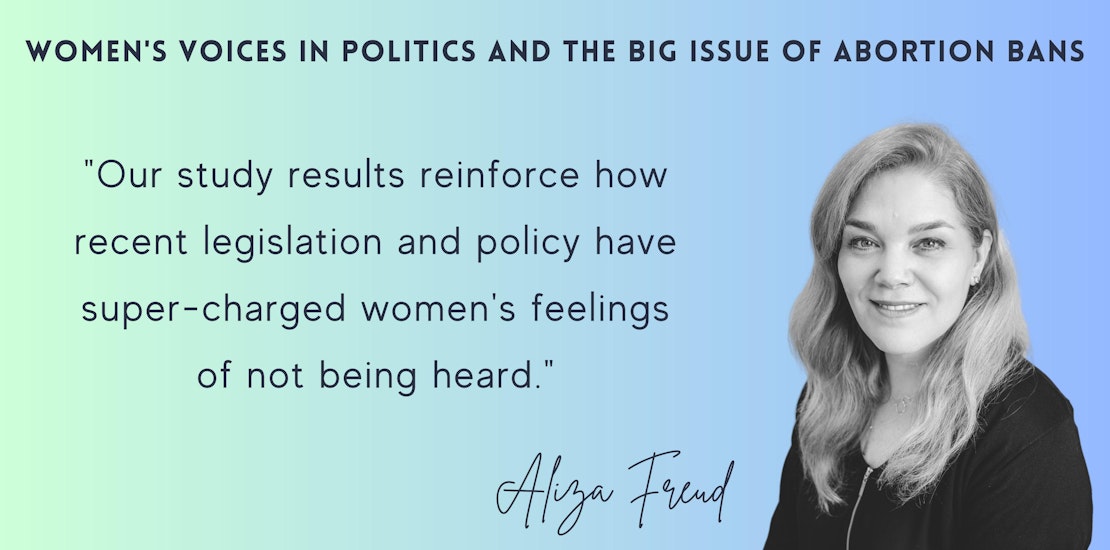 We recently asked SheSpeaks members how they are feeling about the political climate, any changes in their voting patterns, and major debates on hot topics, like abortion.

Check out these take-aways from our recent surveys below -

Our Voices in Politics
68% of women surveyed in March of 2023 reported that they felt their voices carry less weight than men when it comes to politics.
Lots of women (35%) also said that they would be more likely to vote for a female candidate today than they were 10 years ago.
Women's Abortion Rights, the Big Issue
In an April, 2023 survey during the same week Biden announced plans for a second term, close to 50% of more than 1,000 women surveyed said that bans on abortion will affect the way they vote in future elections.
More than a quarter (27%) of women report being more Pro-Choice since the Roe V Wade case was overturned.
Women are also keeping track of laws and how they may affect us in the future. More than 80% of respondents were aware that US courts are considering a ban on the "abortion pill", Mifepristone, and 57% said they would be concerned if this pill becomes banned. A little more than a quarter (26%) say this ban would not concern them and 17% have not decided on the issue.
Pro-Choice candidates are on women's minds as well. As a result of the overturning of Roe V Wade, 60% of women say they plan to vote for Pro-Choice candidates. Only 18% of those surveyed said they would vote for Pro-Life candidates and 22% were undecided.
Our own women's insights expert and CEO, Aliza Freud, weighed in on the survey results and considers how women's changing views in politics may affect future campaigns including the upcoming presidential race.
"The implications of the overturn of Roe v. Wade are now hitting home for women. Not only are they shifting their views on abortion rights due to the overturn of Roe v. Wade, but they are telling us that they are more likely to vote for female candidates as a result of the recent changes to abortion rights. With 28% of women now more likely to vote for female candidates, this will have significant impact on upcoming elections--including the 2024 Presidential race."
Do these top insights from other SheSpeaks members resonate with you? Let us know in the comments below.