What You Really Need This Mother's Day (& a Giveaway!)

by
SheSpeaksTeam
is this the date @ED : BlogVO [categoryId=70160, blogId=145856, blogTitle=What You Really Need This Mother's Day (& a Giveaway!), publishingDate=May 01, 2021 12:00 AM, maxResponses=null, noOfComments=null, fileId=40707, blogClosingDate=null, blogCommentClosed=null, blogCategoryId=70160, queryId=0, blogCategoryIdIndex=0, sharedCategoriesList=null, blogStatusId=34, commentsClosedFlag=false, categoryIdForLog=0, blogModuleCategoryId=0, blogFileVo=null, latestCommentsList=null, verticalCatSeoURL=null, currentDate=12/09/2022, blogLink=null, authorName=SheSpeaksTeam, authorLognId=SheSpeaksTeam, authorAcctId=67580, vosTypeid=3, searchTestId=0, searchStatusId=0, searchAuthorType=0, authorBlogNumber=0, surveyData1=null, surveyData1Desc=null, surveyData2=null, surveyData2Desc=null, pullQuoteMemberId=null, filePath=null, fileName=null, vosType=0, subhead=null, offerSubhead=null, description=null, creationTime=null, authorFname=SheSpeaks, verticalCategoryId=null, sectionId=0, imageFileVO=FilesVO [fileId=40707, filePath=null, fileName=null, fileLength=0, fileWidth=0, createdBy=0, createByUser=null, creationTime=null, lastModifiedBy=0, lastModifiedByUser=null, lastModifiedTime=null, mimeType=null, fileRef=null, fileSize=0, extension=null, title=null, body=null, completeFilePath=/pages/img/redesign/blogs/Fair Play book giveaway image_04302021112621.jpeg, height=385, width=685, maxHeight=480, maxWidth=360, displayWidth=360, displayHeight=202, fileStatusId=0, searchKeyword=null, searchFlag=false, queryId=0, isExists=true], seoURL=What-You-Really-Need-This-Mothers-Day, seoTitle=null, pullQuotesList=null, pullQuote=null, pullQuoteId=0, searchFlag=false, authorByLine=null, authorDesc=null, authorLink=null, authorFileVO=FilesVO [fileId=42371, filePath=null, fileName=null, fileLength=0, fileWidth=0, createdBy=0, createByUser=null, creationTime=null, lastModifiedBy=0, lastModifiedByUser=null, lastModifiedTime=null, mimeType=null, fileRef=null, fileSize=0, extension=null, title=null, body=null, completeFilePath=/pages/img/membersnaps/SheSpeaks_Logo_Symbol_Only_10182021080530.jpg, height=1777, width=1777, maxHeight=50, maxWidth=50, displayWidth=50, displayHeight=50, fileStatusId=0, searchKeyword=null, searchFlag=false, queryId=0, isExists=true], authorFileId=42371, authorType=0, storyImgFileVO=null, storyImgFileId=0, videoHtml=, authorImageFileId=0, authorImageFileVO=null, previousCategoryId=null, previousBlogStatusId=0, fromBlogDetails=0, blogCategoryName=Parenting, blogCategoryUrl=null, blogCategoryDesc=null, defaultImage=false, tags=null, optionIds=null, tagOptionId=null, tagId=null, tag=null, tagID=0, tagDetails=null, tagIds=null, testId=0, extBlogURL=null, extBlogStatus=0, bloggerSince=null, extBlogLimit=0, authorTestsList=[], blogURL=, blogName=, bloggerProfileId=0, sliderBlog=false, eventonHome=false, vosonHome=false, partyAndGiveawayDate=05/11/2021, imageCredit=@socialitesande - https://www.instagram.com/p/COL95ovMtiz/, pullQuoteMemId=null, offerSubHead=null, subHead=null, displayOrder=0,includeInGoogleSearch=false]
May 01, 2021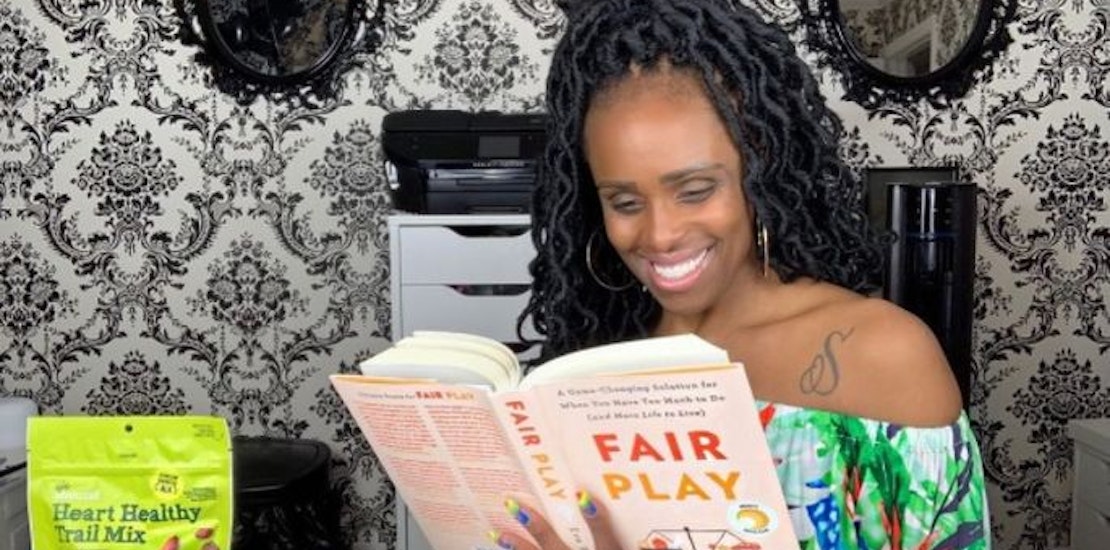 @socialitesande - https://www.instagram.com/p/COL95ovMtiz/
This is a sponsored post for CVS/Hello Sunshine.

We love celebrating the moms in our lives on Mother's Day and getting pampered by our own kids. But, while we love a good brunch and gifts galore – this year, we are asking for what we really need on Mother's Day and want to encourage you to do the same.
Read on to find out more and enter to win a $50 CVS gift card!
The last year has been a difficult one for many moms. Between working remotely, juggling virtual school, gaps in childcare, and stress from the pandemic, there's been more on everyone's plate than ever before – and it all too often ends up being the mom in the household who takes on more household duties, and the mental work that goes along with them. You may have felt your own health and wellness taking a backseat to the care tasks you do for others. We want to empower you to change that.
The New York Times bestselling book, Fair Play, by Eve Rodsky, teaches couples how to create a system to help rebalance all of the work it takes to run a home and reimagine their relationship, time and purpose.
The book walks you through how to split up tasks so that each partner is responsible for the conception, planning AND execution of the tasks they're responsible for. With the Fair Play system, you can carve out more time for your own wellness and get more mental space to take care of yourself.
CVS is our go-to for women's wellness because it offers such a wide range of products and services.
The MinuteClinic at CVS provides safe, quick and easy in-clinic screenings for women including basic health, A1C, Diabetes, high blood pressure/cholesterol, and skin conditions etc.
And of course, CVS carries the vitamins and supplements that can help you feel your best, alongside some of our favorite moisturizers and healthy snacks. Putting yourself first can be as easy as a trip to your local CVS to take care of yourself, stock up on the products that help you feel good, stay healthy, and do the things for yourself that help to "fill up your cup."
Influencer
tiffany3366
said,
"
Moms, what do you really need this Mother's Day? I could use some self-care and personal care items for sure! And @CVSPharmacy is my go to spot for anything self-care, beauty, or personal care... But if you're anything like me, you also need to do better about taking that time for yourself & your mental well-being. Fair Play by @EveRodsky has a great new system for helping re-balance domestic responsibilities fairly.
"
And influencer
deboraoehler
shared,
"
These last few days I've been reading the book Fair Play by @EveRodsky and learning a lot about the Fair Play System, which offers simple solutions to help...One thing this book has taught me is the importance of finding mental space so I can take care of myself, as well. @CVSPharmacy is helping me do that by providing wellness products and services, from vitamins, beauty and personal care, to the Minute Clinic services.
"
RSVP for the Dare to Self-Care Event
Click here to RSVP to join the Dare to Self- Care event, brought to you by CVS Pharmacy and Fair Play, on Monday, May 10, from 12-2pm PST. This free, virtual event wil help you embrace new strategies and ideas that will restore and prioritize self-care – no matter where you are on your wellness journey. Speakers will include Tiffany Brown, Eve Rodsky, Nora McInerny and Liz Hernandez!
Click here to explore the wellness products for women at CVS.
Enter our giveaway below for a chance to win a $50 CVS gift card.
CVS x Fair Play Giveaway
* One lucky winner will be chosen at random to receive a $50 CVS gift card. Giveaway is open to U.S. residents 18 years or older. Enter through May 11, 2021. Winner will be chosen randomly by May 13 2021 and notified by email. Entrants must be a member of SheSpeaks. If you are not a member, click here to join.