The Perfect Tea For Every Mood

By
SheSpeaksTeam
Dec 16, 2022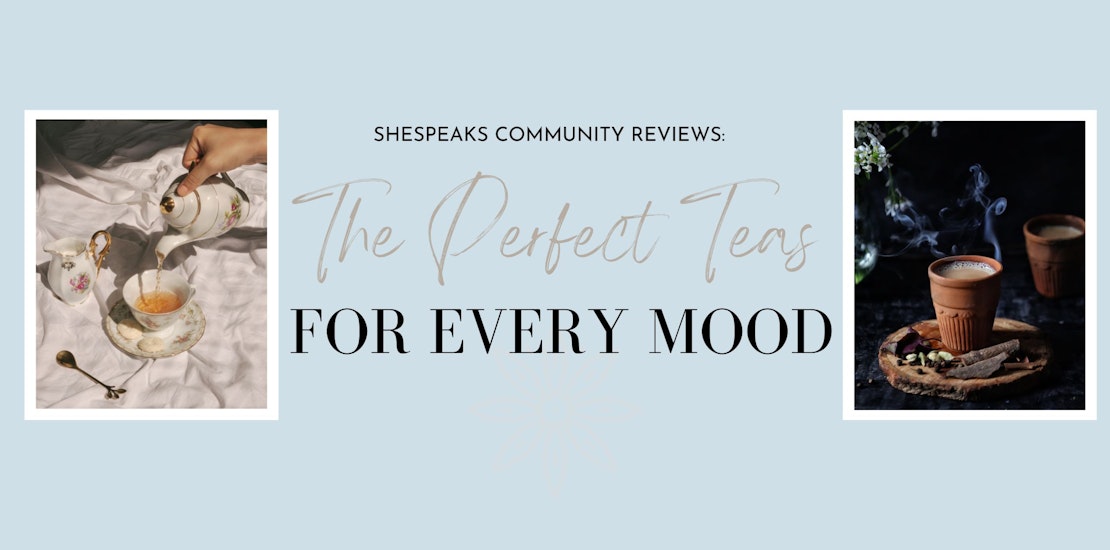 UnSplash/Drew Coffman
Whether you stick to one flavor of tea for your daily cup or choose different blends based on your mood, there are a lot of options.

Here are a few of our SheSpeaks member's favorite teas:

Bigelow Classic Green Tea

If a clean,flowery, and fresh taste is what you're after, green tea is a wonderful option. It's a very different taste than the classic richer black tea, but keep in mind that it still contains a good amount of caffeine. SheSpeaks member HisiMerch says it gives her "energy without jitter" and warns that it is not a bedtime tea. She says, "This tea is really smooth tasting. Also, you want to drink this at least 7hrs before bedtime. I drank it after 8pm and let's just say "No Ma'am". All in all I am never disappointed!".




Yogi Purely Peppermint Tea
This tea delivers that pure peppermint taste that one SheSpeaks members describes as the best tea to keep "cozy and warm by the fire". This Yogi flavor is an herbal tea and free of caffeine, so no worries about it keeping you up at bedtime. One SheSpeaks member, Rpatton, loves that this peppermint tea help with her indigestion. She says, "I'm not new to the Yogis tea, but I've only recently discovered their delightful peppermint tea. I've been drinking it for a couple of weeks now and I must say, it works wonders! I suffer from recurring bouts of indigestion and bloating, and drinking this tea helps me feel much better."


Celestial Seasons Sleepytime Tea

This tea is a blend of herbs thought to promote healthier sleep and an overall calm feeling. It is made with chamomile, lemongrass, spearmint, rosebuds and more. SheSpeaks member Sheilamichelle has used this tea to help her fall asleep at night and was happy with the results. She says, "Celestial Seasonings Sleepytime is actually my favorite herbal tea. I first tried it when I was pregnant with my 2nd child, and had trouble falling asleep at night. I sipped a cup or two about an hour before bed, and it really did help me sleep better. It even helped calm my nighttime nausea. I really love the taste of it, too."



Traditional Medicinals Organic Roasted Dandelion Root Tea

Dandelion root tea is known to promote great health benefits, from aiding in digestion to improving skin. The taste of roasted dandelion tea is often described as bold, smoky and toasty (something you may not be expecting in an herbal tea). SheSpeaks member OneNoGirl feels this tea has benefited her health, "This was surprisingly recommended by a GE specialist to help with high cholesterol levels. If you are familiar with Japanese Mugicha (roasted barley tea fixed cold), this has a similar taste. While it can be pricey, these can be found on sale from time to time, and I get at least 2 cups steeped from one bag (depending on how long the bag is first steeped). I take my tea unsweetened anyway, this is a great accompaniment to sweet treats."

Do you have a favorite tea? Share your reviews with us here!