Summer 2015 Blockbuster Movie Gift Card Giveaway

by
SheSpeaksTeam
is this the date @ED : BlogVO [categoryId=70162, blogId=144296, blogTitle=Summer 2015 Blockbuster Movie Gift Card Giveaway, publishingDate=June 03, 2015 12:00 AM, maxResponses=null, noOfComments=null, fileId=23256, blogClosingDate=null, blogCommentClosed=null, blogCategoryId=70162, queryId=0, blogCategoryIdIndex=0, sharedCategoriesList=null, blogStatusId=34, commentsClosedFlag=false, categoryIdForLog=0, blogModuleCategoryId=0, blogFileVo=null, latestCommentsList=null, verticalCatSeoURL=null, currentDate=12/01/2023, blogLink=null, authorName=SheSpeaksTeam, authorLognId=SheSpeaksTeam, authorAcctId=67580, vosTypeid=3, searchTestId=0, searchStatusId=0, searchAuthorType=0, authorBlogNumber=0, surveyData1=null, surveyData1Desc=null, surveyData2=null, surveyData2Desc=null, pullQuoteMemberId=null, filePath=null, fileName=null, vosType=0, subhead=null, offerSubhead=null, description=null, creationTime=null, authorFname=SheSpeaks, verticalCategoryId=null, sectionId=0, imageFileVO=FilesVO [fileId=23256, filePath=null, fileName=null, fileLength=0, fileWidth=0, createdBy=0, createByUser=null, creationTime=null, lastModifiedBy=0, lastModifiedByUser=null, lastModifiedTime=null, mimeType=null, fileRef=null, fileSize=0, extension=null, title=null, body=null, completeFilePath=/pages/img/redesign/blogs/movieblockbuster_06012015140822.jpg, height=350, width=350, maxHeight=480, maxWidth=360, displayWidth=350, displayHeight=350, fileStatusId=0, searchKeyword=null, searchFlag=false, queryId=0, isExists=true], seoURL=Summer-2015-Blockbuster-Movie-Gift-Card-Giveaway, seoTitle=null, pullQuotesList=null, pullQuote=null, pullQuoteId=0, searchFlag=false, authorByLine=null, authorDesc=null, authorLink=null, authorFileVO=FilesVO [fileId=42371, filePath=null, fileName=null, fileLength=0, fileWidth=0, createdBy=0, createByUser=null, creationTime=null, lastModifiedBy=0, lastModifiedByUser=null, lastModifiedTime=null, mimeType=null, fileRef=null, fileSize=0, extension=null, title=null, body=null, completeFilePath=/pages/img/membersnaps/SheSpeaks_Logo_Symbol_Only_10182021080530.jpg, height=1777, width=1777, maxHeight=50, maxWidth=50, displayWidth=50, displayHeight=50, fileStatusId=0, searchKeyword=null, searchFlag=false, queryId=0, isExists=true], authorFileId=42371, authorType=0, storyImgFileVO=null, storyImgFileId=0, videoHtml=, authorImageFileId=0, authorImageFileVO=null, previousCategoryId=null, previousBlogStatusId=0, fromBlogDetails=0, blogCategoryName=Entertainment, blogCategoryUrl=null, blogCategoryDesc=null, defaultImage=false, tags=null, optionIds=null, tagOptionId=null, tagId=null, tag=null, tagID=0, tagDetails=null, tagIds=null, testId=0, extBlogURL=null, extBlogStatus=0, bloggerSince=null, extBlogLimit=0, authorTestsList=[], blogURL=, blogName=, bloggerProfileId=0, sliderBlog=false, eventonHome=false, vosonHome=false, partyAndGiveawayDate=06/17/2015, imageCredit=null, pullQuoteMemId=null, offerSubHead=null, subHead=null, displayOrder=0,includeInGoogleSearch=false]
Jun 03, 2015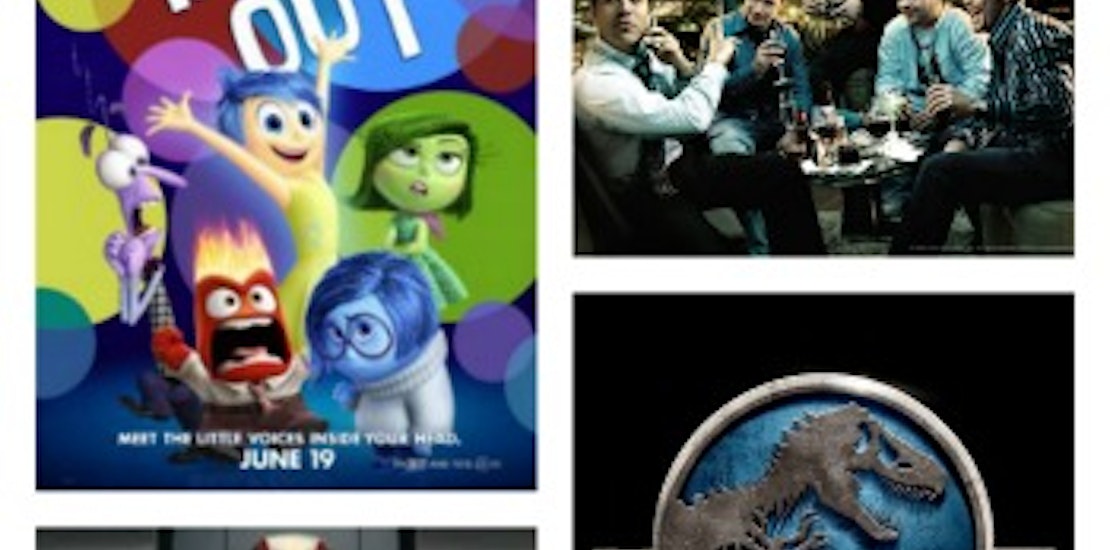 Are you as glad as we are that summer has finally arrived? It hasn't been an easy winter for any of us weather-wise, and we're looking forward to going outside. But as much as we love spending time on the beach and at the pool, we also love spending time inside dark, air-conditioned movie theaters! Yes, it's time for our Summer 2015 Blockbuster post, when we share the films we are most excited about.
It's been an exciting summer at the movies already. Pitch Perfect 2 opened May 15th and raked in $70 million dollars worldwide with a 75% female audience during opening weekend, proving women are a key market. A week later, Tomorrowland took the top spot at the box office during Memorial Day weekend, but the two movies were neck to neck. Avengers: Age of Ultron remains the biggest summer film, having jumped $400 million at the domestic box office last weekend.
There are several more studio films coming out that are sure to send moviegoers to the theater for a dose of BIG summer blockbusters!
To add to the fun - SheSpeaks is giving away Movie Gift Cards! To enter, just comment below by telling us which movie you're most excited about. It doesn't have to be on our list!
Here are the films we'll talking about around the water cooler this summer:
Jurassic World is another follow-up to Jurassic Park, a mere 22 years after the original's release. For the park, it's been 10 years of operation and visitor rates declining. In order to fulfill a corporate mandate of a dinosaur theme park, a new attraction is created to re-spark visitor's interest, which backfires horribly. The film stars Chris Pratt, Judy Greer and Ty Simpkins. Opens nationwide on July 12th.
HBO's Entourage hits the big screen in this Warner Brothers comedy directed by series creator Doug Ellin, and starring Jeremy Piven, Adrian Grenier, Scott Caan, Kevin Dillon,Kevin Connolly, Debi Mazar, and Jerry Ferrara. Opens nationwide on June 3rd.
Minions (in 3D) will entertain kids around the world as Stuart, Kevin and Bob are recruited by Scarlet Overkill, a super-villain who, alongside her inventor husband Herb, hatches a plot to take over the world. Sandra Bullock, Jon Hamm, Michael Keaton, Allison Janney and Steve Coogan join the roster of Minions voices. Opens nationwide on July 10th.
Inside Out is about a little girl who is uprooted from her peaceful life in the Midwest and forced to move to San Francisco in this Pixar film from director Pete Docter. As she prepares to navigate the city and a new school, she hears voices that guide her emotions: joy (voiced by Amy Poehler), fear (voiced by Bill Hader), anger (voiced by Lewis Black), disgust (voiced by Mindy Kaling) and sadness (voiced by Phyllis Smith). Opens nationwide on June 19th.
In Ant-Man, con-man Scott Lang must embrace his inner hero and help his mentor pull off a heist that will save the world. Stars Paul Rudd, Evangeline Lily and Haylet Atwell. Opens nationwide on July 17th.
Which movie are you most excited about seeing this summer? To Enter, just comment below for a chance to to win a Movie Gift Card from SheSpeaks!
This giveaway is open now through June 17th to USA residents at least 18 years of age. No purchase necessary.
Update: The winner is mallgirl. Thanks to all for entering!