Simple, Yet Delicious Recipes with Pompeian Olive Oil

by
SheSpeaksTeam
is this the date @ED : BlogVO [categoryId=70164, blogId=146077, blogTitle=Simple, Yet Delicious Recipes with Pompeian Olive Oil, publishingDate=July 19, 2022 12:00 AM, maxResponses=null, noOfComments=null, fileId=44506, blogClosingDate=null, blogCommentClosed=null, blogCategoryId=70164, queryId=0, blogCategoryIdIndex=0, sharedCategoriesList=null, blogStatusId=34, commentsClosedFlag=false, categoryIdForLog=0, blogModuleCategoryId=0, blogFileVo=null, latestCommentsList=null, verticalCatSeoURL=null, currentDate=12/01/2023, blogLink=null, authorName=SheSpeaksTeam, authorLognId=SheSpeaksTeam, authorAcctId=67580, vosTypeid=3, searchTestId=0, searchStatusId=0, searchAuthorType=0, authorBlogNumber=0, surveyData1=null, surveyData1Desc=null, surveyData2=null, surveyData2Desc=null, pullQuoteMemberId=null, filePath=null, fileName=null, vosType=0, subhead=null, offerSubhead=null, description=null, creationTime=null, authorFname=SheSpeaks, verticalCategoryId=null, sectionId=0, imageFileVO=FilesVO [fileId=44506, filePath=null, fileName=null, fileLength=0, fileWidth=0, createdBy=0, createByUser=null, creationTime=null, lastModifiedBy=0, lastModifiedByUser=null, lastModifiedTime=null, mimeType=null, fileRef=null, fileSize=0, extension=null, title=null, body=null, completeFilePath=/pages/img/redesign/blogs/Pompeian blog post updated_07192022120945.jpg, height=630, width=1120, maxHeight=480, maxWidth=360, displayWidth=360, displayHeight=202, fileStatusId=0, searchKeyword=null, searchFlag=false, queryId=0, isExists=true], seoURL=Simple-Yet-Delicious-Recipes-with-Pompeian-Olive-Oil, seoTitle=null, pullQuotesList=null, pullQuote=null, pullQuoteId=0, searchFlag=false, authorByLine=null, authorDesc=null, authorLink=null, authorFileVO=FilesVO [fileId=42371, filePath=null, fileName=null, fileLength=0, fileWidth=0, createdBy=0, createByUser=null, creationTime=null, lastModifiedBy=0, lastModifiedByUser=null, lastModifiedTime=null, mimeType=null, fileRef=null, fileSize=0, extension=null, title=null, body=null, completeFilePath=/pages/img/membersnaps/SheSpeaks_Logo_Symbol_Only_10182021080530.jpg, height=1777, width=1777, maxHeight=50, maxWidth=50, displayWidth=50, displayHeight=50, fileStatusId=0, searchKeyword=null, searchFlag=false, queryId=0, isExists=true], authorFileId=42371, authorType=0, storyImgFileVO=null, storyImgFileId=0, videoHtml=, authorImageFileId=0, authorImageFileVO=null, previousCategoryId=null, previousBlogStatusId=0, fromBlogDetails=0, blogCategoryName=Food, blogCategoryUrl=null, blogCategoryDesc=null, defaultImage=false, tags=null, optionIds=null, tagOptionId=null, tagId=null, tag=null, tagID=0, tagDetails=null, tagIds=null, testId=0, extBlogURL=null, extBlogStatus=0, bloggerSince=null, extBlogLimit=0, authorTestsList=[], blogURL=, blogName=, bloggerProfileId=0, sliderBlog=false, eventonHome=true, vosonHome=false, partyAndGiveawayDate=08/15/2022, imageCredit=null, pullQuoteMemId=null, offerSubHead=, subHead=, displayOrder=0,includeInGoogleSearch=false]
Jul 19, 2022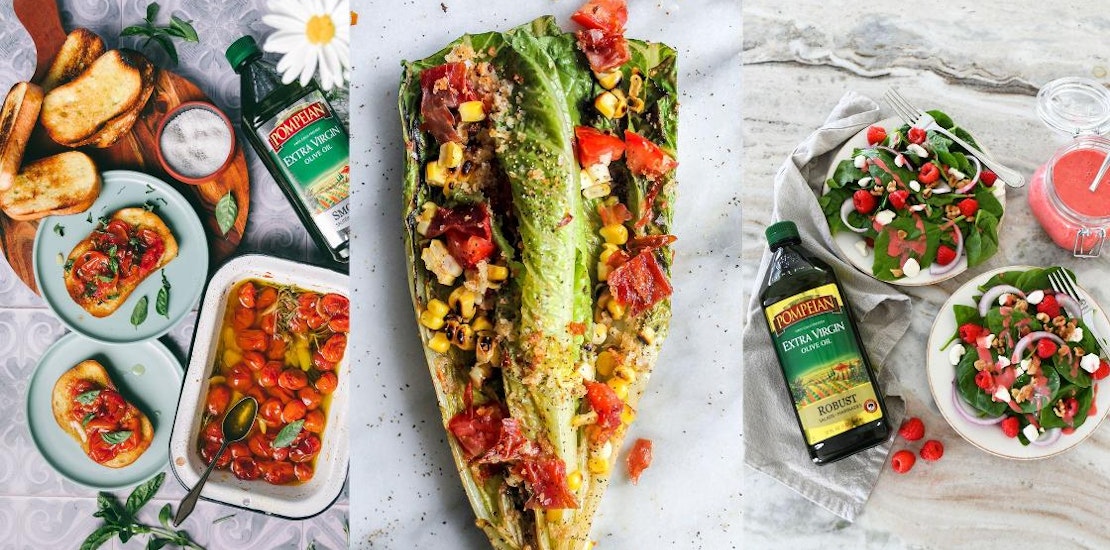 Scroll to enter our $50 Walmart gift card giveaway!

Busy days call for simple, yet delicious recipes that any home-cook can achieve. With Pompeian Olive Oil, it's now easier than ever to make the best dishes! Pompeian offers options like Robust and Smooth Extra Virgin Olive Oils that are the perfect addition to any home-made recipe . These high-quality olive oils are offered at a great value as they provide options for every taste.

Whether you're making a delicious caprese salad, or you're looking for the best marinade recipe, Pompeian is just what you need to add that perfect touch to your taste profile. See how SheSpeaks influencers are using Pompeian Olive Oil in their easy go-to recipes!

Click
here
to add Pompeian Olive Oil to your Walmart cart.
Enter our giveaway below for a chance to win a $50 Walmart gift card.
Pompeian
One lucky winner will be chosen at random to receive a $50 Walmart gift card. Giveaway is open to U.S. residents 18 years or older. Enter through August 15, 2022. Winner will be chosen randomly and notified by email. Winner must be a SheSpeaks member. If you are not a member, click here to join.
Thanks to all who entered! Congrats to our winner SheSpeaks member mollywolly.