Relax with these Spa DIYs

by
SheSpeaksTeam
is this the date @ED : BlogVO [categoryId=70163, blogId=145759, blogTitle=Relax with these Spa DIYs, publishingDate=August 06, 2020 12:00 AM, maxResponses=null, noOfComments=null, fileId=38548, blogClosingDate=null, blogCommentClosed=null, blogCategoryId=70163, queryId=0, blogCategoryIdIndex=0, sharedCategoriesList=null, blogStatusId=34, commentsClosedFlag=false, categoryIdForLog=0, blogModuleCategoryId=0, blogFileVo=null, latestCommentsList=null, verticalCatSeoURL=null, currentDate=06/01/2023, blogLink=null, authorName=SheSpeaksTeam, authorLognId=SheSpeaksTeam, authorAcctId=67580, vosTypeid=3, searchTestId=0, searchStatusId=0, searchAuthorType=0, authorBlogNumber=0, surveyData1=null, surveyData1Desc=null, surveyData2=null, surveyData2Desc=null, pullQuoteMemberId=null, filePath=null, fileName=null, vosType=0, subhead=null, offerSubhead=null, description=null, creationTime=null, authorFname=SheSpeaks, verticalCategoryId=null, sectionId=0, imageFileVO=FilesVO [fileId=38548, filePath=null, fileName=null, fileLength=0, fileWidth=0, createdBy=0, createByUser=null, creationTime=null, lastModifiedBy=0, lastModifiedByUser=null, lastModifiedTime=null, mimeType=null, fileRef=null, fileSize=0, extension=null, title=null, body=null, completeFilePath=/pages/img/redesign/blogs/Spa DIY_10142020131847_10152020125042.jpg, height=385, width=685, maxHeight=480, maxWidth=360, displayWidth=360, displayHeight=202, fileStatusId=0, searchKeyword=null, searchFlag=false, queryId=0, isExists=true], seoURL=Relax-with-these-Spa-DIYs, seoTitle=null, pullQuotesList=null, pullQuote=null, pullQuoteId=0, searchFlag=false, authorByLine=null, authorDesc=null, authorLink=null, authorFileVO=FilesVO [fileId=42371, filePath=null, fileName=null, fileLength=0, fileWidth=0, createdBy=0, createByUser=null, creationTime=null, lastModifiedBy=0, lastModifiedByUser=null, lastModifiedTime=null, mimeType=null, fileRef=null, fileSize=0, extension=null, title=null, body=null, completeFilePath=/pages/img/membersnaps/SheSpeaks_Logo_Symbol_Only_10182021080530.jpg, height=1777, width=1777, maxHeight=50, maxWidth=50, displayWidth=50, displayHeight=50, fileStatusId=0, searchKeyword=null, searchFlag=false, queryId=0, isExists=true], authorFileId=42371, authorType=0, storyImgFileVO=null, storyImgFileId=0, videoHtml=, authorImageFileId=0, authorImageFileVO=null, previousCategoryId=null, previousBlogStatusId=0, fromBlogDetails=0, blogCategoryName=Beauty & Fashion, blogCategoryUrl=null, blogCategoryDesc=null, defaultImage=false, tags=null, optionIds=null, tagOptionId=null, tagId=null, tag=null, tagID=0, tagDetails=null, tagIds=null, testId=0, extBlogURL=null, extBlogStatus=0, bloggerSince=null, extBlogLimit=0, authorTestsList=[], blogURL=, blogName=, bloggerProfileId=0, sliderBlog=false, eventonHome=false, vosonHome=false, partyAndGiveawayDate=08/23/2020, imageCredit=null, pullQuoteMemId=null, offerSubHead=null, subHead=null, displayOrder=0,includeInGoogleSearch=false]
Aug 06, 2020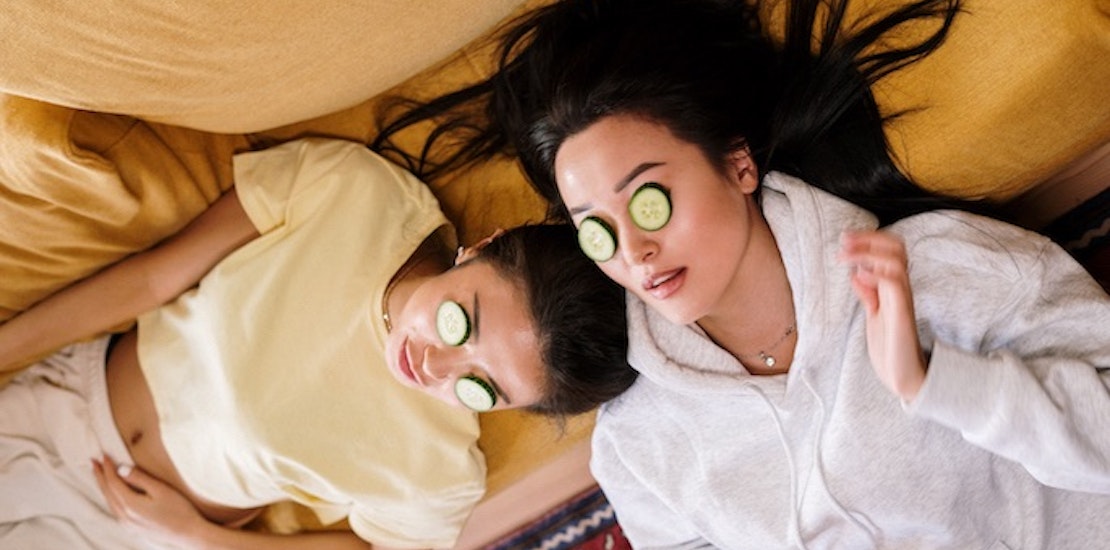 It's always the perfect time for relaxation and rejuvenation. Pamper yourself with these indulgent Spa DIYs - try one at the end of a long day, or make them all and have an at-home spa day!

These simple projects feel luxurious but are actually easy to put together. Many of the ingredients are readily available in your household, or at your local grocery store.
DIY Bath Soak

Photo credit: The Merrythought

Baths are undeniably one of the best ways to relax. This Lavender Oatmeal Bath Soak is perfect if you want to nourish and soothe your skin. Lavender is believed to reduce stress and anxiety, and boost calmness. Also, oatmeal has antioxidant and anti-inflammatory properties. Close your eyes and sink into paradise!
DIY Bath Bombs

Photo credit: Wellness Mama
Bath bombs are a fun way to make your bath enjoyable and luxurious. When you drop them into your tub, they fizzle and dissolve, adding beneficial ingredients into your bath. These easy bath bombs from Wellness Mama are great because they don't contain the artificial ingredients that are sometimes contained in store-bought versions.
Plus, they are customizable – after using a base of salt, baking soda, and citric acid, the possibilities are endless. We love the mixtures of lavender & vanilla and rose & ylang-ylang.

DIY Hair Masks

Hair masks are treatments that condition and heal your hair. Good Housekeeping has you covered with seven different hair masks for various hair types. If your locks are dry, dull, or damaged, look no further. Just raid your kitchen and mix up a batch of one of these masks.
The honey, egg, and apple cider vinegar mask is perfect for dry hair, while those with greasy hair should check out the egg white and lemon mask.
DIY Coffee Body Scrub

Photo credit: Karissa's Vegan Kitchen
Body scrubs help you remove dead skin cells, promoting soft and smooth skin. This DIY Coffee Body Scrub will keep your skin silky smooth this summer.
This coffee body scrub is vegan and has only three ingredients – coffee, sugar, and coconut oil – which means you can quickly whip some up whenever you'd like! Exfoliating periodically is beneficial for your skin, and is an essential step to a summer spa day.
How are you relaxing? Tell us below!