Listen & Win: Fashion Designer, Rebecca Minkoff Episode & Giveaway

by
SheSpeaksTeam
is this the date @ED : BlogVO [categoryId=70163, blogId=145884, blogTitle=Listen & Win: Fashion Designer, Rebecca Minkoff Episode & Giveaway , publishingDate=July 14, 2021 12:00 AM, maxResponses=null, noOfComments=null, fileId=41137, blogClosingDate=null, blogCommentClosed=null, blogCategoryId=70163, queryId=0, blogCategoryIdIndex=0, sharedCategoriesList=null, blogStatusId=34, commentsClosedFlag=false, categoryIdForLog=0, blogModuleCategoryId=0, blogFileVo=null, latestCommentsList=null, verticalCatSeoURL=null, currentDate=05/20/2022, blogLink=null, authorName=SheSpeaksTeam, authorLognId=SheSpeaksTeam, authorAcctId=67580, vosTypeid=3, searchTestId=0, searchStatusId=0, searchAuthorType=0, authorBlogNumber=0, surveyData1=null, surveyData1Desc=null, surveyData2=null, surveyData2Desc=null, pullQuoteMemberId=null, filePath=null, fileName=null, vosType=0, subhead=null, offerSubhead=null, description=null, creationTime=null, authorFname=SheSpeaks, verticalCategoryId=null, sectionId=0, imageFileVO=FilesVO [fileId=41137, filePath=null, fileName=null, fileLength=0, fileWidth=0, createdBy=0, createByUser=null, creationTime=null, lastModifiedBy=0, lastModifiedByUser=null, lastModifiedTime=null, mimeType=null, fileRef=null, fileSize=0, extension=null, title=null, body=null, completeFilePath=/pages/img/redesign/blogs/Rebecca Minkoff Header (1)_07142021165837.jpg, height=385, width=685, maxHeight=480, maxWidth=360, displayWidth=360, displayHeight=202, fileStatusId=0, searchKeyword=null, searchFlag=false, queryId=0, isExists=true], seoURL=Rebecca-Minkoff-Podcast-Handbag, seoTitle=null, pullQuotesList=null, pullQuote=null, pullQuoteId=0, searchFlag=false, authorByLine=SheSpeaksTeam, authorDesc=Powered by women who love to share what's HOT in reviews, deals & recipes., authorLink=null, authorFileVO=FilesVO [fileId=42371, filePath=null, fileName=null, fileLength=0, fileWidth=0, createdBy=0, createByUser=null, creationTime=null, lastModifiedBy=0, lastModifiedByUser=null, lastModifiedTime=null, mimeType=null, fileRef=null, fileSize=0, extension=null, title=null, body=null, completeFilePath=/pages/img/membersnaps/SheSpeaks_Logo_Symbol_Only_10182021080530.jpg, height=1777, width=1777, maxHeight=50, maxWidth=50, displayWidth=50, displayHeight=50, fileStatusId=0, searchKeyword=null, searchFlag=false, queryId=0, isExists=true], authorFileId=42371, authorType=0, storyImgFileVO=null, storyImgFileId=0, videoHtml=, authorImageFileId=0, authorImageFileVO=null, previousCategoryId=null, previousBlogStatusId=0, fromBlogDetails=0, blogCategoryName=Beauty & Fashion, blogCategoryUrl=null, blogCategoryDesc=null, defaultImage=false, tags=null, optionIds=null, tagOptionId=null, tagId=null, tag=null, tagID=0, tagDetails=null, tagIds=null, testId=0, extBlogURL=null, extBlogStatus=0, bloggerSince=null, extBlogLimit=0, authorTestsList=[], blogURL=, blogName=, bloggerProfileId=0, sliderBlog=false, eventonHome=false, vosonHome=false, partyAndGiveawayDate=07/29/2021, imageCredit=null, pullQuoteMemId=null, offerSubHead=null, subHead=null, displayOrder=0,includeInGoogleSearch=false]
Jul 14, 2021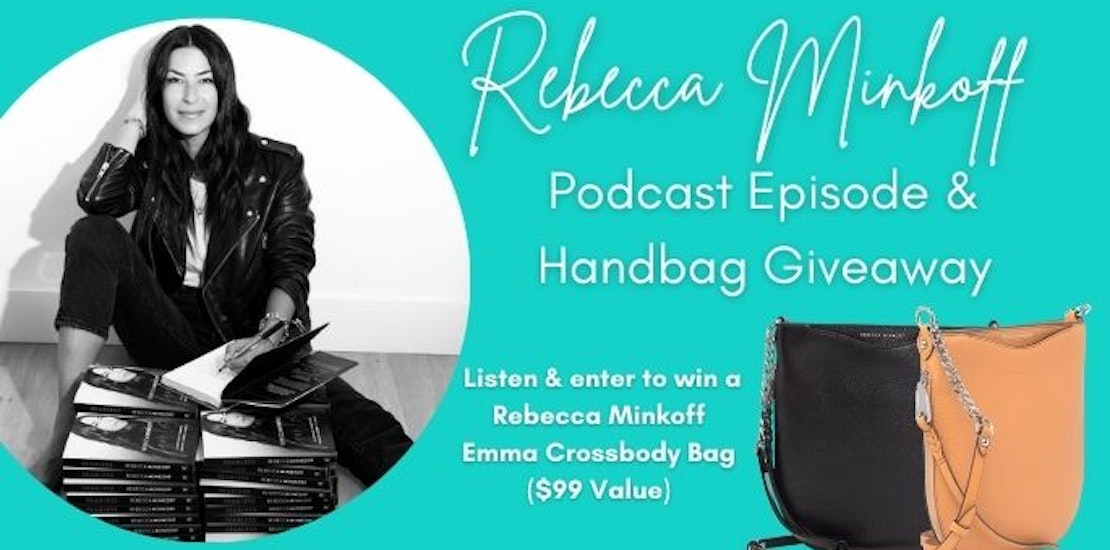 We are celebrating our 50th podcast episode in a big way - with an amazing conversation & giveaway with fashion designer, author, podcast host, and founder of the Female Founder Collective, Rebecca Minkoff! You'll hear Rebecca talk about her successes and hardships as a female business owner and the mindset she has grown into in order to take risks and succeed. She shares where her passion for fashion started and how it's grown into one of the most well-known fashion brands.
Keep reading to see how you could win a Rebecca Minkoff Emma Swing Crossbody Bag ($99 value).
You can learn more about Rebecca Minkoff and her inspiring story by listening to the podcast here:
Episode Highlights:
[3:40] After being featured in Daily Candy, Minkoff's M.A.B Collection took off.
[5:15] With the realization that she wouldn't become a dancer, Rebecca turned to costume design in high school, which kick-started her fashion design career.
[14:27] Rebecca talks about her book, Fearless, and how the COVID-19 pandemic gave the book's message more meaning and strength.
[20:07] Hear the inspiration behind the launch of the Female Founder Collective and what it's all about.
[25:53] Listen to how Rebecca transformed fashion shows, showing how a show could relay messages of peace and unity in difficult times.

Be sure to listen for the KEYWORD from the host that you will need to enter the giveaway!


Subscribe to the SheSpeaks How She Does It Podcast wherever you listen & if you liked this episode, leave a review. We'd love to hear what you think!
Giveaway - How to Enter
We are giving away a Rebecca Minkoff Handbag to one lucky listener - The Emma Swing Crossbody Bag in honey or black (Value: $99.97 - based on availability). To enter, listen to the podcast for the KEYWORD and enter it in the widget below!
Podcast Giveaway: Rebecca Minkoff
One lucky participant will win a Rebecca Minkoff- Emma Swing Crossbody Bag in honey or black (Value: $99.97 - winner choice, based on availability). If the product is unavailable, a substitute of equal value will be determined. Giveaways are open to U.S. residents at least 18 years of age. Giveaway ends July 28th. Entrants must be a member of SheSpeaks. If you are not a member, click here to join.

Update: Thanks to all who entered. Congrats to our winner, SheSpeaks member saleago!