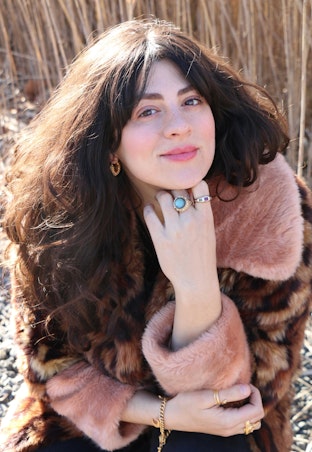 Jessica DeFino
Jessica DeFino: Changing the Conversation Around Beauty

by
SheSpeaksTeam
Mar 29, 2023
It's a constant flood of information and suggestions and tips… I don't think our brains are meant to hold this much information, especially when so much of the information is focused on the physical body. Human beings are so much more than that.
When beauty standards are set by a consumption driven, money-making machine that we can engage with 24/7, it's going to affect the way we think about and experience beauty. This episode, Aliza sits down with beauty reporter, Jessica DeFino, to talk about what's currently happening in the beauty industry, how our fixation with ourselves is hurting us, and how we can start to change the conversation around beauty.

Episode Highlights
2:12 - What's wrong with the beauty industry?
9:04 - The divide between "us and them" has been removed with social media
16:50 - Beauty standards and the effect on our overall health
23:20 - Having thoughtful conversations around beauty

What we talk about in this episode:
How social media has democratized "celebrity"

Our brains aren't meant to hold so much information about ourselves, especially when it comes to our bodies

Ozempic is the new Botox

How to change the conversation around beauty

More About Jessica


Jessica is a pro-skin/anti-product beauty reporter dismantling beauty standards, debunking marketing myths, and exploring how beauty culture impacts people — physically, psychologically, and psychospiritually. Jessica's articles can be found in

The New York Times

,

Vogue

,

WWD

,

Teen Vogue

,

Harper's BAZAAR, Allure, New York Magazine's The Cut, ELLE, Cosmopolitan, Marie Claire, Glamour, SELF, Coveteur, Man Repeller, HelloGiggles, Business Insider, The Zoe Report, Fashionista.com

, and more. [Source]
You can find our full episodes wherever you listen to your favorite podcasts:
Apple | Spotify | Google Podcasts | Stitcher