Invest in Your Children's Future with Prudential

by
SheSpeaksTeam
is this the date @ED : BlogVO [categoryId=70161, blogId=146110, blogTitle=Invest in Your Children's Future with Prudential, publishingDate=September 26, 2022 12:00 AM, maxResponses=null, noOfComments=null, fileId=45147, blogClosingDate=null, blogCommentClosed=null, blogCategoryId=70161, queryId=0, blogCategoryIdIndex=0, sharedCategoriesList=null, blogStatusId=34, commentsClosedFlag=false, categoryIdForLog=0, blogModuleCategoryId=0, blogFileVo=null, latestCommentsList=null, verticalCatSeoURL=null, currentDate=01/29/2023, blogLink=null, authorName=SheSpeaksTeam, authorLognId=SheSpeaksTeam, authorAcctId=67580, vosTypeid=3, searchTestId=0, searchStatusId=0, searchAuthorType=0, authorBlogNumber=0, surveyData1=null, surveyData1Desc=null, surveyData2=null, surveyData2Desc=null, pullQuoteMemberId=null, filePath=null, fileName=null, vosType=0, subhead=null, offerSubhead=null, description=null, creationTime=null, authorFname=SheSpeaks, verticalCategoryId=null, sectionId=0, imageFileVO=FilesVO [fileId=45147, filePath=null, fileName=null, fileLength=0, fileWidth=0, createdBy=0, createByUser=null, creationTime=null, lastModifiedBy=0, lastModifiedByUser=null, lastModifiedTime=null, mimeType=null, fileRef=null, fileSize=0, extension=null, title=null, body=null, completeFilePath=/pages/img/redesign/blogs/Blog Header (Blog Banner) (4)_09262022135205.jpg, height=1260, width=2240, maxHeight=480, maxWidth=360, displayWidth=360, displayHeight=202, fileStatusId=0, searchKeyword=null, searchFlag=false, queryId=0, isExists=true], seoURL=Invest-in-Your-Future-with-Prudential, seoTitle=null, pullQuotesList=null, pullQuote=null, pullQuoteId=0, searchFlag=false, authorByLine=null, authorDesc=null, authorLink=null, authorFileVO=FilesVO [fileId=42371, filePath=null, fileName=null, fileLength=0, fileWidth=0, createdBy=0, createByUser=null, creationTime=null, lastModifiedBy=0, lastModifiedByUser=null, lastModifiedTime=null, mimeType=null, fileRef=null, fileSize=0, extension=null, title=null, body=null, completeFilePath=/pages/img/membersnaps/SheSpeaks_Logo_Symbol_Only_10182021080530.jpg, height=1777, width=1777, maxHeight=50, maxWidth=50, displayWidth=50, displayHeight=50, fileStatusId=0, searchKeyword=null, searchFlag=false, queryId=0, isExists=true], authorFileId=42371, authorType=0, storyImgFileVO=null, storyImgFileId=0, videoHtml=, authorImageFileId=0, authorImageFileVO=null, previousCategoryId=null, previousBlogStatusId=0, fromBlogDetails=0, blogCategoryName=Money, blogCategoryUrl=null, blogCategoryDesc=null, defaultImage=false, tags=null, optionIds=null, tagOptionId=null, tagId=null, tag=null, tagID=0, tagDetails=null, tagIds=null, testId=0, extBlogURL=null, extBlogStatus=0, bloggerSince=null, extBlogLimit=0, authorTestsList=[], blogURL=, blogName=, bloggerProfileId=0, sliderBlog=false, eventonHome=true, vosonHome=false, partyAndGiveawayDate=10/07/2022, imageCredit=@mummy_anite, @theparentologist, pullQuoteMemId=null, offerSubHead=, subHead=, displayOrder=0,includeInGoogleSearch=false]
Sep 26, 2022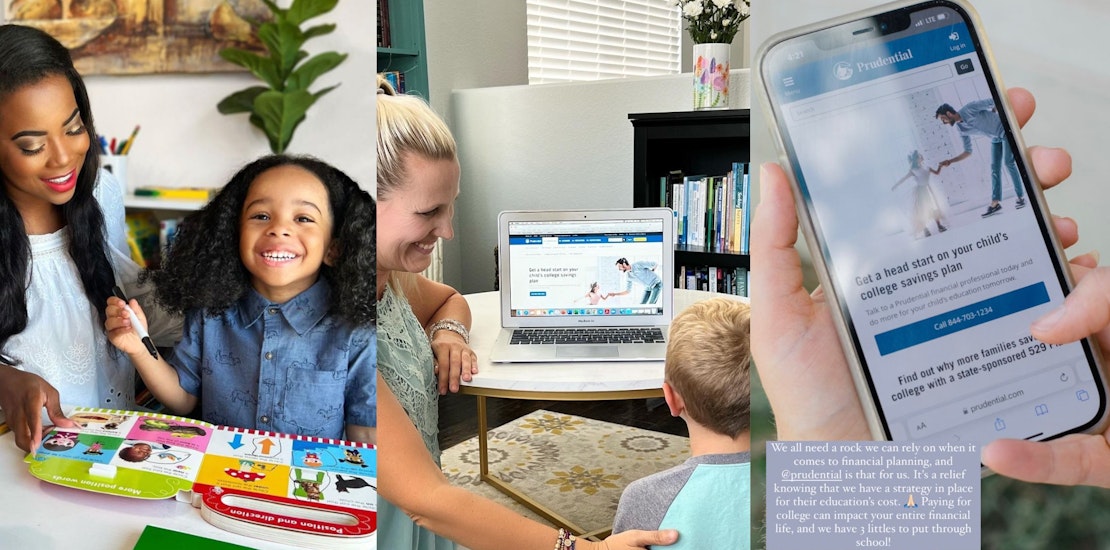 @mummy_anite, @theparentologist
Discussing money is often thought of as a taboo topic, but it doesn't have to be! The best way to set yourself up for success is openly talking about finances, and preparing for the future by investing.

Whether you're saving for your kid's college education, or you want to gain more financial freedom by investing your money, Prudential has a service for your needs.

Find out how Prudential can help you with saving for your child's education, through the posts below.

Enter our giveaway below for a chance to win a $50 Visa gift card.
Prudential Giveaway
One lucky winner will be chosen at random to receive a $50 Visa gift card. Giveaway is open to U.S. residents 18 years or older. Enter through October 7, 2022. Winner will be chosen randomly by October 14, 2022 and notified by email. Winner must be a SheSpeaks member. If you are not a member, click here to join.
Thanks to all who entered! Congrats to our winner SheSpeaks member MinakaiMoo4217.