Influencing Change with Tracey Moore: Podcast + Giveaway

by
SheSpeaksTeam
is this the date @ED : BlogVO [categoryId=70162, blogId=146008, blogTitle=Influencing Change with Tracey Moore: Podcast + Giveaway , publishingDate=March 01, 2022 12:00 AM, maxResponses=null, noOfComments=null, fileId=43365, blogClosingDate=null, blogCommentClosed=null, blogCategoryId=70162, queryId=0, blogCategoryIdIndex=0, sharedCategoriesList=null, blogStatusId=34, commentsClosedFlag=false, categoryIdForLog=0, blogModuleCategoryId=0, blogFileVo=null, latestCommentsList=null, verticalCatSeoURL=null, currentDate=12/01/2023, blogLink=null, authorName=SheSpeaksTeam, authorLognId=SheSpeaksTeam, authorAcctId=67580, vosTypeid=3, searchTestId=0, searchStatusId=0, searchAuthorType=0, authorBlogNumber=0, surveyData1=null, surveyData1Desc=null, surveyData2=null, surveyData2Desc=null, pullQuoteMemberId=null, filePath=null, fileName=null, vosType=0, subhead=null, offerSubhead=null, description=null, creationTime=null, authorFname=SheSpeaks, verticalCategoryId=null, sectionId=0, imageFileVO=FilesVO [fileId=43365, filePath=null, fileName=null, fileLength=0, fileWidth=0, createdBy=0, createByUser=null, creationTime=null, lastModifiedBy=0, lastModifiedByUser=null, lastModifiedTime=null, mimeType=null, fileRef=null, fileSize=0, extension=null, title=null, body=null, completeFilePath=/pages/img/redesign/blogs/Podcast Giveaway Headers (4)_02252022222545.jpg, height=550, width=1110, maxHeight=480, maxWidth=360, displayWidth=360, displayHeight=178, fileStatusId=0, searchKeyword=null, searchFlag=false, queryId=0, isExists=true], seoURL=Influencing-Change-with-Tracey-Moore, seoTitle=null, pullQuotesList=null, pullQuote=null, pullQuoteId=0, searchFlag=false, authorByLine=null, authorDesc=null, authorLink=null, authorFileVO=FilesVO [fileId=42371, filePath=null, fileName=null, fileLength=0, fileWidth=0, createdBy=0, createByUser=null, creationTime=null, lastModifiedBy=0, lastModifiedByUser=null, lastModifiedTime=null, mimeType=null, fileRef=null, fileSize=0, extension=null, title=null, body=null, completeFilePath=/pages/img/membersnaps/SheSpeaks_Logo_Symbol_Only_10182021080530.jpg, height=1777, width=1777, maxHeight=50, maxWidth=50, displayWidth=50, displayHeight=50, fileStatusId=0, searchKeyword=null, searchFlag=false, queryId=0, isExists=true], authorFileId=42371, authorType=0, storyImgFileVO=null, storyImgFileId=0, videoHtml=, authorImageFileId=0, authorImageFileVO=null, previousCategoryId=null, previousBlogStatusId=0, fromBlogDetails=0, blogCategoryName=Entertainment, blogCategoryUrl=null, blogCategoryDesc=null, defaultImage=false, tags=null, optionIds=null, tagOptionId=null, tagId=null, tag=null, tagID=0, tagDetails=null, tagIds=null, testId=0, extBlogURL=null, extBlogStatus=0, bloggerSince=null, extBlogLimit=0, authorTestsList=[], blogURL=, blogName=, bloggerProfileId=0, sliderBlog=false, eventonHome=true, vosonHome=false, partyAndGiveawayDate=03/15/2022, imageCredit=Tracey Moore , pullQuoteMemId=null, offerSubHead=, subHead=, displayOrder=0,includeInGoogleSearch=false]
Mar 01, 2022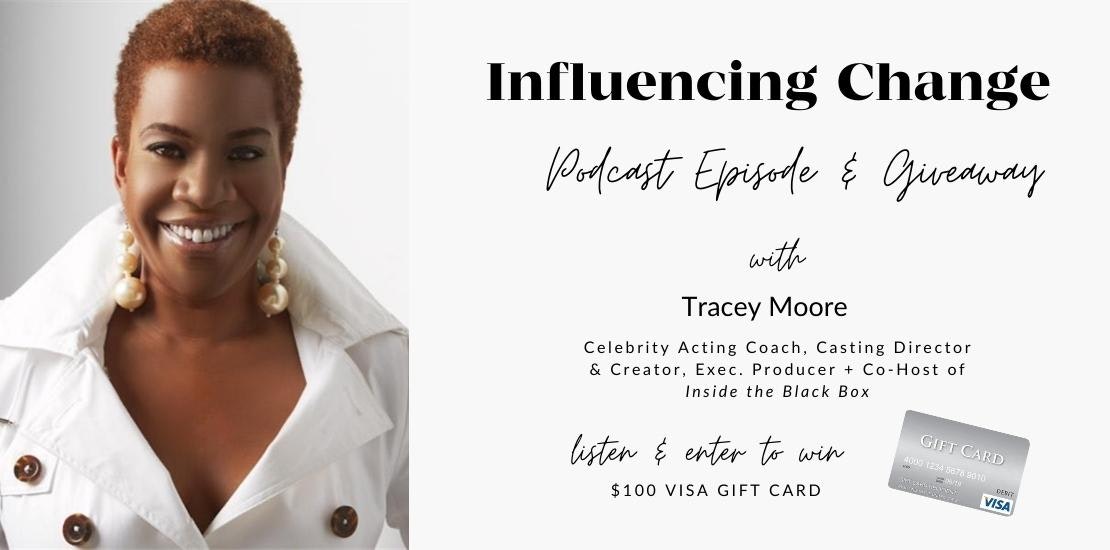 Tracey Moore
In our most recent podcast episode, we spoke to multi-talented acting coach, producer, host, and casting director Tracey Moore. As a prominent player in the industry Tracey had a lot to share about being an African American woman working in Hollywood. She also gave insight into the new and innovative show Inside the Black Box which Tracey helped create and executive produce.
Watch her new series FREE on Crackle:
https://www.crackle.com/watch/9370
Watch Inside the Black Box on Crackle + then Read on to see how you can WIN a $100 VISA Gift Card.
We learn about Tracey's journey into Hollywood, how she got her start and what it's like to work with some of the world's favorite artists and celebrities. She also discusses how authentic storytelling and experience sharing could be the key to promoting social change and how motherhood has played a role in her career. Listen to some of this episode's highlights below!

Episode Highlights
3:29- The inspiration behind Inside the Black Box
19:44- Identifying the improvements in our society
25:05- How personal experience fuels successful acting
26:04- The Beauty of motherhood and success

Tracey Moore Podcast Episode Giveaway One participant will be chosen at random to win a $100 Visa Gift Card. This giveaway is open through March 15, 2022 to U.S. residents at least 18 years of age. Entrants must be a member of SheSpeaks. If you are not a member, click here to join. Winner will be notified by email.
Thanks to all who entered! Congrats to our winner, SheSpeaks member sweetnsalty.