Make The Big Game Feel Like a Party. Win a $75 Gift Card to Celebrate! #SheSpeaksBigGameParty

by
SheSpeaksTeam
is this the date @ED : BlogVO [categoryId=70162, blogId=145824, blogTitle=Make The Big Game Feel Like a Party. Win a $75 Gift Card to Celebrate! #SheSpeaksBigGameParty, publishingDate=January 27, 2021 12:00 AM, maxResponses=null, noOfComments=null, fileId=39801, blogClosingDate=null, blogCommentClosed=null, blogCategoryId=70162, queryId=0, blogCategoryIdIndex=0, sharedCategoriesList=null, blogStatusId=34, commentsClosedFlag=false, categoryIdForLog=0, blogModuleCategoryId=0, blogFileVo=null, latestCommentsList=null, verticalCatSeoURL=null, currentDate=12/05/2023, blogLink=null, authorName=SheSpeaksTeam, authorLognId=SheSpeaksTeam, authorAcctId=67580, vosTypeid=3, searchTestId=0, searchStatusId=0, searchAuthorType=0, authorBlogNumber=0, surveyData1=null, surveyData1Desc=null, surveyData2=null, surveyData2Desc=null, pullQuoteMemberId=null, filePath=null, fileName=null, vosType=0, subhead=null, offerSubhead=null, description=null, creationTime=null, authorFname=SheSpeaks, verticalCategoryId=null, sectionId=0, imageFileVO=FilesVO [fileId=39801, filePath=null, fileName=null, fileLength=0, fileWidth=0, createdBy=0, createByUser=null, creationTime=null, lastModifiedBy=0, lastModifiedByUser=null, lastModifiedTime=null, mimeType=null, fileRef=null, fileSize=0, extension=null, title=null, body=null, completeFilePath=/pages/img/redesign/blogs/Football Pie Cookie Cups_01212021122439.jpg, height=385, width=685, maxHeight=480, maxWidth=360, displayWidth=360, displayHeight=202, fileStatusId=0, searchKeyword=null, searchFlag=false, queryId=0, isExists=true], seoURL=Ideas-to-Make-The-Big-Game-Feel-Like-a-Party, seoTitle=null, pullQuotesList=null, pullQuote=null, pullQuoteId=0, searchFlag=false, authorByLine=null, authorDesc=null, authorLink=null, authorFileVO=FilesVO [fileId=42371, filePath=null, fileName=null, fileLength=0, fileWidth=0, createdBy=0, createByUser=null, creationTime=null, lastModifiedBy=0, lastModifiedByUser=null, lastModifiedTime=null, mimeType=null, fileRef=null, fileSize=0, extension=null, title=null, body=null, completeFilePath=/pages/img/membersnaps/SheSpeaks_Logo_Symbol_Only_10182021080530.jpg, height=1777, width=1777, maxHeight=50, maxWidth=50, displayWidth=50, displayHeight=50, fileStatusId=0, searchKeyword=null, searchFlag=false, queryId=0, isExists=true], authorFileId=42371, authorType=0, storyImgFileVO=null, storyImgFileId=0, videoHtml=, authorImageFileId=0, authorImageFileVO=null, previousCategoryId=null, previousBlogStatusId=0, fromBlogDetails=0, blogCategoryName=Entertainment, blogCategoryUrl=null, blogCategoryDesc=null, defaultImage=false, tags=null, optionIds=null, tagOptionId=null, tagId=null, tag=null, tagID=0, tagDetails=null, tagIds=null, testId=0, extBlogURL=null, extBlogStatus=0, bloggerSince=null, extBlogLimit=0, authorTestsList=[], blogURL=, blogName=, bloggerProfileId=0, sliderBlog=false, eventonHome=false, vosonHome=false, partyAndGiveawayDate=02/14/2021, imageCredit=https://thekitchenprepblog.com/football-cookies/, pullQuoteMemId=null, offerSubHead=null, subHead=null, displayOrder=0,includeInGoogleSearch=false]
Jan 27, 2021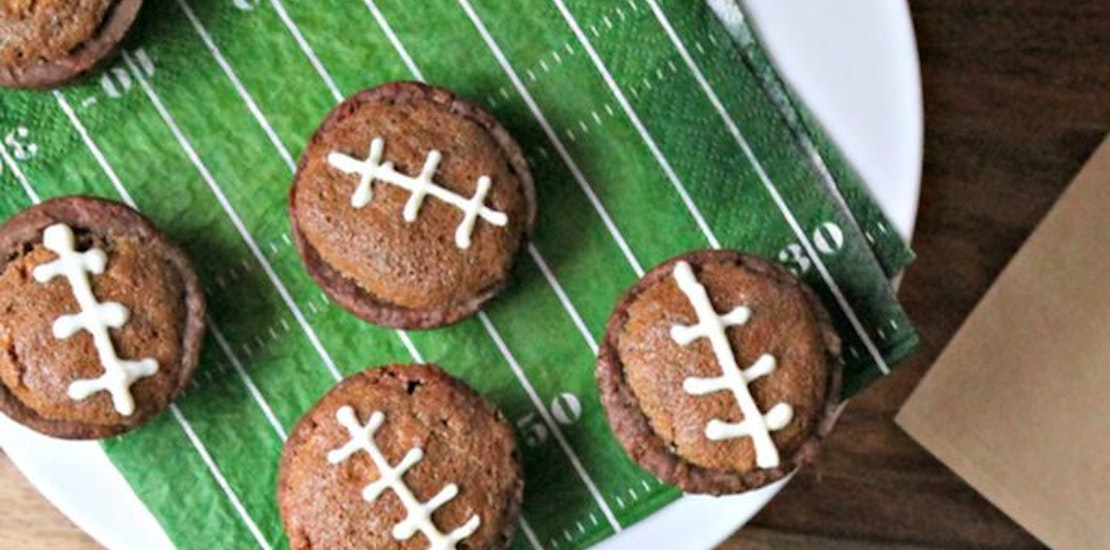 https://thekitchenprepblog.com/football-cookies/
It's 2021 and we're in the mood for a party! Turns out, there are still lots of fun ways to make the Big Game feel like a celebration, even if you're watching from home.

Check out our favorite ideas for making this year's Big Game something to look forward to. Plus, enter to win a $75 Visa Gift Card!
Festive Food
Image Credit: strawberryblondiekitchen.com/horseradish-cheesy-footballs/
Best thing about a smaller party? More snacks for you! We recommend prepping several of your favorites and bringing out a new dish or two each quarter. Click
here
for lots of ideas to design your menu. Or try these dishes that we'll be eating while watching:
Horseradish Cheesy Footballs:
They're mini-cheese balls shaped like footballs. Rolled in bacon. Need we say more? Get the recipe from SheSpeaks member
StrawberryBlondieKitchen
here
.
Quesadillas
: Quesadillas are our favorite because they're so quick to make, and each person can put in whatever ingredients they like. We love these
BBQ Chicken & Bacon Quesadillas
from
BSugarMama
, but feel free to customize.
Football Pie Cookie Cups
: Of course you need dessert. Check out these
cookie cups
from
TheKitchenPrep
, which are a mashup of a cookie and a pie, decorated to look like a football. Delicious and adorable.
Play Your Own Games
Image Credit: fanduel.com
At-home betting is our favorite way to have something to root for, especially if you don't feel strongly about the teams playing in the actual game. Plus, many of these games can be played with people in your home, or with friends & family who aren't physically present.
Fun bets
: Before the game starts, make a list of questions. Then have everyone write down their guess of what the answer will be. When someone gets a question right, they win a treat, such as an M&M, a jelly bean, or a point that adds up to a big prize at the end. For example, Will the coin toss land on heads or tails? How many car commercials will air in the first half? What color Gatorade will be dumped on the winning coach? Feel free to be creative!
Squares
: If you're not a regular football fan, or even if you are, Super Bowl Squares (or Boxes) are a great game to play with friends because the winner is totally random. For instructions on how to play, check out
this post
from SI.com. We love that everyone has the same chance to win.
Bingo
: Make a bingo board of all of the things you think you might see at the game. Whoever finds everything on their board first wins. Ideas to search for include celebrities, commercials with a talking animal, missed field goals. There're are so many options!
Don't Forget to Decorate
Want to make your viewing party feel more like a party? Make sure to set the scene. You can buy decorations from the store or find cute printables.
Decorate in your team colors
: If you have a favorite team (even if that team isn't playing!), color-coordinate. Make sure all of your supplies, and even some of the drinks or food are that color too.
Football and fields
: Footballs are super easy to make out of paper. Cut some out and use them as placemats for the food, or hang them up as decorations. You can buy a tablecloth that looks like a field, or you can buy a green one and draw lines on it to represent the yard lines. It doesn't have to be fancy, it just has to be fun. If you have a helmet, whistles or footballs, use them as a centerpiece.
Label
: We love how the Big Game drink is labeled as Playbook Punch in the video above. For a pre-game activity, see what you and your family can think of. Field Goal Fries? Touchdown Turkey Wraps? Winning Wings? Is it silly? Yes. But will it put everyone in a fun mood for the game? Definitely.
How are you celebrating the Big Game - or any other event - at home this year? Enter to win a $75 Visa gift card!
#SheSpeaksParty Giveaway
*One person will be chosen at random to receive a $75 Visa gift card. Giveaway is open through February 14, 2021 to U.S. residents at least 18 years of age. Entrants must be a member of SheSpeaks. If you are not a member, click here to join. Winner will be notified by email.

Update: Congrats to SheSpeaks winner,
NicoleF!