How You Can Help End Period Poverty + Giveaway

by
SheSpeaksTeam
is this the date @ED : BlogVO [categoryId=70165, blogId=146323, blogTitle=How You Can Help End Period Poverty + Giveaway , publishingDate=August 20, 2023 12:00 AM, maxResponses=null, noOfComments=null, fileId=48293, blogClosingDate=null, blogCommentClosed=null, blogCategoryId=70165, queryId=0, blogCategoryIdIndex=0, sharedCategoriesList=null, blogStatusId=34, commentsClosedFlag=false, categoryIdForLog=0, blogModuleCategoryId=0, blogFileVo=null, latestCommentsList=null, verticalCatSeoURL=null, currentDate=09/24/2023, blogLink=null, authorName=SheSpeaksTeam, authorLognId=SheSpeaksTeam, authorAcctId=67580, vosTypeid=3, searchTestId=0, searchStatusId=0, searchAuthorType=0, authorBlogNumber=0, surveyData1=null, surveyData1Desc=null, surveyData2=null, surveyData2Desc=null, pullQuoteMemberId=null, filePath=null, fileName=null, vosType=0, subhead=null, offerSubhead=null, description=null, creationTime=null, authorFname=SheSpeaks, verticalCategoryId=null, sectionId=0, imageFileVO=FilesVO [fileId=48293, filePath=null, fileName=null, fileLength=0, fileWidth=0, createdBy=0, createByUser=null, creationTime=null, lastModifiedBy=0, lastModifiedByUser=null, lastModifiedTime=null, mimeType=null, fileRef=null, fileSize=0, extension=null, title=null, body=null, completeFilePath=/pages/img/redesign/blogs/Blog Header (Blog Banner) (11)_08202023001457.jpg, height=1260, width=2240, maxHeight=480, maxWidth=360, displayWidth=360, displayHeight=202, fileStatusId=0, searchKeyword=null, searchFlag=false, queryId=0, isExists=true], seoURL=How-You-Can-Help-End-Period-Poverty, seoTitle=null, pullQuotesList=null, pullQuote=null, pullQuoteId=0, searchFlag=false, authorByLine=null, authorDesc=null, authorLink=null, authorFileVO=FilesVO [fileId=42371, filePath=null, fileName=null, fileLength=0, fileWidth=0, createdBy=0, createByUser=null, creationTime=null, lastModifiedBy=0, lastModifiedByUser=null, lastModifiedTime=null, mimeType=null, fileRef=null, fileSize=0, extension=null, title=null, body=null, completeFilePath=/pages/img/membersnaps/SheSpeaks_Logo_Symbol_Only_10182021080530.jpg, height=1777, width=1777, maxHeight=50, maxWidth=50, displayWidth=50, displayHeight=50, fileStatusId=0, searchKeyword=null, searchFlag=false, queryId=0, isExists=true], authorFileId=42371, authorType=0, storyImgFileVO=null, storyImgFileId=0, videoHtml=, authorImageFileId=0, authorImageFileVO=null, previousCategoryId=null, previousBlogStatusId=0, fromBlogDetails=0, blogCategoryName=Living, blogCategoryUrl=null, blogCategoryDesc=null, defaultImage=false, tags=null, optionIds=null, tagOptionId=null, tagId=null, tag=null, tagID=0, tagDetails=null, tagIds=null, testId=0, extBlogURL=null, extBlogStatus=0, bloggerSince=null, extBlogLimit=0, authorTestsList=[], blogURL=, blogName=, bloggerProfileId=0, sliderBlog=false, eventonHome=true, vosonHome=true, partyAndGiveawayDate=09/26/2023, imageCredit=null, pullQuoteMemId=null, offerSubHead=, subHead=, displayOrder=0,includeInGoogleSearch=true]
Aug 20, 2023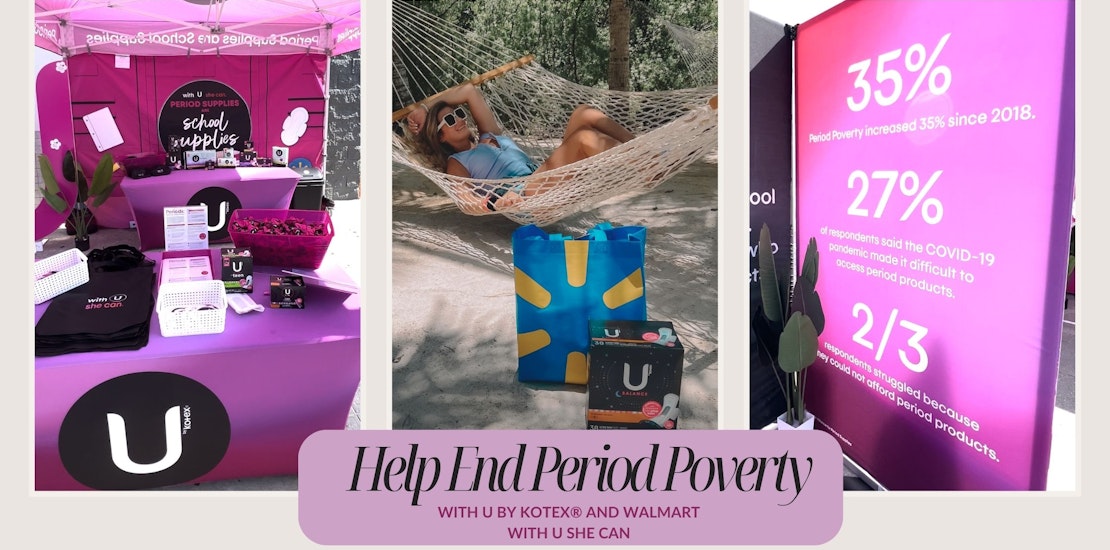 Did you know?
Research from U by Kotex® finds that two in five women struggled to purchase period products due to lack of income.
Over one-third 38% of low-income women report missing work, school or similar events due to lack of access to period supplies.
Lack of access to period supplies is linked to using substitute products, stretching product usage and even missing work, school or other important events.
Addressing the need for period products, often referred to as "period poverty," is something that the nonprofit Alliance for Period Supplies and its founding sponsor U by Kotex® are committed to. The With U She Can program is raising awareness of the consequences that a lack of access to period products can have on the lives of individuals living in poverty, and inspiring individuals and communities to take action.
How You Can Take Action
Taking action is as simple as purchasing your U by Kotex® products at Walmart from now until 9/28. Your purchase of any U by Kotex® product will spark a donation to support even more individuals in need of help. Purchasing the product is easy, at every Walmart store - in-store and online. You can purchase the products here!

SheSpeaks influencers are helping to raise awareness of this issue and the With U She Can program & events at Walmart stores - see their content below!
Read on to see how you can win a $50 Walmart Gift Card and a variety of U by Kotex® products to keep or donate in your local area!
If you want to learn more, visit: https://bit.ly/WithUSheCan & Enter Below to WIN!
With U She Can - U By Kotex - $50 Walmart Gift Card Giveaway
One lucky winner will be chosen at random to receive a $50 Walmart gift card and U By Kotex Products. Giveaway is open to U.S. residents 18 years or older. Enter through September 26. Winner will be chosen randomly and notified by email. Entrants must be a member of SheSpeaks. If you are not a member, click here to join.