Get Ready for Summer Travel! Enter the Venus #ChooseYourSmooth Giveaway

by
SheSpeaksTeam
is this the date @ED : BlogVO [categoryId=70163, blogId=144776, blogTitle=Get Ready for Summer Travel! Enter the Venus #ChooseYourSmooth Giveaway, publishingDate=June 22, 2016 12:00 AM, maxResponses=null, noOfComments=null, fileId=27163, blogClosingDate=null, blogCommentClosed=null, blogCategoryId=70163, queryId=0, blogCategoryIdIndex=0, sharedCategoriesList=null, blogStatusId=34, commentsClosedFlag=false, categoryIdForLog=0, blogModuleCategoryId=0, blogFileVo=null, latestCommentsList=null, verticalCatSeoURL=null, currentDate=12/03/2022, blogLink=null, authorName=SheSpeaksTeam, authorLognId=SheSpeaksTeam, authorAcctId=67580, vosTypeid=3, searchTestId=0, searchStatusId=0, searchAuthorType=0, authorBlogNumber=0, surveyData1=null, surveyData1Desc=null, surveyData2=null, surveyData2Desc=null, pullQuoteMemberId=null, filePath=null, fileName=null, vosType=0, subhead=null, offerSubhead=null, description=null, creationTime=null, authorFname=SheSpeaks, verticalCategoryId=null, sectionId=0, imageFileVO=FilesVO [fileId=27163, filePath=null, fileName=null, fileLength=0, fileWidth=0, createdBy=0, createByUser=null, creationTime=null, lastModifiedBy=0, lastModifiedByUser=null, lastModifiedTime=null, mimeType=null, fileRef=null, fileSize=0, extension=null, title=null, body=null, completeFilePath=/pages/img/redesign/blogs/Venus350x350_06222016100404.jpg, height=350, width=350, maxHeight=480, maxWidth=360, displayWidth=350, displayHeight=350, fileStatusId=0, searchKeyword=null, searchFlag=false, queryId=0, isExists=true], seoURL=Get-Ready-for-Summer-Travel-Enter-the-Venus-ChooseYourSmooth-Giveaway, seoTitle=null, pullQuotesList=null, pullQuote=null, pullQuoteId=0, searchFlag=false, authorByLine=null, authorDesc=null, authorLink=null, authorFileVO=FilesVO [fileId=42371, filePath=null, fileName=null, fileLength=0, fileWidth=0, createdBy=0, createByUser=null, creationTime=null, lastModifiedBy=0, lastModifiedByUser=null, lastModifiedTime=null, mimeType=null, fileRef=null, fileSize=0, extension=null, title=null, body=null, completeFilePath=/pages/img/membersnaps/SheSpeaks_Logo_Symbol_Only_10182021080530.jpg, height=1777, width=1777, maxHeight=50, maxWidth=50, displayWidth=50, displayHeight=50, fileStatusId=0, searchKeyword=null, searchFlag=false, queryId=0, isExists=true], authorFileId=42371, authorType=0, storyImgFileVO=null, storyImgFileId=0, videoHtml=, authorImageFileId=0, authorImageFileVO=null, previousCategoryId=null, previousBlogStatusId=0, fromBlogDetails=0, blogCategoryName=Beauty & Fashion, blogCategoryUrl=null, blogCategoryDesc=null, defaultImage=false, tags=null, optionIds=null, tagOptionId=null, tagId=null, tag=null, tagID=0, tagDetails=null, tagIds=null, testId=0, extBlogURL=null, extBlogStatus=0, bloggerSince=null, extBlogLimit=0, authorTestsList=[], blogURL=, blogName=, bloggerProfileId=0, sliderBlog=false, eventonHome=false, vosonHome=false, partyAndGiveawayDate=07/06/2016, imageCredit=null, pullQuoteMemId=null, offerSubHead=null, subHead=null, displayOrder=0,includeInGoogleSearch=false]
Jun 22, 2016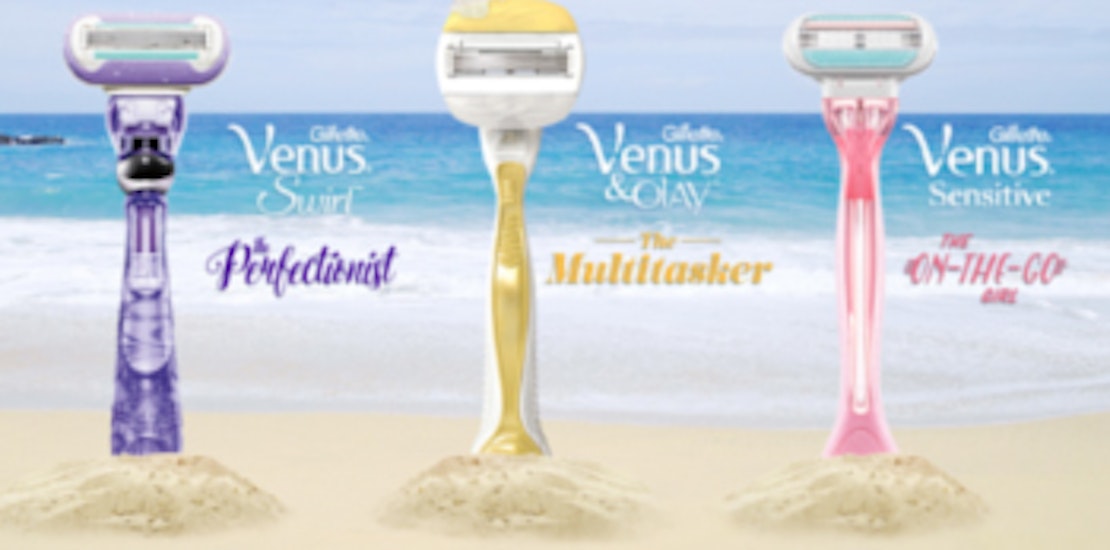 With summer travel in full swing, you don't want to forget any of the essentials, especially when you want to rock smooth, perfectly shaved legs! Tune in with Marnie Goldberg to find out her travel tip for smooth legs, and learn more about how you can Choose Your Smooth with Gillette Venus to find the best razor for you at Walmart.
Enter to win a Gillette Venus Prize Pack and a $100 Walmart Gift Card! Follow the two steps below to enter to win, and Tweet for a bonus entry!
Step 1: Watch the video below!
Step 2: Comment on this blog post to tell us - which Venus razor mentioned in Marnie's video would you most like to try?
FOR A BONUS ENTRY Click here to Tweet: "I'm entering the @SheSpeaksUp #ChooseYourSmooth giveaway for a chance to win a @Walmart GC & more! Enter: bit.ly/28TqHl5"
One winner will be chosen at random to receive a $100 Walmart Gift Card and a Gillette Venus prize pack. Giveaway is open to U.S. residents only. Enter through July 6, 2016. Giveaway open to U.S. residents at least 18 years of age. Winner will be chosen randomly by July 8 and notified by email.