Fun Kitchen Gadgets and Gifts

By
SheSpeaksTeam
Dec 23, 2022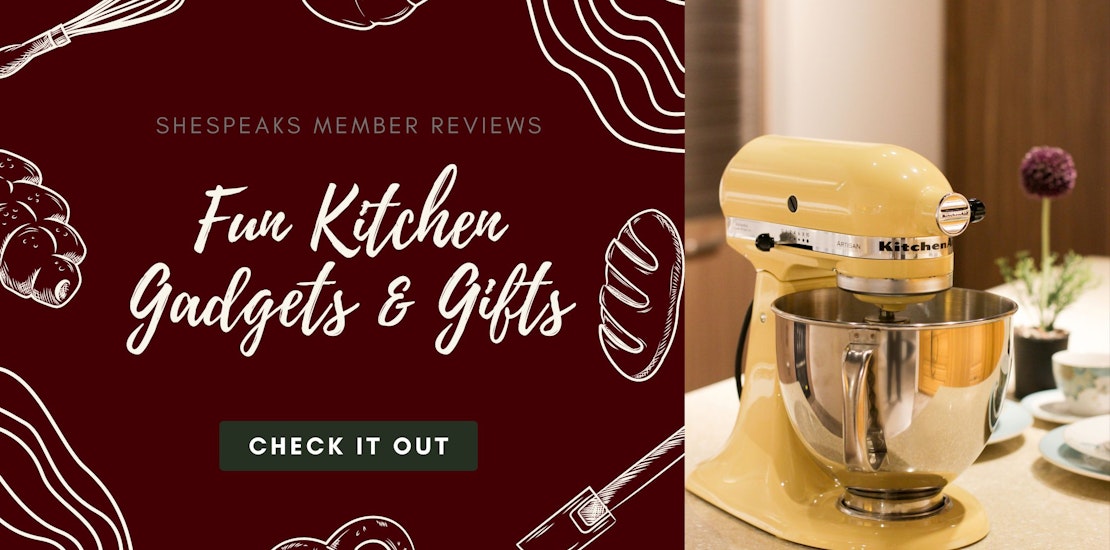 Looking for something special to give that foodie/amature chef on your gift-giving list this year? Here are a few must-have SheSpeaks member approved kitchen appliances the cook in your life is bound to love.

Dash Mini Waffle Maker

This might be the cutest thing to sit atop a kitchen counter in the history of waffle makers. The non-stick surface ensures that your mini 4" waffles come out perfect each and every time. It's small enough to be tucked out of the way and fun for even the young chefs in your house to give it a try. It not only cooks up waffles, but also works with cookie dough and hash browns. SheSpeaks member OKDebbdo says, "I just started using my mini waffle maker and I really like it. I love that it doesn't take long at all to cook and mine came out golden brown Just use whatever waffle mix you want, I use my favorite box mix and they turn out yummy…"



Breville Barista Express
This one is definitely not for your every day amature coffee maker (so don't expect a Keurig style, press of a button cup of coffee). This is more of a professional style espresso machine (with a $700 plus price tage to match), that when used correctly can deliver a delicious cup of coffee. SheSpeaks member MamaKatie says, "This is not a machine for beginner coffee makers, unless you're willing to learn. This machine requires manual work; there is no smart tech to do everything for you. You have to adjust the grind and the amount yourself and a lot of it is trial and error. But, once you settle on a bean, it's smooth sailing from there. If used correctly, it's a great machine to get tasty, coffee shop quality drinks for more than half the price".

Ninja Blender

Half blender, half food processor - this Ninja Blender checks off a lot of boxes. With the capacity process 8 cups of food, the Ninja can handle both large and small dishes. SheSpeaks member landcpaint loves that she can use it for a variety of tasks. She says, "I love this blender! I use the single serve "jars" for morning smoothies and mixing sauces or pesto. The set also came with the processor attachment with both blades and a dough "blade", I use that part for mixing keto doughs and when making the traditional Christmas cookie Cuccidatis".




KitchenAid Stand Mixer
For those that bake, this stand mixer is like the holy grail of kitchen appliances. It's super sturdy and has a strong motor that can mix/knead thick doughs and batters like nobody's business. The vintage throw back design is stylish too and comes in a variety of colors to match any kitchen's decor. SheSpeaks member freebiesndeals is very happy with this mixer and says, "I've had this mixer for about 20 years now. Never had any issues with it. I like the attachments you can add to it, I have the pasta maker and occasionally make my own pasta. It is great for making bread and pizza dough, no extra effort on your part, does all the kneading for you. Great machine".

What do you think of the kitchen appliances listed above?

Share your reviews with us here!