Win a S'mores Kit & Find Love in the Everyday. #SheSpeaksEveryDayLove Giveaway

by
SheSpeaksTeam
is this the date @ED : BlogVO [categoryId=70165, blogId=145829, blogTitle=Win a S'mores Kit & Find Love in the Everyday. #SheSpeaksEveryDayLove Giveaway, publishingDate=February 10, 2021 12:00 AM, maxResponses=null, noOfComments=null, fileId=39947, blogClosingDate=null, blogCommentClosed=null, blogCategoryId=70165, queryId=0, blogCategoryIdIndex=0, sharedCategoriesList=null, blogStatusId=34, commentsClosedFlag=false, categoryIdForLog=0, blogModuleCategoryId=0, blogFileVo=null, latestCommentsList=null, verticalCatSeoURL=null, currentDate=02/02/2023, blogLink=null, authorName=SheSpeaksTeam, authorLognId=SheSpeaksTeam, authorAcctId=67580, vosTypeid=3, searchTestId=0, searchStatusId=0, searchAuthorType=0, authorBlogNumber=0, surveyData1=null, surveyData1Desc=null, surveyData2=null, surveyData2Desc=null, pullQuoteMemberId=null, filePath=null, fileName=null, vosType=0, subhead=null, offerSubhead=null, description=null, creationTime=null, authorFname=SheSpeaks, verticalCategoryId=null, sectionId=0, imageFileVO=FilesVO [fileId=39947, filePath=null, fileName=null, fileLength=0, fileWidth=0, createdBy=0, createByUser=null, creationTime=null, lastModifiedBy=0, lastModifiedByUser=null, lastModifiedTime=null, mimeType=null, fileRef=null, fileSize=0, extension=null, title=null, body=null, completeFilePath=/pages/img/redesign/blogs/heart coffee_02102021101112.jpeg, height=385, width=685, maxHeight=480, maxWidth=360, displayWidth=360, displayHeight=202, fileStatusId=0, searchKeyword=null, searchFlag=false, queryId=0, isExists=true], seoURL=Finding-Love-in-the-Every-Day-with-a-SheSpeaksEveryDayLove-Giveaway, seoTitle=null, pullQuotesList=null, pullQuote=null, pullQuoteId=0, searchFlag=false, authorByLine=null, authorDesc=null, authorLink=null, authorFileVO=FilesVO [fileId=42371, filePath=null, fileName=null, fileLength=0, fileWidth=0, createdBy=0, createByUser=null, creationTime=null, lastModifiedBy=0, lastModifiedByUser=null, lastModifiedTime=null, mimeType=null, fileRef=null, fileSize=0, extension=null, title=null, body=null, completeFilePath=/pages/img/membersnaps/SheSpeaks_Logo_Symbol_Only_10182021080530.jpg, height=1777, width=1777, maxHeight=50, maxWidth=50, displayWidth=50, displayHeight=50, fileStatusId=0, searchKeyword=null, searchFlag=false, queryId=0, isExists=true], authorFileId=42371, authorType=0, storyImgFileVO=null, storyImgFileId=0, videoHtml=, authorImageFileId=0, authorImageFileVO=null, previousCategoryId=null, previousBlogStatusId=0, fromBlogDetails=0, blogCategoryName=Living, blogCategoryUrl=null, blogCategoryDesc=null, defaultImage=false, tags=null, optionIds=null, tagOptionId=null, tagId=null, tag=null, tagID=0, tagDetails=null, tagIds=null, testId=0, extBlogURL=null, extBlogStatus=0, bloggerSince=null, extBlogLimit=0, authorTestsList=[], blogURL=, blogName=, bloggerProfileId=0, sliderBlog=false, eventonHome=false, vosonHome=false, partyAndGiveawayDate=02/28/2021, imageCredit=null, pullQuoteMemId=null, offerSubHead=null, subHead=null, displayOrder=0,includeInGoogleSearch=false]
Feb 10, 2021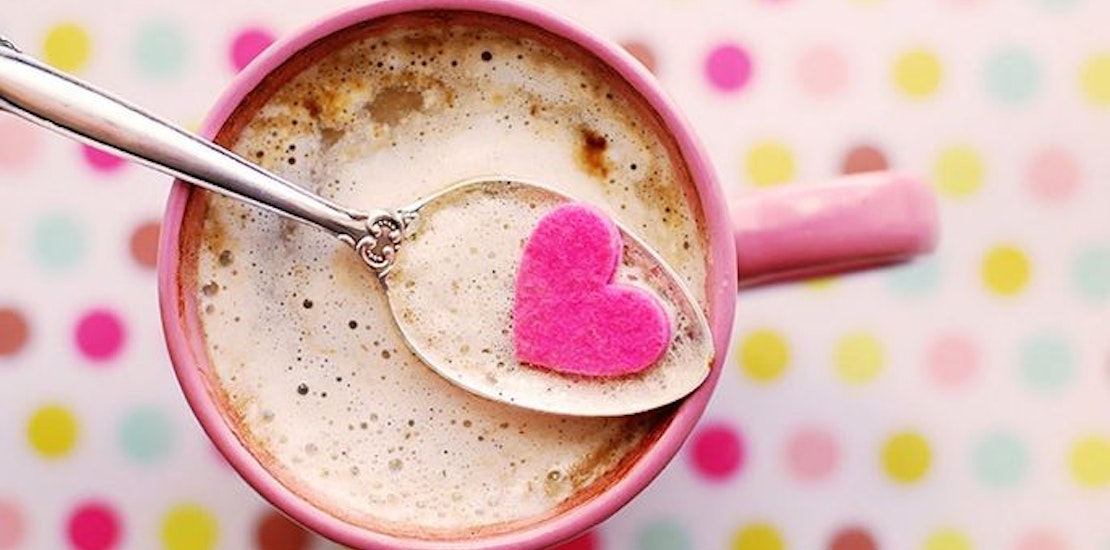 One of the things we learned in the the last year? That love should be celebrated every day, not just on Valentine's Day. And that we should never overlook those small, sweet moments,
Where do you feel love every day? Tell us to win a S'moreology O.G. S'mores Kit (serves 6, $60 value*)!
"Love is a warm cup of coffee brought to your bedside and made just the way you like." - nataliamaray
Food is not just about what you eat. It's also the care you feel when someone else makes lunch, orders the dinner delivery, or preps your morning coffee with milk or sugar exactly the way you want to drink it (even if that someone is you).
"Love is letting your cat take over more than half of the bed." - clairereed
The love you get from pets is infinite. Which is why we are willing to take them out for a walk on a rainy day, buy them silly toys and give them more room than they need when you're trying to get to sleep.
"Love is a new book to read." - allaboutus726
We've spent a lot of time in the last year wrapped in a cozy blanket on the couch, and we've loved every minute of it. We especially cherish that moment of anticipation when the next episode of our favorite series is loading (hello,
Bridgerton
!), when our favorite movie starts to run (we can never watch
Pretty Woman
too many times!), and when we are turning to the first page of a new book (can't wait for
Love at First
by Kate Clayborn!)
"Love is sleepy kid snuggles at 7am." - hooraypietoday
Despite all of the work we do for our kids, their are little moments of happiness that make it all worth it, as long as we take the time to appreciate them. We especially love watching them giggle with their siblings, seeing their joyful faces as they text with friends, and having morning cuddles with them in bed - even if they woke us up way too early..
Love is Walking Hand in Hand - Charles M. Schulz
If you haven't read this book, you must. Originally published in 1965 and then re-released in 2018,
Love is Walking Hand in Hand
is a sweet, simple list of all of the every day ways we feel love, set next to simple drawings of the Peanuts characters. This book reminds us that "Love is sharing your popcorn", "Love is walking in the rain together" and "Love is the whole world."
Where do you feel love in the everyday? Enter to win a S'moreology O.G. S'mores Kit (serves 6, $60 value*)!
Update: Congratulations to the winner, SheSpeaks member dakotamom!
*One person will be chosen at random to receive a $60 Goldbelly gift card, which they can use to purchase a S'moreology kit or whatever else they prefer. Giveaway is open through February 28, 2021 to U.S. residents at least 18 years of age. Entrants must be a member of SheSpeaks. If you are not a member, click here to join. Winner will be notified by email.