Easy Breakfast & Snack Option: Breakstone's Cottage Doubles

by
SheSpeaksTeam
is this the date @ED : BlogVO [categoryId=70164, blogId=145909, blogTitle=Easy Breakfast & Snack Option: Breakstone's Cottage Doubles , publishingDate=October 07, 2021 12:00 AM, maxResponses=null, noOfComments=null, fileId=42268, blogClosingDate=null, blogCommentClosed=null, blogCategoryId=70164, queryId=0, blogCategoryIdIndex=0, sharedCategoriesList=null, blogStatusId=34, commentsClosedFlag=false, categoryIdForLog=0, blogModuleCategoryId=0, blogFileVo=null, latestCommentsList=null, verticalCatSeoURL=null, currentDate=03/28/2023, blogLink=null, authorName=SheSpeaksTeam, authorLognId=SheSpeaksTeam, authorAcctId=67580, vosTypeid=3, searchTestId=0, searchStatusId=0, searchAuthorType=0, authorBlogNumber=0, surveyData1=null, surveyData1Desc=null, surveyData2=null, surveyData2Desc=null, pullQuoteMemberId=null, filePath=null, fileName=null, vosType=0, subhead=null, offerSubhead=null, description=null, creationTime=null, authorFname=SheSpeaks, verticalCategoryId=null, sectionId=0, imageFileVO=FilesVO [fileId=42268, filePath=null, fileName=null, fileLength=0, fileWidth=0, createdBy=0, createByUser=null, creationTime=null, lastModifiedBy=0, lastModifiedByUser=null, lastModifiedTime=null, mimeType=null, fileRef=null, fileSize=0, extension=null, title=null, body=null, completeFilePath=/pages/img/redesign/blogs/Untitled design_10052021161445.jpg, height=385, width=685, maxHeight=480, maxWidth=360, displayWidth=360, displayHeight=202, fileStatusId=0, searchKeyword=null, searchFlag=false, queryId=0, isExists=true], seoURL=Easy-Breakfast-Snack-Option-Breakstone-s-Cottage-Doubles, seoTitle=null, pullQuotesList=null, pullQuote=null, pullQuoteId=0, searchFlag=false, authorByLine=null, authorDesc=null, authorLink=null, authorFileVO=FilesVO [fileId=42371, filePath=null, fileName=null, fileLength=0, fileWidth=0, createdBy=0, createByUser=null, creationTime=null, lastModifiedBy=0, lastModifiedByUser=null, lastModifiedTime=null, mimeType=null, fileRef=null, fileSize=0, extension=null, title=null, body=null, completeFilePath=/pages/img/membersnaps/SheSpeaks_Logo_Symbol_Only_10182021080530.jpg, height=1777, width=1777, maxHeight=50, maxWidth=50, displayWidth=50, displayHeight=50, fileStatusId=0, searchKeyword=null, searchFlag=false, queryId=0, isExists=true], authorFileId=42371, authorType=0, storyImgFileVO=null, storyImgFileId=0, videoHtml=, authorImageFileId=0, authorImageFileVO=null, previousCategoryId=null, previousBlogStatusId=0, fromBlogDetails=0, blogCategoryName=Food, blogCategoryUrl=null, blogCategoryDesc=null, defaultImage=false, tags=null, optionIds=null, tagOptionId=null, tagId=null, tag=null, tagID=0, tagDetails=null, tagIds=null, testId=0, extBlogURL=null, extBlogStatus=0, bloggerSince=null, extBlogLimit=0, authorTestsList=[], blogURL=, blogName=, bloggerProfileId=0, sliderBlog=false, eventonHome=false, vosonHome=false, partyAndGiveawayDate=10/31/2021, imageCredit=@simplytasheena, pullQuoteMemId=null, offerSubHead=, subHead=, displayOrder=0,includeInGoogleSearch=false]
Oct 07, 2021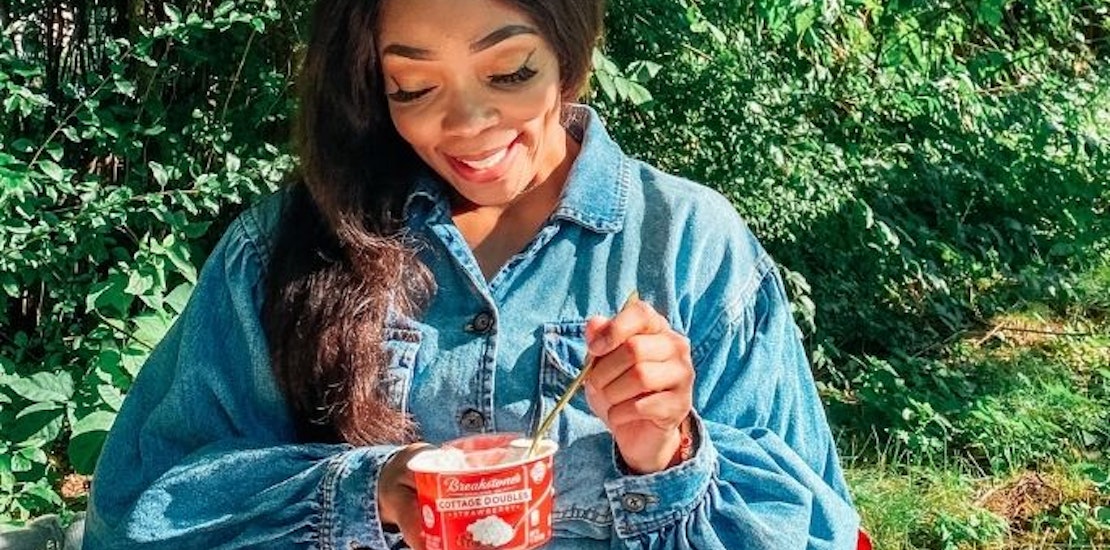 @simplytasheena
This is a sponsored post for Breakstone's.

It's the time of year where we're back in the swing of things with busy school days, kids' activities, work and family commitments, and sometimes a grab-and-go breakfast can make a busy morning so much easier when we need something quick that will keep us going. We've been loving Breakstone's Cottage Doubles – delicious cottage cheese, rich in protein and paired with fruit flavors including mango, blueberry, peach, pineapple, raspberry and strawberry. Whether you're looking for a late afternoon snack, something to drop into kids' lunches, or breakfast at your desk, these fit the bill.

@withlove_tere tells us: "The Breakstone's Cottage Doubles requires minimal time and effort, and help me feel focused, energized, and motivated during the day. They also taste delicious, and are rich in protein paired with fruit! It's so good and the perfect pick-me-up on-the-go."
@alymommydarling
says: "Now I don't have to worry about coming up with a lunch snack. Breakstone's Cottage Doubles are the perfect mix of cottage cheese and fruit in one convenient package."
Click here
to shop for Breakstone's Cottage Doubles at Walmart.
Enter our giveaway below for a chance to win a $50 Walmart gift card.
Breakstone's Cottage Doubles Giveaway
One lucky winner will be chosen at random to receive a $50 Walmart gift card. Giveaway is open to U.S. residents 18 years or older. Enter through October 31, 2021. Winner will be chosen randomly by November 1, 2021 and notified by email.
Thanks to all who entered! Congrats to our winner, SheSpeaks member livinglifs.