Easy, Cheesy Appetizers for the Big Game

by
SheSpeaksTeam
is this the date @ED : BlogVO [categoryId=70164, blogId=145819, blogTitle=Easy, Cheesy Appetizers for the Big Game, publishingDate=January 14, 2021 12:00 AM, maxResponses=null, noOfComments=null, fileId=39732, blogClosingDate=null, blogCommentClosed=null, blogCategoryId=70164, queryId=0, blogCategoryIdIndex=0, sharedCategoriesList=null, blogStatusId=34, commentsClosedFlag=false, categoryIdForLog=0, blogModuleCategoryId=0, blogFileVo=null, latestCommentsList=null, verticalCatSeoURL=null, currentDate=12/08/2022, blogLink=null, authorName=SheSpeaksTeam, authorLognId=SheSpeaksTeam, authorAcctId=67580, vosTypeid=3, searchTestId=0, searchStatusId=0, searchAuthorType=0, authorBlogNumber=0, surveyData1=null, surveyData1Desc=null, surveyData2=null, surveyData2Desc=null, pullQuoteMemberId=null, filePath=null, fileName=null, vosType=0, subhead=null, offerSubhead=null, description=null, creationTime=null, authorFname=SheSpeaks, verticalCategoryId=null, sectionId=0, imageFileVO=FilesVO [fileId=39732, filePath=null, fileName=null, fileLength=0, fileWidth=0, createdBy=0, createByUser=null, creationTime=null, lastModifiedBy=0, lastModifiedByUser=null, lastModifiedTime=null, mimeType=null, fileRef=null, fileSize=0, extension=null, title=null, body=null, completeFilePath=/pages/img/redesign/blogs/Cheesy Bacon Loaded Fries_01142021115736.png, height=385, width=685, maxHeight=480, maxWidth=360, displayWidth=360, displayHeight=202, fileStatusId=0, searchKeyword=null, searchFlag=false, queryId=0, isExists=true], seoURL=Easy-Appetizer-Recipes, seoTitle=null, pullQuotesList=null, pullQuote=null, pullQuoteId=0, searchFlag=false, authorByLine=null, authorDesc=null, authorLink=null, authorFileVO=FilesVO [fileId=42371, filePath=null, fileName=null, fileLength=0, fileWidth=0, createdBy=0, createByUser=null, creationTime=null, lastModifiedBy=0, lastModifiedByUser=null, lastModifiedTime=null, mimeType=null, fileRef=null, fileSize=0, extension=null, title=null, body=null, completeFilePath=/pages/img/membersnaps/SheSpeaks_Logo_Symbol_Only_10182021080530.jpg, height=1777, width=1777, maxHeight=50, maxWidth=50, displayWidth=50, displayHeight=50, fileStatusId=0, searchKeyword=null, searchFlag=false, queryId=0, isExists=true], authorFileId=42371, authorType=0, storyImgFileVO=null, storyImgFileId=0, videoHtml=, authorImageFileId=0, authorImageFileVO=null, previousCategoryId=null, previousBlogStatusId=0, fromBlogDetails=0, blogCategoryName=Food, blogCategoryUrl=null, blogCategoryDesc=null, defaultImage=false, tags=null, optionIds=null, tagOptionId=null, tagId=null, tag=null, tagID=0, tagDetails=null, tagIds=null, testId=0, extBlogURL=null, extBlogStatus=0, bloggerSince=null, extBlogLimit=0, authorTestsList=[], blogURL=, blogName=, bloggerProfileId=0, sliderBlog=false, eventonHome=false, vosonHome=false, partyAndGiveawayDate=01/24/2021, imageCredit=null, pullQuoteMemId=null, offerSubHead=null, subHead=null, displayOrder=0,includeInGoogleSearch=false]
Jan 14, 2021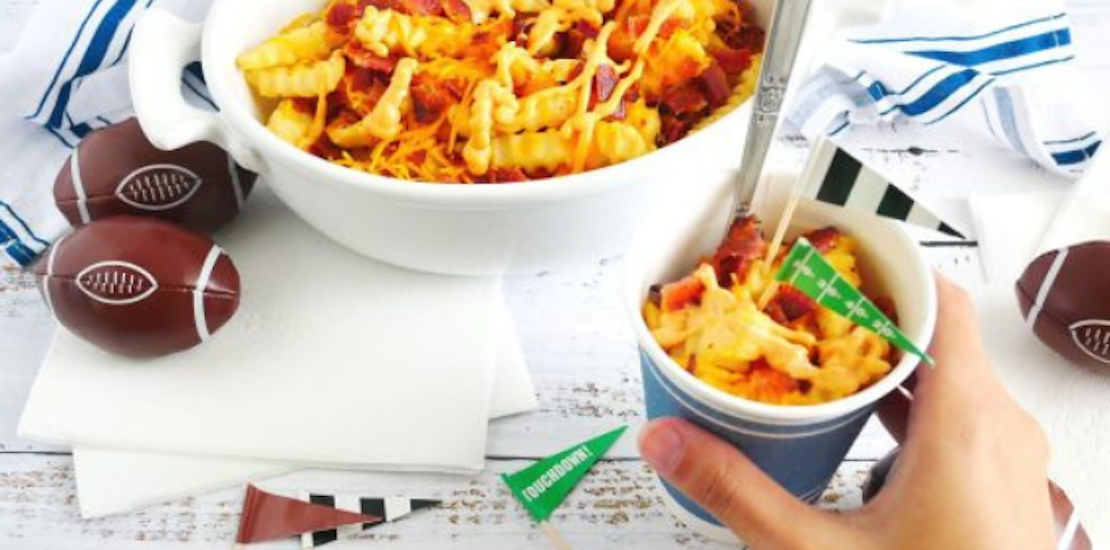 This is a sponsored post for Kraft Heinz and Georgia-Pacific®.

Though your Big Game celebration might look a little different this year, the most important thing still remains… THE SNACKS! Here are four appetizer recipes that bring the party, even if you're only having a party of one! Walmart is here for the assist with all the winning ingredients from Kraft Heinz as well as everything you need for easy serving and clean-up from Dixie®, Vanity Fair®, and Sparkle® -- so what are you waiting for?!

Plus, enter our giveaway at the bottom of this page for a chance to win a $50 Walmart gift card, so you can get everything you need for the Big Game.

Cheesy Spinach & Bacon Dip Bites
These
Cheesy Spinach and Bacon Dip Bites
only have six ingredients and couldn't be easier to make! The best part? You don't have to share!
Jaclyn
says, "With this tasty twist on classic spinach dip, everyone gets their own dip bites — no sharing chips and dip from a large bowl." With their portable shape and size, you can eat these on the move (around the living room, that is), just make sure you have plenty of Vanity Fair
®
Extra Absorbent napkins on hand -- part paper towel, part napkin, and 100% crumb-catching!
BBQ Chicken Cups
Appetizer bites
are so nice, we had to put them on this list twice. These are filled with delicious BBQ Chicken (with a little help from Kraft
®
Original Barbecue Sauce) and are so easy to make for a small gathering!
Jennifer's
tip is to serve them on Dixie Ultra
®
Plates so you can "Sit back, enjoy the game (and the commercials) with the family without having dirty dishes looming for postgame cleanup."
Cheesy Bacon Loaded Fries
Fries are a favorite of kids and adults alike, making them the perfect snack to please the whole family.
Wanda
tops these
Cheesy Bacon Loaded Fries
off with a little Kraft
®
Mayochup and serves them individually in Dixie
®
To Go Cups, which are great for hot and cold drinks or snacks!
Spicy Bacon Cheeseburger Roll-Up
Spice up your celebration with these
Spicy Bacon Cheeseburger Roll-Ups
. They're loaded up with ground beef, Oscar Mayer
®
bacon, Velveeta
®
, and hot sauce for the kick!
Tamara
warns "the night of the big game can get messy (especially with this cheesy recipe!)," so make sure you've got the right paper products on hand, a.k.a. Sparkle
®
Paper Towels, which are perfect for small spills and messes.
Click here
to shop for all the essentials from Kraft Heinz, Dixie
®
, Sparkle
®
and Vanity Fair
®
for the Big Game at Walmart.
Enter our giveaway for a chance to win a $50 Walmart gift card.
#WalmartBigGameMVPs Giveaway
One lucky winner will be chosen at random to receive a $50 Walmart gift card Giveaway is open to U.S. residents 18 years or older. Enter through January 24, 2021. Winner will be chosen randomly by January 26, 2020 and notified by email.
Update: Thanks to all who entered! Congrats to our winner, SheSpeaks member boo_boo_kitty.