Complete Skincare Solutions from No7 Beauty

by
SheSpeaksTeam
is this the date @ED : BlogVO [categoryId=70163, blogId=146126, blogTitle=Complete Skincare Solutions from No7 Beauty, publishingDate=October 25, 2022 12:00 AM, maxResponses=null, noOfComments=null, fileId=45548, blogClosingDate=null, blogCommentClosed=null, blogCategoryId=70163, queryId=0, blogCategoryIdIndex=0, sharedCategoriesList=null, blogStatusId=34, commentsClosedFlag=false, categoryIdForLog=0, blogModuleCategoryId=0, blogFileVo=null, latestCommentsList=null, verticalCatSeoURL=null, currentDate=02/02/2023, blogLink=null, authorName=SheSpeaksTeam, authorLognId=SheSpeaksTeam, authorAcctId=67580, vosTypeid=3, searchTestId=0, searchStatusId=0, searchAuthorType=0, authorBlogNumber=0, surveyData1=null, surveyData1Desc=null, surveyData2=null, surveyData2Desc=null, pullQuoteMemberId=null, filePath=null, fileName=null, vosType=0, subhead=null, offerSubhead=null, description=null, creationTime=null, authorFname=SheSpeaks, verticalCategoryId=null, sectionId=0, imageFileVO=FilesVO [fileId=45548, filePath=null, fileName=null, fileLength=0, fileWidth=0, createdBy=0, createByUser=null, creationTime=null, lastModifiedBy=0, lastModifiedByUser=null, lastModifiedTime=null, mimeType=null, fileRef=null, fileSize=0, extension=null, title=null, body=null, completeFilePath=/pages/img/redesign/blogs/Blog Header (Blog Banner) (5)_10232022005327.jpg, height=1260, width=2240, maxHeight=480, maxWidth=360, displayWidth=360, displayHeight=202, fileStatusId=0, searchKeyword=null, searchFlag=false, queryId=0, isExists=true], seoURL=Complete-Skincare-Solutions-from-No7-Beauty, seoTitle=null, pullQuotesList=null, pullQuote=null, pullQuoteId=0, searchFlag=false, authorByLine=null, authorDesc=null, authorLink=null, authorFileVO=FilesVO [fileId=42371, filePath=null, fileName=null, fileLength=0, fileWidth=0, createdBy=0, createByUser=null, creationTime=null, lastModifiedBy=0, lastModifiedByUser=null, lastModifiedTime=null, mimeType=null, fileRef=null, fileSize=0, extension=null, title=null, body=null, completeFilePath=/pages/img/membersnaps/SheSpeaks_Logo_Symbol_Only_10182021080530.jpg, height=1777, width=1777, maxHeight=50, maxWidth=50, displayWidth=50, displayHeight=50, fileStatusId=0, searchKeyword=null, searchFlag=false, queryId=0, isExists=true], authorFileId=42371, authorType=0, storyImgFileVO=null, storyImgFileId=0, videoHtml=, authorImageFileId=0, authorImageFileVO=null, previousCategoryId=null, previousBlogStatusId=0, fromBlogDetails=0, blogCategoryName=Beauty & Fashion, blogCategoryUrl=null, blogCategoryDesc=null, defaultImage=false, tags=null, optionIds=null, tagOptionId=null, tagId=null, tag=null, tagID=0, tagDetails=null, tagIds=null, testId=0, extBlogURL=null, extBlogStatus=0, bloggerSince=null, extBlogLimit=0, authorTestsList=[], blogURL=, blogName=, bloggerProfileId=0, sliderBlog=false, eventonHome=true, vosonHome=false, partyAndGiveawayDate=11/04/2022, imageCredit=@lanaato & @withlove_tere, pullQuoteMemId=null, offerSubHead=, subHead=, displayOrder=0,includeInGoogleSearch=false]
Oct 25, 2022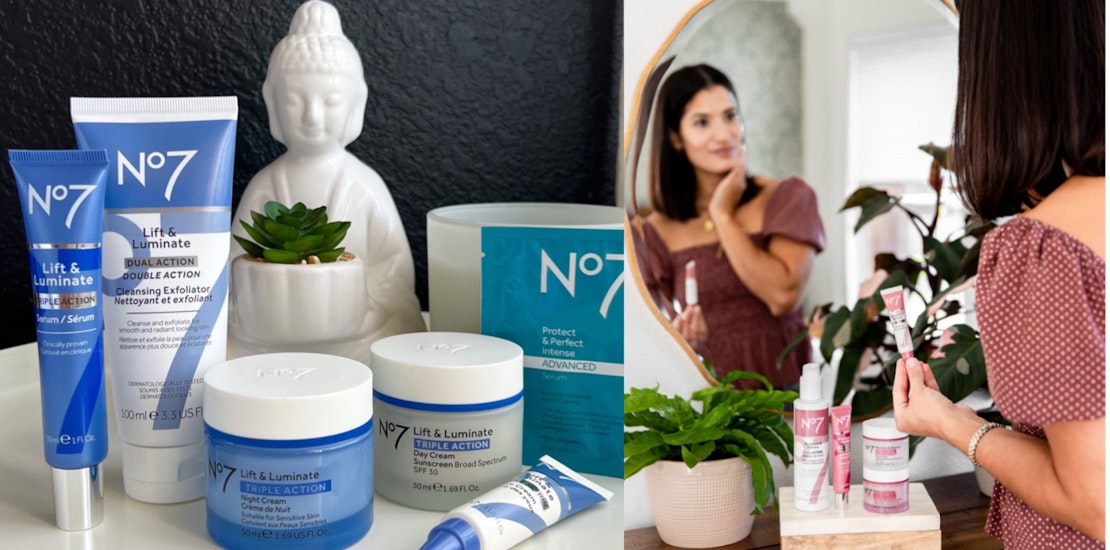 @lanaato & @withlove_tere
If you're looking for a complete skincare line that works for your skin, delivers results and won't break the bank, you have to check out No7 Beauty at Walmart. SheSpeaks influencers tried out the products and shared their routines using No7 Beauty. See what they had to say below!

No7 Beauty has a line for all ages and all skin types. No7 is a global brand that is committed to helping individuals look and feel ready for anything, through the creation and evolution of award-winning, clinically proven products. No7 launched in 1935 in the UK with an ambition to support and empower people across the world through premium but affordable skincare.
The product lines our influencers tried were the
Radiance+ Line
,
Lift & Luminate
and
Restore & Renew
.
Enter our giveaway below for a chance to win a $100 Walmart gift card to purchase your ideal No7 Skincare line!
No7 Beauty Giveaway
This is a sponsored post for No7 Beauty at Walmart.
One lucky winner will be chosen at random to receive a $100 Walmart gift card. Giveaway is open to U.S. residents 18 years or older. Enter through 11/4. Winner will be chosen randomly and notified by email. Entrants must be a member of SheSpeaks. If you are not a member, click here to join.

Thanks to all who entered! Congrats to our winner SheSpeaks member skasbaum.