Podcast Episode with Clara Paye, Founder of UNiTE Food + $100 Walmart GC Giveaway 

by
SheSpeaksTeam
is this the date @ED : BlogVO [categoryId=70162, blogId=146099, blogTitle=Podcast Episode with Clara Paye, Founder of UNiTE Food + $100 Walmart GC Giveaway , publishingDate=August 31, 2022 12:00 AM, maxResponses=null, noOfComments=null, fileId=44862, blogClosingDate=null, blogCommentClosed=null, blogCategoryId=70162, queryId=0, blogCategoryIdIndex=0, sharedCategoriesList=null, blogStatusId=34, commentsClosedFlag=false, categoryIdForLog=0, blogModuleCategoryId=0, blogFileVo=null, latestCommentsList=null, verticalCatSeoURL=null, currentDate=12/01/2023, blogLink=null, authorName=SheSpeaksTeam, authorLognId=SheSpeaksTeam, authorAcctId=67580, vosTypeid=3, searchTestId=0, searchStatusId=0, searchAuthorType=0, authorBlogNumber=0, surveyData1=null, surveyData1Desc=null, surveyData2=null, surveyData2Desc=null, pullQuoteMemberId=null, filePath=null, fileName=null, vosType=0, subhead=null, offerSubhead=null, description=null, creationTime=null, authorFname=SheSpeaks, verticalCategoryId=null, sectionId=0, imageFileVO=FilesVO [fileId=44862, filePath=null, fileName=null, fileLength=0, fileWidth=0, createdBy=0, createByUser=null, creationTime=null, lastModifiedBy=0, lastModifiedByUser=null, lastModifiedTime=null, mimeType=null, fileRef=null, fileSize=0, extension=null, title=null, body=null, completeFilePath=/pages/img/redesign/blogs/Blog Header (Blog Banner)_08312022121127.jpg, height=1260, width=2240, maxHeight=480, maxWidth=360, displayWidth=360, displayHeight=202, fileStatusId=0, searchKeyword=null, searchFlag=false, queryId=0, isExists=true], seoURL=Clara-Paye-Unite-Food, seoTitle=null, pullQuotesList=null, pullQuote=null, pullQuoteId=0, searchFlag=false, authorByLine=null, authorDesc=null, authorLink=null, authorFileVO=FilesVO [fileId=42371, filePath=null, fileName=null, fileLength=0, fileWidth=0, createdBy=0, createByUser=null, creationTime=null, lastModifiedBy=0, lastModifiedByUser=null, lastModifiedTime=null, mimeType=null, fileRef=null, fileSize=0, extension=null, title=null, body=null, completeFilePath=/pages/img/membersnaps/SheSpeaks_Logo_Symbol_Only_10182021080530.jpg, height=1777, width=1777, maxHeight=50, maxWidth=50, displayWidth=50, displayHeight=50, fileStatusId=0, searchKeyword=null, searchFlag=false, queryId=0, isExists=true], authorFileId=42371, authorType=0, storyImgFileVO=null, storyImgFileId=0, videoHtml=, authorImageFileId=0, authorImageFileVO=null, previousCategoryId=null, previousBlogStatusId=0, fromBlogDetails=0, blogCategoryName=Entertainment, blogCategoryUrl=null, blogCategoryDesc=null, defaultImage=false, tags=null, optionIds=null, tagOptionId=null, tagId=null, tag=null, tagID=0, tagDetails=null, tagIds=null, testId=0, extBlogURL=null, extBlogStatus=0, bloggerSince=null, extBlogLimit=0, authorTestsList=[], blogURL=, blogName=, bloggerProfileId=0, sliderBlog=false, eventonHome=true, vosonHome=false, partyAndGiveawayDate=09/28/2022, imageCredit=UNiTE Food / Clara Paye , pullQuoteMemId=null, offerSubHead=, subHead=, displayOrder=0,includeInGoogleSearch=false]
Aug 31, 2022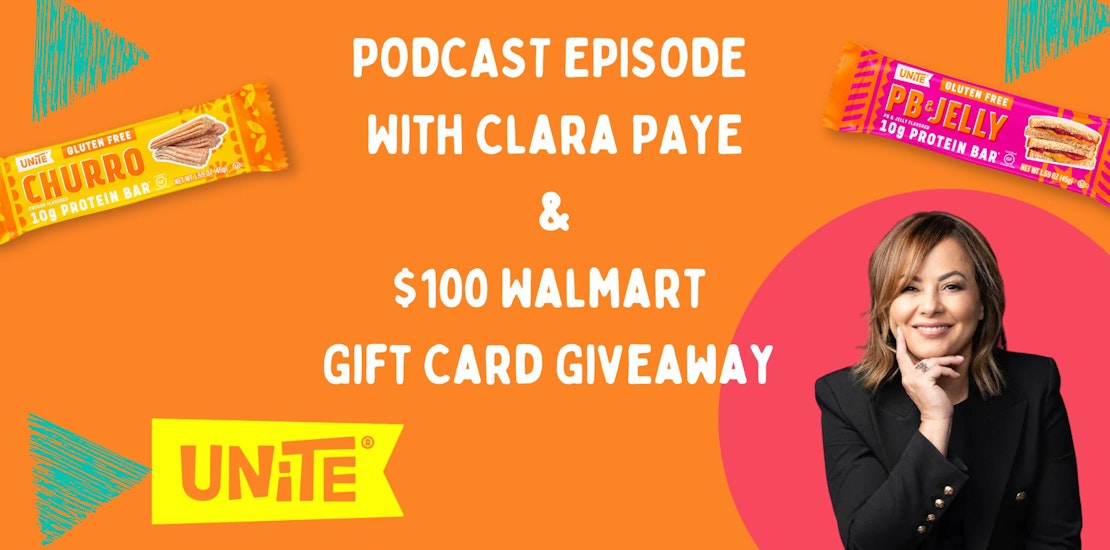 UNiTE Food / Clara Paye
Our latest podcast guest, Clara Paye struggled to find herself represented in the food aisle of her local
retail stores. She created the upstart protein bar brand UNiTE with a mission to bring people together through nostalgic and nutritious foods. She wanted to include cross-cultural flavors like Churro, Mexican Hot Chocolate and PB&J.
Read on to see how you can WIN a $100 Walmart Gift Card and a UNiTE Food Bars Variety Pack Giveaway!

With the help of some beloved neighbors and friends – all representing different nationalities – Clara developed a global sampling of nostalgic, childhood flavors. She cites her own immigrant experience as inspiration for the project.
UNiTE Food invites customers to find representation within their own culture while also giving consumers the chance to discover and taste a diverse range of different flavors from around the world. https://unitefood.com/pages/our-story

Want to try UNiTE Food Bars? You can pick some up HERE now. SheSpeaks members have been trying these out and sharing their thoughts on these yummy flavors!

Listen to the Episode



Episode Highlights:
4:41 - Clara explains how food has shaped her immigrant experience and the creation of UNiTE Food
6:09 - The mission of UNiTE Food and why it's important for cultural representation
9:56 - Clara shares the challenges of starting a business during the pandemic and how she adapted

Listen to the full episode, above, AND get the chance to WIN a $100 Walmart Gift Card and a UNiTE Food Bars Variety Pack Giveaway. Enter via the widget below.

Podcast Giveaway: Clara Paye - UNiTE Food

One lucky participant will be chosen at random to win a $100 Walmart Gift Card & UNiTE Food Bars Variety Package (Value: $10) This giveaway is open through 9/28/22 to U.S. residents at least 18 years of age. Entrants must be a member of SheSpeaks. If you are not a member, click here to join. Winner will be notified by email. NO PURCHASE NECESSARY/ VOID WHERE PROHIBITED.

Thanks to all who entered! Congrats to our winner SheSpeaks member TheGeekyBanana.