Cheddar News Walk and Talk with Aliza Freud

By
SheSpeaksTeam
Mar 22, 2023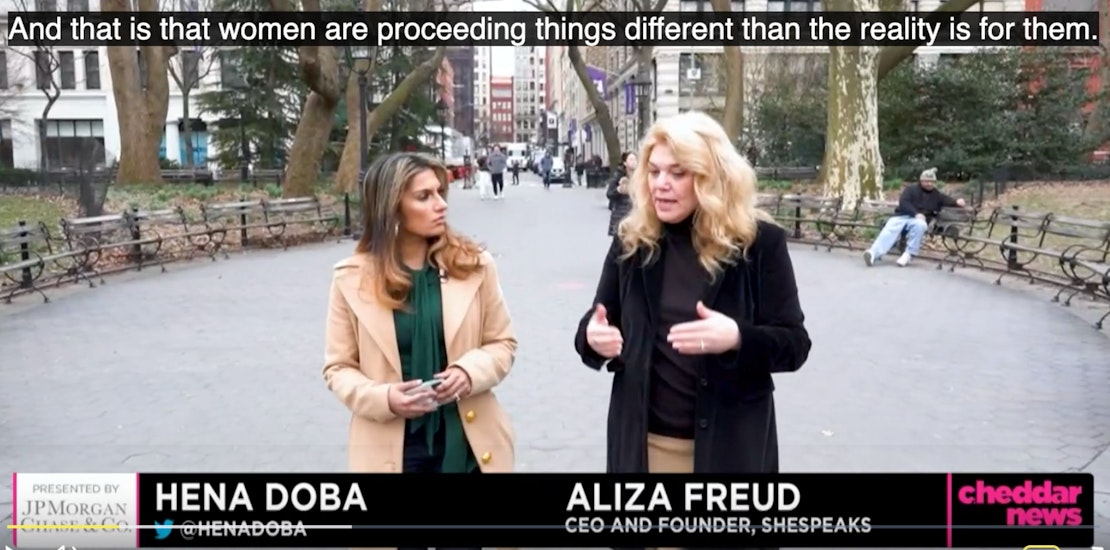 As a SheSpeaks member you know that we often ask you for your opinions and to take a survey.

Well, we love sharing when the press decides to cover the findings from our SheSpeaks surveys.

If you were one of the over 1,100 SheSpeaks members who took our survey on Community and Work then your opinions were featured on Cheddar News last week!
Our founder, Aliza Freud, spoke with anchor Hena Doba about the findings from our latest study. Here are some of the highlights from the study:
In the workplace:
76% say it's easier for women to get ahead in their careers than it was 10 years ago

62% say that men are more open to having a female boss than they were 10 years ago

56% say that women are closer than ever to achieving equal pay for equal work
However, they cite significant room for improvement:
87% agree that women are not compensated as fairly as men

76% say there is still a lot of sexism in the workplace

79% say women are held to higher standards than men
Equal Pay Day was on March 14 this year (denoting how far into the year women must work to be paid what men were paid the previous year), the gender pay gap reinforces this reality.
Traditional stereotypes also persist as women in the workplace are perceived as "more emotional" (61%) vs. men and 78% say women are more empathetic than men.
Work/life balance:
Work-life balance and household division of labor are perceived to be improving:
48% of women say it's easier to balance work and home than it was 10 years ago

53% feel that their current workplace gives them the work-life balance they need to succeed

13% say they have quit a job in the past year to seek or accept a job with better work-life balance

79% say men are more willing to help with household responsibilities than they were 10 years ago
However, household "division of labor" is still not a reality for women:
72% say they handle more caregiving responsibilities (for elders, friends in need) than men do

71% say they handle more of their household chores

64% say they handle more of the parenting responsibilities

34% say they handle more of the household budgeting/finances (only 7% say men do more of this work)
In politics:
In politics, 68% of women say their voices are considered less than men's voices. Which may explain why:
35% say they are more likely to vote for a woman than they might have 10 years ago – while only 3% say they are less likely to do so

52% believe that having women in government definitely helps traditional women's causes – down from 66% in 2015
"This decline may in fact be related to the Supreme Court's decision to overturn Roe vs. Wade," says Aliza Freud, CEO, SheSpeaks. "According to a survey we fielded in June, 2022, 61% said Roe/abortion rights would be a key decision in their voting in midterms."
Women Supporting Other Women:
Women's support for other women is tepid in key areas:
73% say other women are not supportive at the workplace

61% say other women are not supportive in the realm of personal life

73% say other women are not supportive in the realm of politics
Do you agree with these findings? Tell us your thoughts in the comments below!