Brides Can "Let it Go" In an Elsa Inspired Wedding Gown

By
SheSpeaksTeam
Sep 18, 2014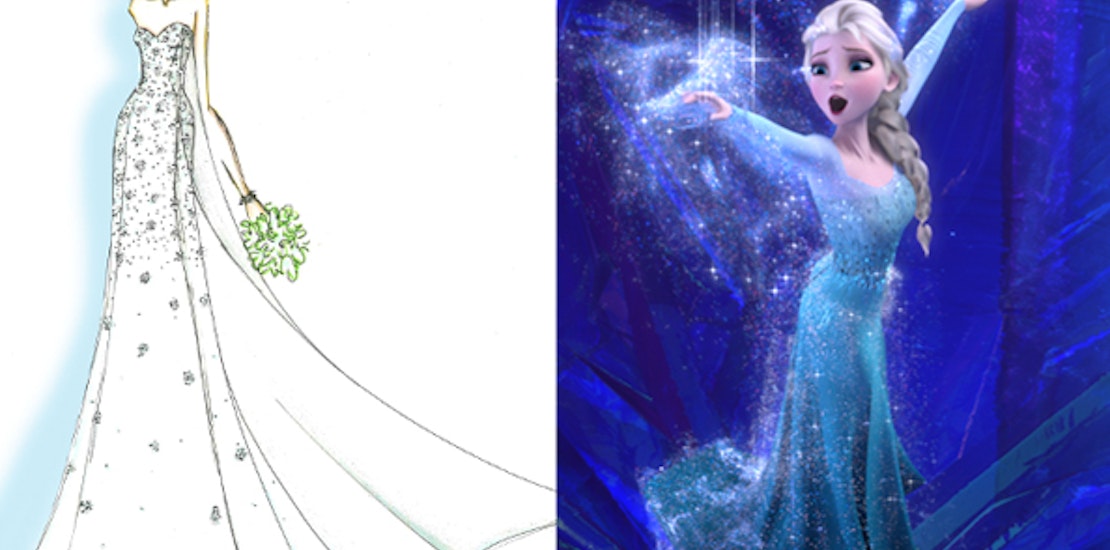 As we find ourselves very much in the thick of a current Frozen craze, kids can act out their film fandom by playing with dolls, mini ice palaces and dressing up in costumes to look just like their favorite characters. But now grown-ups can play make believe too and see their Frozen fairytale weddings come true after news hit that an Elsa-inspired wedding gown is in the works that will be so regal it would make any bride want to shoot ice crystals from her fingertips.
InStyle reports about the recent partnership between the Frozen creators, Disney Consumer Products and designer Alfred Angelo to create the world's first Frozen inspired wedding gown. They are currently creating a dress that has all the elements of satin, tulle, glitter net, all-over beading and organza that is sure to sparkle like ice and be as pure as the fresh driven snow.
The dress, which was inspired from the part of the movie where Elsa sings "Let it Go" and "finally embraces her icy powers", will come in ice blue and ivory versions and is expected to be available in January of 2015. Alfred Angelo's Chief Creative Officer and designer of the dress Michele Piccione explains why Elsa is such a great inspiration for this wedding gown and brides-to-be. Piccione says, "A character like Elsa is a huge inspiration for any designer. She is beautiful and elegant, and her inner beauty shines through when she is ultimately not afraid to embrace who she is with confidence and poise." She adds, "We wanted to translate Elsa's inner beauty and individuality into a sophisticated gown that exudes this."
Whether or not you choose the icy elegance of an Elsa inspired gown, Piccione has some advice for those on the prowl for the perfect dress. Piccione says, "Knowing when to stop is key. Find a dress that is an expression of you, whatever silhouette, fabric or rhinestone confection it may be. When you find the gown that makes you feel the most beautiful, a true extension of your personality, stop!"
Are you or your kids a fan of the film Frozen?
What do you think of this Elsa inspired wedding gown?