Benefits of Socially Conscious Shopping + $100 Gift Card Giveaway

by
SheSpeaksTeam
is this the date @ED : BlogVO [categoryId=70163, blogId=145974, blogTitle=Benefits of Socially Conscious Shopping + $100 Gift Card Giveaway , publishingDate=December 16, 2021 12:00 AM, maxResponses=null, noOfComments=null, fileId=42825, blogClosingDate=null, blogCommentClosed=null, blogCategoryId=70163, queryId=0, blogCategoryIdIndex=0, sharedCategoriesList=null, blogStatusId=34, commentsClosedFlag=false, categoryIdForLog=0, blogModuleCategoryId=0, blogFileVo=null, latestCommentsList=null, verticalCatSeoURL=null, currentDate=03/29/2023, blogLink=null, authorName=SheSpeaksTeam, authorLognId=SheSpeaksTeam, authorAcctId=67580, vosTypeid=3, searchTestId=0, searchStatusId=0, searchAuthorType=0, authorBlogNumber=0, surveyData1=null, surveyData1Desc=null, surveyData2=null, surveyData2Desc=null, pullQuoteMemberId=null, filePath=null, fileName=null, vosType=0, subhead=null, offerSubhead=null, description=null, creationTime=null, authorFname=SheSpeaks, verticalCategoryId=null, sectionId=0, imageFileVO=FilesVO [fileId=42825, filePath=null, fileName=null, fileLength=0, fileWidth=0, createdBy=0, createByUser=null, creationTime=null, lastModifiedBy=0, lastModifiedByUser=null, lastModifiedTime=null, mimeType=null, fileRef=null, fileSize=0, extension=null, title=null, body=null, completeFilePath=/pages/img/redesign/blogs/Podcast Giveaway Headers (3)_12162021122311.jpg, height=540, width=1110, maxHeight=480, maxWidth=360, displayWidth=360, displayHeight=175, fileStatusId=0, searchKeyword=null, searchFlag=false, queryId=0, isExists=true], seoURL=Benefits-of-Socially-Conscious-Shopping-100-Gift-Card-Giveaway, seoTitle=null, pullQuotesList=null, pullQuote=null, pullQuoteId=0, searchFlag=false, authorByLine=null, authorDesc=null, authorLink=null, authorFileVO=FilesVO [fileId=42371, filePath=null, fileName=null, fileLength=0, fileWidth=0, createdBy=0, createByUser=null, creationTime=null, lastModifiedBy=0, lastModifiedByUser=null, lastModifiedTime=null, mimeType=null, fileRef=null, fileSize=0, extension=null, title=null, body=null, completeFilePath=/pages/img/membersnaps/SheSpeaks_Logo_Symbol_Only_10182021080530.jpg, height=1777, width=1777, maxHeight=50, maxWidth=50, displayWidth=50, displayHeight=50, fileStatusId=0, searchKeyword=null, searchFlag=false, queryId=0, isExists=true], authorFileId=42371, authorType=0, storyImgFileVO=null, storyImgFileId=0, videoHtml=, authorImageFileId=0, authorImageFileVO=null, previousCategoryId=null, previousBlogStatusId=0, fromBlogDetails=0, blogCategoryName=Beauty & Fashion, blogCategoryUrl=null, blogCategoryDesc=null, defaultImage=false, tags=null, optionIds=null, tagOptionId=null, tagId=null, tag=null, tagID=0, tagDetails=null, tagIds=null, testId=0, extBlogURL=null, extBlogStatus=0, bloggerSince=null, extBlogLimit=0, authorTestsList=[], blogURL=, blogName=, bloggerProfileId=0, sliderBlog=false, eventonHome=true, vosonHome=false, partyAndGiveawayDate=01/06/2022, imageCredit=null, pullQuoteMemId=null, offerSubHead=, subHead=, displayOrder=0,includeInGoogleSearch=false]
Dec 16, 2021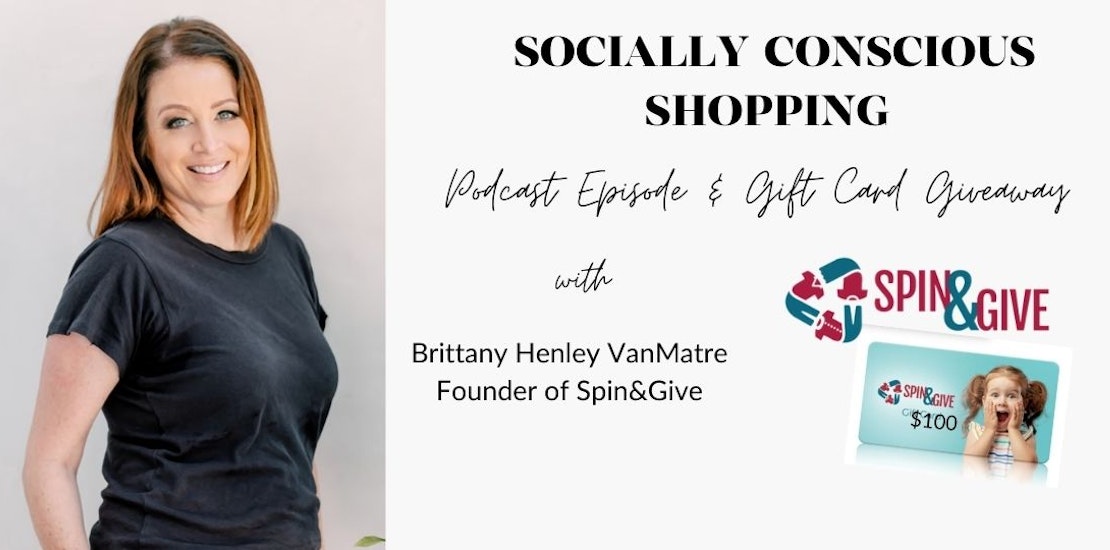 Our latest podcast guest, Brittany Henley VanMatre, saw a problem and she decided to do something about it! Growing up in and working in the entertainment industry, she knew the amount of clothing and accessories that celebrities and media personalities were gifted, especially in the children's category. Unfortunately, excess clothing often ends up in landfills creating hazardous results for our planet.

Read on to see how you can WIN a $100 Spin&Give Gift Card to shop celebrity closets for fashionable kids clothing AND help the environment.
Her father, Don Henley, helped instill in her a deep appreciation for environmental sustainability And so when she saw how much excess children's clothing her longtime friend, Eva Longoria, had accumulated, she came up with a positive solution - Spin&Give!

Spin&Give offers people a way to shop celebrity closets for stylish kids' clothing and accessories, extend their lifecycle, AND help keep them out of landfills. Shoppers can make a positive contribution to the the planet and help the non-profits that Spin&Give donates to.

We learned so much in this episode. It is truly eye-opening to hear Brittany explain how fashion & textiles can generate a tremendous amount of waste for the environment.



Listen in to the full episode, above, AND get the chance to WIN a $100 Gift Card to shop at Spin&Give.
Episode Highlights:
[1:00] Brittany shares what inspired her to start her company Spin&Give.
[8:58] How Spin&Give works to keep clothes out of landfills and give back to those in need.

[11:03] Learn about the challenges with donating clothes to some large organizations
[16:53] Brittany shares how younger generations motivate her to learn more about sustainability.

Enter in the widget below to win a $100 Spin&Give Gift Card. Be sure to follow the podcast at shespeaks.com/podcast for more episodes weekly, starting up again in January 2022!

Podcast Giveaway: $100 Spin&Give Gift Card

One lucky participant will be chosen at random to win a $100 Spin&Give Gift Card. This giveaway is open through to U.S. residents at least 18 years of age. Entrants must be a member of SheSpeaks. If you are not a member, click here to join. Winner will be notified by email.

Thanks to all who entered! Congrats to our winner, SheSpeaks member lcoto17.