Baked Granola Peaches
submitted by DomesticallyBlissful {1 Recipe}
Prep Time:
5 Mins
Cook Time:
20 Mins
Total Prep + Cook Time:
25 Mins
Level:
Easy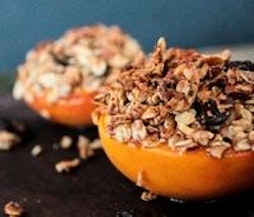 Makes: 1 2
Description: These Baked Granola Peaches make a sweet and healthy breakfast or just add some vanilla ice cream to turn it into a mouthwatering dessert!
Ingredients:
1 Peach(es)
1 tbs Honey
1/4 cup Granola

Instructions: First, preheat your oven to 350°, then wash and cut your peach or peaches in half removing the seed.
Place the peaches in a baking dish and drizzle the honey over the inside of the peach. The amount of honey depends on the size of the peach, but usually I will use a tablespoon of honey for both halves of one peach.
Next, heap the granola onto the peaches. I usually do a little over 1/4 cup per peach, but this will also depend on the size of your peach.
Bake the Baked Granola Peaches for 20 minutes. For the first 10 minutes leave it uncovered, but for the last 10 minutes place a piece of foil loosely on top to prevent the granola from burning allowing the peach to continue baking.
Let cool slightly and enjoy with some greek yogurt for breakfast or vanilla ice cream for dessert!
Other recipes in breakfast & brunch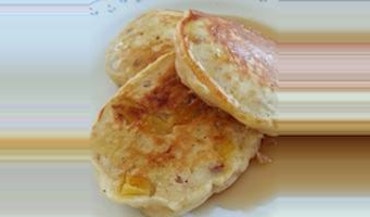 By
EatDrinkClev
Jul 31, 2014
Flavorful pancakes full of pineapple, coconut and pecans. Top with real maple syrup for a breakfast treat or ice cream for a delicious dessert.
Read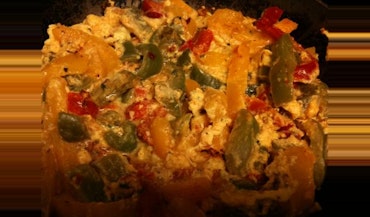 By
csherman
Oct 07, 2011
Want to get some vegetable servings in at breakfast? This is a great, healthy breakfast (you'll see it uses Egg Beaters instead of regular eggs) to get y…
Read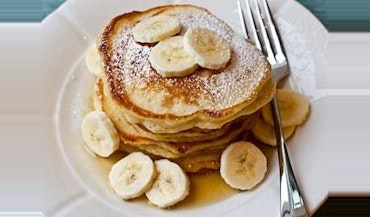 By
Iamrajaa
Oct 10, 2017
Fluffy on the inside, crispy on the outside, and delicately flavored with bananas and honey.
Read