A Tasty Fall Combo & Meijer Giveaway

by
SheSpeaksTeam
is this the date @ED : BlogVO [categoryId=70164, blogId=145945, blogTitle=A Tasty Fall Combo & Meijer Giveaway, publishingDate=November 22, 2021 12:00 AM, maxResponses=null, noOfComments=null, fileId=42624, blogClosingDate=null, blogCommentClosed=null, blogCategoryId=70164, queryId=0, blogCategoryIdIndex=0, sharedCategoriesList=null, blogStatusId=34, commentsClosedFlag=false, categoryIdForLog=0, blogModuleCategoryId=0, blogFileVo=null, latestCommentsList=null, verticalCatSeoURL=null, currentDate=06/01/2023, blogLink=null, authorName=SheSpeaksTeam, authorLognId=SheSpeaksTeam, authorAcctId=67580, vosTypeid=3, searchTestId=0, searchStatusId=0, searchAuthorType=0, authorBlogNumber=0, surveyData1=null, surveyData1Desc=null, surveyData2=null, surveyData2Desc=null, pullQuoteMemberId=null, filePath=null, fileName=null, vosType=0, subhead=null, offerSubhead=null, description=null, creationTime=null, authorFname=SheSpeaks, verticalCategoryId=null, sectionId=0, imageFileVO=FilesVO [fileId=42624, filePath=null, fileName=null, fileLength=0, fileWidth=0, createdBy=0, createByUser=null, creationTime=null, lastModifiedBy=0, lastModifiedByUser=null, lastModifiedTime=null, mimeType=null, fileRef=null, fileSize=0, extension=null, title=null, body=null, completeFilePath=/pages/img/redesign/blogs/Zoe PIc_11222021101416.jpeg, height=537, width=900, maxHeight=480, maxWidth=360, displayWidth=360, displayHeight=214, fileStatusId=0, searchKeyword=null, searchFlag=false, queryId=0, isExists=true], seoURL=A-Tasty-Fall-Combo-Meijer-Giveaway, seoTitle=null, pullQuotesList=null, pullQuote=null, pullQuoteId=0, searchFlag=false, authorByLine=null, authorDesc=null, authorLink=null, authorFileVO=FilesVO [fileId=42371, filePath=null, fileName=null, fileLength=0, fileWidth=0, createdBy=0, createByUser=null, creationTime=null, lastModifiedBy=0, lastModifiedByUser=null, lastModifiedTime=null, mimeType=null, fileRef=null, fileSize=0, extension=null, title=null, body=null, completeFilePath=/pages/img/membersnaps/SheSpeaks_Logo_Symbol_Only_10182021080530.jpg, height=1777, width=1777, maxHeight=50, maxWidth=50, displayWidth=50, displayHeight=50, fileStatusId=0, searchKeyword=null, searchFlag=false, queryId=0, isExists=true], authorFileId=42371, authorType=0, storyImgFileVO=null, storyImgFileId=0, videoHtml=, authorImageFileId=0, authorImageFileVO=null, previousCategoryId=null, previousBlogStatusId=0, fromBlogDetails=0, blogCategoryName=Food, blogCategoryUrl=null, blogCategoryDesc=null, defaultImage=false, tags=null, optionIds=null, tagOptionId=null, tagId=null, tag=null, tagID=0, tagDetails=null, tagIds=null, testId=0, extBlogURL=null, extBlogStatus=0, bloggerSince=null, extBlogLimit=0, authorTestsList=[], blogURL=, blogName=, bloggerProfileId=0, sliderBlog=false, eventonHome=true, vosonHome=false, partyAndGiveawayDate=11/30/2021, imageCredit=null, pullQuoteMemId=null, offerSubHead=, subHead=, displayOrder=0,includeInGoogleSearch=false]
Nov 22, 2021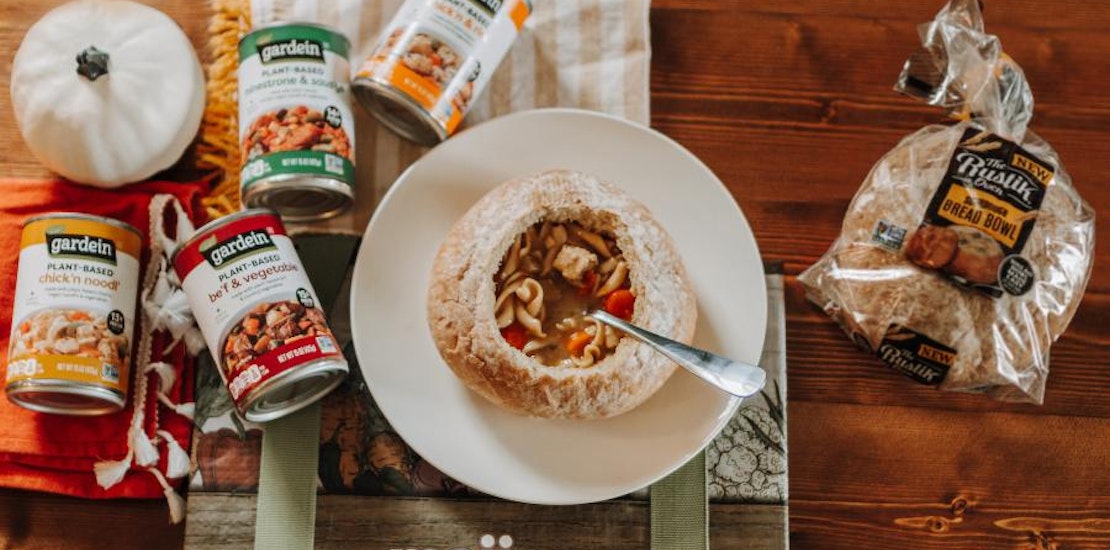 This is a sponsored post for The Rustik Oven and Gardein.

As the days get colder, stocking up on cozy food is a must. Who wants to constantly bundle up in layers just to drive to the grocery store? Luckily, we are excited to share the solution!

The Rustik Oven Sourdough Bread Bowls and Gardein Plant-Based Soups are the ultimate fall meal pairing, and they are available at Meijer. Pour some delicious plant-based soup in a sourdough bread bowl with a rich flavor and crusty texture, and you have yourself a cozy combo for a quick lunch or dinner for you and your family. With great taste and texture, it will be a hit!

SheSpeaks influencer @bubbyandbean says "I prepare the most delicious plant-based version of my favorite comfort food with the help of Gardein Soups and Sourdough Bread Bowls from The Rustik Oven. It's a quick, easy meal that every person in this house loves (a small miracle)."

Check out our giveaway below. One winner will receive a $50 Meijer gift card to purchase The Rustik Oven Sourdough Bread Bowls and Gardein Plant-Based soups AND a throw blanket for the ultimate cozy fall set-up.

Click here to check out this cozy combo at Meijer!

#MeijerCozyCombo Giveaway

* One lucky winner will be chosen at random to receive a $50 Meijer gift card and a throw blanket. Enter through November 30, 2021. Winner will be chosen randomly by December 1, 2021 and notified by email. Entrants must be a member of SheSpeaks. If you are not a member, click here to join. Click here for Official Rules.

Thanks to all who entered! Congrats to our winner, SheSpeaks member jerseygirl137.