12 Days of SheSpeaks, Day 8: Win a 'Love Lettering' Novel & $50 Starbucks Gift Card

by
SheSpeaksTeam
is this the date @ED : BlogVO [categoryId=70162, blogId=145652, blogTitle=12 Days of SheSpeaks, Day 8: Win a 'Love Lettering' Novel & $50 Starbucks Gift Card, publishingDate=December 13, 2019 12:00 AM, maxResponses=null, noOfComments=null, fileId=37221, blogClosingDate=null, blogCommentClosed=null, blogCategoryId=70162, queryId=0, blogCategoryIdIndex=0, sharedCategoriesList=null, blogStatusId=34, commentsClosedFlag=false, categoryIdForLog=0, blogModuleCategoryId=0, blogFileVo=null, latestCommentsList=null, verticalCatSeoURL=null, currentDate=12/08/2022, blogLink=null, authorName=SheSpeaksTeam, authorLognId=SheSpeaksTeam, authorAcctId=67580, vosTypeid=3, searchTestId=0, searchStatusId=0, searchAuthorType=0, authorBlogNumber=0, surveyData1=null, surveyData1Desc=null, surveyData2=null, surveyData2Desc=null, pullQuoteMemberId=null, filePath=null, fileName=null, vosType=0, subhead=null, offerSubhead=null, description=null, creationTime=null, authorFname=SheSpeaks, verticalCategoryId=null, sectionId=0, imageFileVO=FilesVO [fileId=37221, filePath=null, fileName=null, fileLength=0, fileWidth=0, createdBy=0, createByUser=null, creationTime=null, lastModifiedBy=0, lastModifiedByUser=null, lastModifiedTime=null, mimeType=null, fileRef=null, fileSize=0, extension=null, title=null, body=null, completeFilePath=/pages/img/redesign/blogs/Day8bp_12122019141759.png, height=350, width=350, maxHeight=480, maxWidth=360, displayWidth=350, displayHeight=350, fileStatusId=0, searchKeyword=null, searchFlag=false, queryId=0, isExists=true], seoURL=12-Days-of-SheSpeaks-Day-8-Win-a-Love-Lettering-Novel-50-Starbucks-Gift-Card, seoTitle=null, pullQuotesList=null, pullQuote=null, pullQuoteId=0, searchFlag=false, authorByLine=null, authorDesc=null, authorLink=null, authorFileVO=FilesVO [fileId=42371, filePath=null, fileName=null, fileLength=0, fileWidth=0, createdBy=0, createByUser=null, creationTime=null, lastModifiedBy=0, lastModifiedByUser=null, lastModifiedTime=null, mimeType=null, fileRef=null, fileSize=0, extension=null, title=null, body=null, completeFilePath=/pages/img/membersnaps/SheSpeaks_Logo_Symbol_Only_10182021080530.jpg, height=1777, width=1777, maxHeight=50, maxWidth=50, displayWidth=50, displayHeight=50, fileStatusId=0, searchKeyword=null, searchFlag=false, queryId=0, isExists=true], authorFileId=42371, authorType=0, storyImgFileVO=null, storyImgFileId=0, videoHtml=, authorImageFileId=0, authorImageFileVO=null, previousCategoryId=null, previousBlogStatusId=0, fromBlogDetails=0, blogCategoryName=Entertainment, blogCategoryUrl=null, blogCategoryDesc=null, defaultImage=false, tags=null, optionIds=null, tagOptionId=null, tagId=null, tag=null, tagID=0, tagDetails=null, tagIds=null, testId=0, extBlogURL=null, extBlogStatus=0, bloggerSince=null, extBlogLimit=0, authorTestsList=[], blogURL=, blogName=, bloggerProfileId=0, sliderBlog=false, eventonHome=false, vosonHome=false, partyAndGiveawayDate=12/20/2019, imageCredit=null, pullQuoteMemId=null, offerSubHead=null, subHead=null, displayOrder=0,includeInGoogleSearch=false]
Dec 13, 2019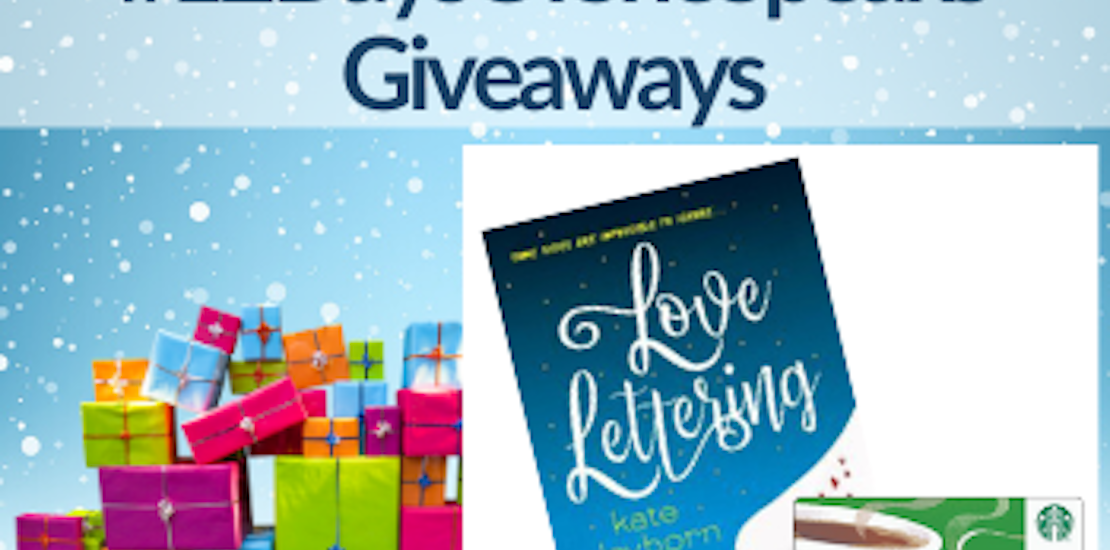 Welcome to Day 8 of 12 Days of SheSpeaks Giveaways. Curl up with something warm to drink and what is sure to be your favorite book of 2020!
All signs point to romance in Love Lettering, the witty and romantic new book by acclaimed author, Kate Clayborn, whose previous novel, Beginners Luck, was named One of the 12 Best Romance Novels of the Year (2018) by O, The Oprah Magazine.
Enter to win a Prize Package, which includes a copy of Love Lettering signed by the author, a $50 Starbucks Gift Card and other surprises!
Her hand-lettering made her famous.
Her beautiful designs are in demand.
Until one little word puts her business – and her heart – in jeopardy....
Meg Mackworth is a highly-sought-after calligrapher, using her hand-lettering skills to design custom stationery for her clients in New York City. Her other skill? Reading signs that others seem to miss. When Meg weaves a secret message into a wedding program, she thought no one would spot it. But she hadn't counted on sharp-eyed, pattern obsessed Reid tracking her down to ask an important question….
Love Lettering hits the shelves on December 31st. You can find out more information and preorder the book here.
Enter Day 8 of our 12 Days of SheSpeaks Giveaways by telling us in the blog post comments: What is your favorite reading spot? Then, put your username into the widget below to submit your entry.
For another chance to get a copy of Love Lettering, take this quick survey here.
For every entry, $1 will be donated to the American Foundation for Suicide Prevention (up to $1,000), an organization that aims to save lives and bring hope to those affected by suicide. Find out more info
here
.
12 Days of SheSpeaks 2019, Day 5
Don't forget to check back daily here between now and December 19th, on weekdays, for more giveaways!
*One lucky contestant will be chosen at random to receive a copy of the novel Love Lettering and a $50 Starbucks gift card. Giveaway is open through December 20th, 2019, 12 noon ET to U.S. residents at least 18 years of age. Entrants must be a member of SheSpeaks. If you are not a member, click here to join. Winner will be notified by email.
​Update: Thanks to all who entered! Congrats to our winner, SheSpeaks member: akiko03!