#SheSpeaksMothersDay: Win 1 of 2 Philips AirFryer XXL ($300 value each!)

by
SheSpeaksTeam
is this the date @ED : BlogVO [categoryId=70164, blogId=145721, blogTitle=#SheSpeaksMothersDay: Win 1 of 2 Philips AirFryer XXL ($300 value each!), publishingDate=April 29, 2020 12:00 AM, maxResponses=null, noOfComments=null, fileId=38055, blogClosingDate=null, blogCommentClosed=null, blogCategoryId=70164, queryId=0, blogCategoryIdIndex=0, sharedCategoriesList=null, blogStatusId=34, commentsClosedFlag=false, categoryIdForLog=0, blogModuleCategoryId=0, blogFileVo=null, latestCommentsList=null, verticalCatSeoURL=null, currentDate=12/02/2022, blogLink=null, authorName=SheSpeaksTeam, authorLognId=SheSpeaksTeam, authorAcctId=67580, vosTypeid=3, searchTestId=0, searchStatusId=0, searchAuthorType=0, authorBlogNumber=0, surveyData1=null, surveyData1Desc=null, surveyData2=null, surveyData2Desc=null, pullQuoteMemberId=null, filePath=null, fileName=null, vosType=0, subhead=null, offerSubhead=null, description=null, creationTime=null, authorFname=SheSpeaks, verticalCategoryId=null, sectionId=0, imageFileVO=FilesVO [fileId=38055, filePath=null, fileName=null, fileLength=0, fileWidth=0, createdBy=0, createByUser=null, creationTime=null, lastModifiedBy=0, lastModifiedByUser=null, lastModifiedTime=null, mimeType=null, fileRef=null, fileSize=0, extension=null, title=null, body=null, completeFilePath=/pages/img/redesign/blogs/airfryerbp_04282020115156.png, height=384, width=685, maxHeight=480, maxWidth=360, displayWidth=360, displayHeight=201, fileStatusId=0, searchKeyword=null, searchFlag=false, queryId=0, isExists=true], seoURL=-SheSpeaksMothersDay-Win-1-of-2-Philips-AirFryer-XXL-300-value-each, seoTitle=null, pullQuotesList=null, pullQuote=null, pullQuoteId=0, searchFlag=false, authorByLine=null, authorDesc=null, authorLink=null, authorFileVO=FilesVO [fileId=42371, filePath=null, fileName=null, fileLength=0, fileWidth=0, createdBy=0, createByUser=null, creationTime=null, lastModifiedBy=0, lastModifiedByUser=null, lastModifiedTime=null, mimeType=null, fileRef=null, fileSize=0, extension=null, title=null, body=null, completeFilePath=/pages/img/membersnaps/SheSpeaks_Logo_Symbol_Only_10182021080530.jpg, height=1777, width=1777, maxHeight=50, maxWidth=50, displayWidth=50, displayHeight=50, fileStatusId=0, searchKeyword=null, searchFlag=false, queryId=0, isExists=true], authorFileId=42371, authorType=0, storyImgFileVO=null, storyImgFileId=0, videoHtml=, authorImageFileId=0, authorImageFileVO=null, previousCategoryId=null, previousBlogStatusId=0, fromBlogDetails=0, blogCategoryName=Food, blogCategoryUrl=null, blogCategoryDesc=null, defaultImage=false, tags=null, optionIds=null, tagOptionId=null, tagId=null, tag=null, tagID=0, tagDetails=null, tagIds=null, testId=0, extBlogURL=null, extBlogStatus=0, bloggerSince=null, extBlogLimit=0, authorTestsList=[], blogURL=, blogName=, bloggerProfileId=0, sliderBlog=false, eventonHome=false, vosonHome=false, partyAndGiveawayDate=05/17/2020, imageCredit=null, pullQuoteMemId=null, offerSubHead=null, subHead=null, displayOrder=0,includeInGoogleSearch=false]
Apr 29, 2020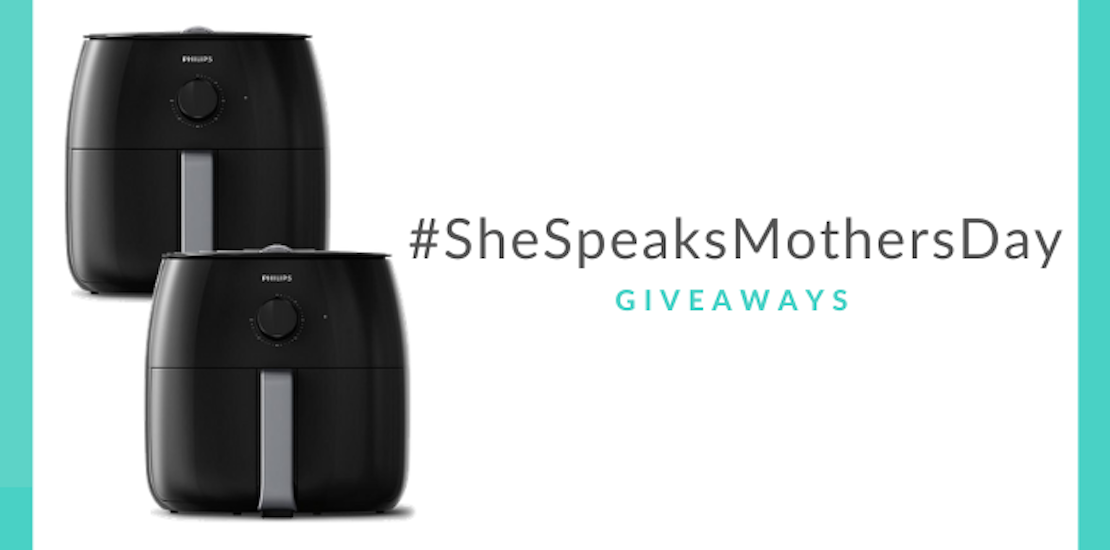 We know that we are not alone in feeling that our cooking routine could use a change. We'd love new ways to make our meals feel different, and even more delicious. Luckily, we have exactly the thing to help!

We're thrilled to announce the #SheSpeaksMothersDay giveaways where we will offer great prizes for you, and get you ready for Mother's Day!

Two lucky winners can each receive a Philips Airfryer XXL with Twin TurboStar Technology, valued at $300 each!

You can make hundreds of dishes with this airfryer - it can fry, bake, grill, roast and even reheat your meals. Its large size can fit a whole chicken or two bags of fries, so cooking is quicker and easier. It gives food maximum taste with minimum fat.

This Mother's Day, we're planning to use the Philips Airfryer XXL to make a special dinner: Chicken Parmesan with Balsamic Fried Brussel Sprouts and Sweet Strawberry Hand Pies for dessert. Yum!

USA Today's Reviewed.com says the Philips Airfryer XXL is the best air fryer on the market, yielding perfectly crisp fries and buttered hot chicken that railed the real thing.

BONUS: Head to Philips.com where you can get 15% off all Airfryers, Grills and Pasta Makers through May 17. Just enter the promo code GREATCOOK15 (in all caps) at check-out. While you are there, subscribe to the newsletter for great recipes and additional discounts.

Remember, Mother's Day is May 10. Philips appliances make great gifts!
What would you like to make in the Philips Airfryer XXL? Tell us and you can win one of two Philips Airfryer XXL (valued at $300 each!)
#SheSpeaksMothersDay Giveaway: Philips Airfryer XXL
*
Two lucky contestants will be chosen at random to receive a Philips Airfryer XXL with Twin TurboStar Technology, valued at $299.95 each. Note that these products will be sent directly from Philips, so the winners' addresses will be given to them for shipping purposes. Giveaway is open through May 17, 2020 to U.S. residents at least 18 years of age. Entrants must be a member of SheSpeaks. If you are not a member, click here to join. Winner will be notified by email.

Update: Thanks to all who entered! Congrats to our winners, SheSpeaks members ErikaD and
likwan.