#12DaysOfSheSpeaks Day 8: Holiday Packs For Easy Gifting

by
SheSpeaksTeam
is this the date @ED : BlogVO [categoryId=70165, blogId=144560, blogTitle=#12DaysOfSheSpeaks Day 8: Holiday Packs For Easy Gifting, publishingDate=December 15, 2015 12:00 AM, maxResponses=null, noOfComments=null, fileId=25117, blogClosingDate=null, blogCommentClosed=null, blogCategoryId=70165, queryId=0, blogCategoryIdIndex=0, sharedCategoriesList=null, blogStatusId=34, commentsClosedFlag=false, categoryIdForLog=0, blogModuleCategoryId=0, blogFileVo=null, latestCommentsList=null, verticalCatSeoURL=null, currentDate=10/02/2023, blogLink=null, authorName=SheSpeaksTeam, authorLognId=SheSpeaksTeam, authorAcctId=67580, vosTypeid=3, searchTestId=0, searchStatusId=0, searchAuthorType=0, authorBlogNumber=0, surveyData1=null, surveyData1Desc=null, surveyData2=null, surveyData2Desc=null, pullQuoteMemberId=null, filePath=null, fileName=null, vosType=0, subhead=null, offerSubhead=null, description=null, creationTime=null, authorFname=SheSpeaks, verticalCategoryId=null, sectionId=0, imageFileVO=FilesVO [fileId=25117, filePath=null, fileName=null, fileLength=0, fileWidth=0, createdBy=0, createByUser=null, creationTime=null, lastModifiedBy=0, lastModifiedByUser=null, lastModifiedTime=null, mimeType=null, fileRef=null, fileSize=0, extension=null, title=null, body=null, completeFilePath=/pages/img/redesign/blogs/day8giveaway_12152015101439.jpeg, height=350, width=350, maxHeight=480, maxWidth=360, displayWidth=350, displayHeight=350, fileStatusId=0, searchKeyword=null, searchFlag=false, queryId=0, isExists=true], seoURL=-12DaysOfSheSpeaks-Day-8-Win-P-G-Bath-and-Beauty-products, seoTitle=null, pullQuotesList=null, pullQuote=null, pullQuoteId=0, searchFlag=false, authorByLine=null, authorDesc=null, authorLink=null, authorFileVO=FilesVO [fileId=42371, filePath=null, fileName=null, fileLength=0, fileWidth=0, createdBy=0, createByUser=null, creationTime=null, lastModifiedBy=0, lastModifiedByUser=null, lastModifiedTime=null, mimeType=null, fileRef=null, fileSize=0, extension=null, title=null, body=null, completeFilePath=/pages/img/membersnaps/SheSpeaks_Logo_Symbol_Only_10182021080530.jpg, height=1777, width=1777, maxHeight=50, maxWidth=50, displayWidth=50, displayHeight=50, fileStatusId=0, searchKeyword=null, searchFlag=false, queryId=0, isExists=true], authorFileId=42371, authorType=0, storyImgFileVO=null, storyImgFileId=0, videoHtml=, authorImageFileId=0, authorImageFileVO=null, previousCategoryId=null, previousBlogStatusId=0, fromBlogDetails=0, blogCategoryName=Living, blogCategoryUrl=null, blogCategoryDesc=null, defaultImage=false, tags=null, optionIds=null, tagOptionId=null, tagId=null, tag=null, tagID=0, tagDetails=null, tagIds=null, testId=0, extBlogURL=null, extBlogStatus=0, bloggerSince=null, extBlogLimit=0, authorTestsList=[], blogURL=, blogName=, bloggerProfileId=0, sliderBlog=false, eventonHome=false, vosonHome=false, partyAndGiveawayDate=12/21/2015, imageCredit=null, pullQuoteMemId=null, offerSubHead=null, subHead=null, displayOrder=0,includeInGoogleSearch=false]
Dec 15, 2015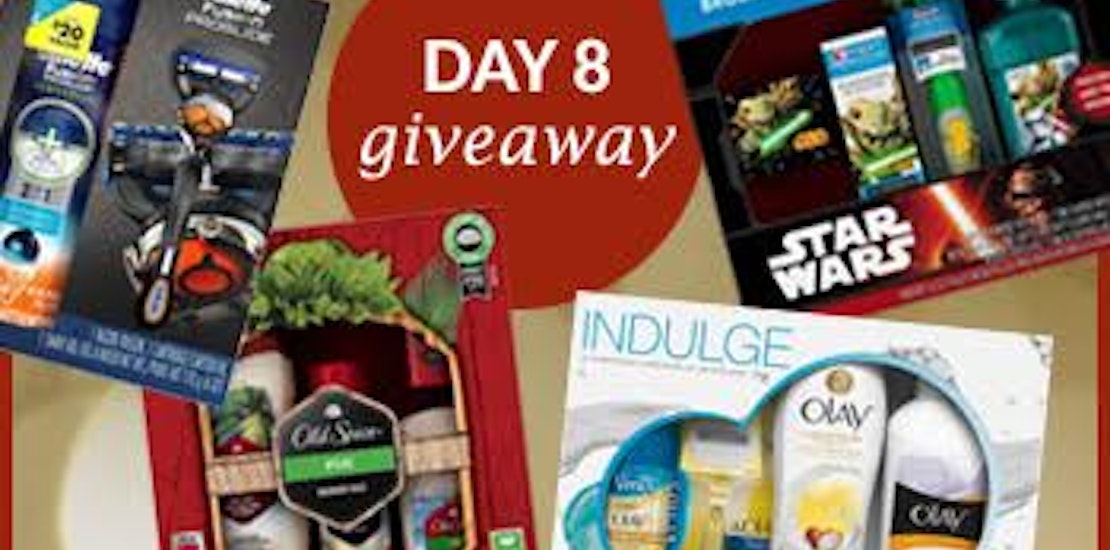 The eighth giveaway in our BIG #12DaysofSheSpeaks Day giveaways is a selection of Procter & Gamble (P&G) Bath and Beauty holiday packs available for a limited-time at Wamart!
Holiday packs at Walmart are great for everyone on your list at fantastic values. Holiday packs at Walmart allow you to check off your shopping list all in one place, leaving you more time for festivities and making memories with loved ones.
Holiday packs are the perfect indulgence for everyone, from head to toe. We're giving away four packs to one lucky winner, including an Old Spice Fresher Collection Fiji Warrior Pack, a Gillette Fusion ProGlide Razor Pack, an Olay Indulge Shower Collection Pack and a Crest & Oral-B Pro-Health Jr. Star Wars Pack!
Ready to win all four sets?!
There are two ways to enter:
Simply comment below to answer the question - What holiday pack would you like to recieve as a holiday gift, and why?
AND/OR
Tweet about the giveaway!
Click here to Tweet: "I entered to win 4 holiday packs on Day 8 of #12DaysOfSheSpeaks, thx to @SheSpeaksUp! #MakeYourMemories bit.ly/1O03FDB"
Have you entered all #12DaysofSheSpeaks giveaways? Click here to enter them all, and check back on weekdays between now and December 21st for more!
Also, don't forget that for every entry up to $1,000 during the duration of the #12DaysofSheSpeaks giveway, we are donating $1 to Feeding America, to make sure that more families are fed this holiday season. You can find out more about the charity and our social good campaign here.
One lucky commenter (or Tweeter) will be chosen at random to receive all four sets of Bath and Beauty products from Procter & Gamble and sold at Walmart, valued approximately at $10 each (total value of approx. $40). Enter through December 21st. Giveaways are open to U.S. residents only and must be a member of SheSpeaks. If you are not a member, click here to join. Winner will be notified by email on December 22nd.
Thanks for entering! This Giveaway is now closed.
Update: The winner has been chosen and is SheSpeaks member wenrom31. Thanks to all for entering!